Reading time:

13

min
Cold-pressed juice exploded on the health scene among many health-fundies and nutrient-conscious foodies. In fact, with organic cold-pressed juices, you now even get shots for a quick on-the-go nutrient-filled beverage.
If you want to give organic cold-pressed juices a try, (and we really think you should) we've got the best cold pressed juice list for you to try for a successful detox juice cleanse, or just to get healthier in general. This new craze is sure to become your new go-to health sip.
If you are unfamiliar with cold pressed juices, you might be confused about the difference between the old and the new, meaning freshly squeezed, cold-pressed, pressed, and everything in between. Find out what is the best cold pressed juice brands, and where to find them.
What is Cold Pressed Juice?
Despite what you might think, you don't need to worm yourself into your freezer or shove frozen fruits and veggies into your juicer. (Please don't try that). If you're a human being and not a robot (no need to prove it here), you know that fruits and veggies are healthy. Whether in a liquid form or as solid food, fruits, veggies, and leafy greens are nutritious and pack vitamins and fiber – great for good health and healthy weight loss.
 So, what is this cold-pressed juice everybody's raving about? In essence, it's a fresh juice with all its natural nutrients, vitamins, and goodies still intact. With standard home-used juicers, you lose some of the beneficial nutrients in the process of juicing. Cold-pressed juice is made with a hydraulic press that uses pressure to extract the most juice possible from the fruit or vegetable. This process is done with absolutely no heat or oxygen, which further helps keep all the nutrients that would be lost using a slow juicer.
Benefits of Drinking Organic Juice
Besides the obvious benefits of healthier and more nutritious fruit or vegetable juice, there is so much more to get excited about. By choosing organic cold-pressed juice over conventional juice brands, you will be living a healthier lifestyle and reaping the benefits with each sip.
Let's have a look at some of the benefits you will get from trusting the top cold-pressed juice brands in the US.
Cold Pressed Juice is a Convenient Source of Nutrients
The whole idea behind cold-pressed juice is to keep all the vital nutrients without exposing them to heat or oxygen. This means you will benefit from the same number of vitamins and nutrients as you will get with whole fruits and vegetables without struggling to consume the daily recommended intake. In fact, one cup of organic fruit juice is equal to the recommended daily intake of fruit. The same counts for vegetables, allowing you to explore mixed fruit and veggie juices from various brands.
According to health studies, the recommended number of vegetables and fruits per day should be five servings. If you are completely honest with yourself, are you getting the full recommended serving daily? Read on to learn more about the benefits of organic cold-pressed juice shots and the best juice cleanse for your needs.
Cold Pressed Juice has Many Potential Health Benefits.
If you are getting the correct amount of organic cold-pressed juice, (or fresh produce) you will have all the benefits of improved sleep quality, higher brain function, immune health, and even improved heart health. Are you chasing a better mood? Turn an apple a day into a cold-pressed juice per day.
It's like looking at fruit and hearing that little voice in your head saying "antioxidants." You can easily have a shot of cold-pressed juice and get all the antioxidant phytochemicals you need, especially in fruits such as pomegranate, which protects against heart disease.
Cold Pressed Juice May Help Reduce Pesticide Exposure
Pesticide – it scares all the good out of anything you might be eating. We live in a fast-paced world where what used to be natural is simply not that clean and natural anymore. However, when you go organic, you can rest assured that you are skipping the bad stuff such as pesticides, hormones, and other harmful chemicals.
How to Choose Best Cold Pressed Juice:
Organic cold-pressed juices are not just perfect for summer days. Not only is it healthy, but also refreshingly tasty, so it bottoms up. Shots are all you need. Even if you don't like the taste of a particular combination, it's over before you know it. All the best cold-pressed juice brands offer a variety of flavors to suit any palette, so you are likely to find one that you love.
List of the best cold pressed juice:
Feast your eyes on your new health menu full of nutrient-filled juices. These brands are all at the forefront of new trends in the US;
Pure Green Cold Pressed Juice
Project Juice
Raw Fountain
Smart fruit
Squeezed
Raw Generation
Pressed
Suja
Nectar juice
Midwest Juicery
Here are some more details on these tasty and healthy juices. With so many cold-pressed juices on the market, you might struggle to find the perfect shot for you. Use this as your guide to finding your new organic treat.
Pure Green Cold Pressed Juice: Green Boost Shot
The name speaks for itself – a mean green boost of energy and health. This shot boasts all the best leafy greens from kale and spinach, to cucumber, mint, and apple. You will feel a burst of energy almost instantly. Pure Green is a trusted juice company and they also sell different smoothies along with the cold press. You can trust this juice bar and taste different juice recipe from Pure Green.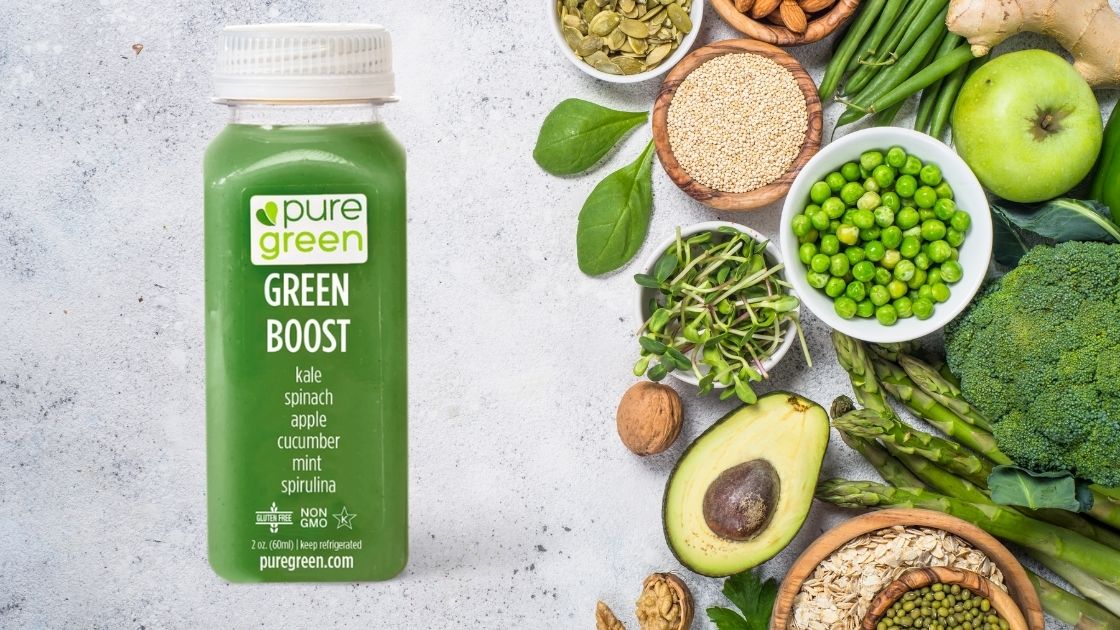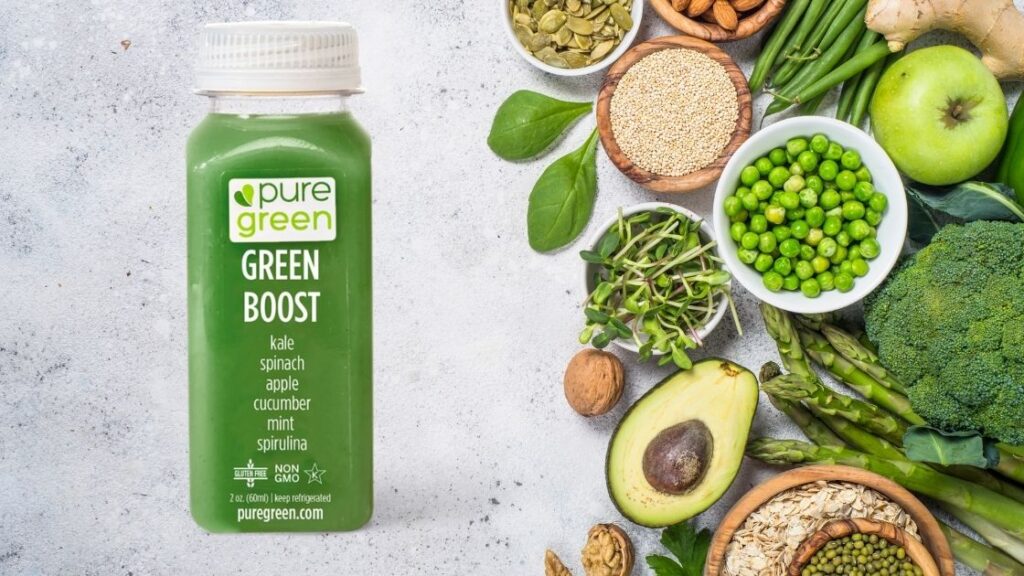 Pricing Range: $12,99 for a three-pack
100% Non-GMO
Kosher Certified
Helps with Immunity & Health
Contains Vitamin K
Project Juice: Turmeric Tonic
Project Juices Turmeric Tonic shot contains pineapple, turmeric, aloe, ginger, and chamomile. It can be your new daily wellness boost, or you could use it for joint pain or skin irritations. This is a great skin and just an all-around wellness booster for every day, with the soothing effects of chamomile.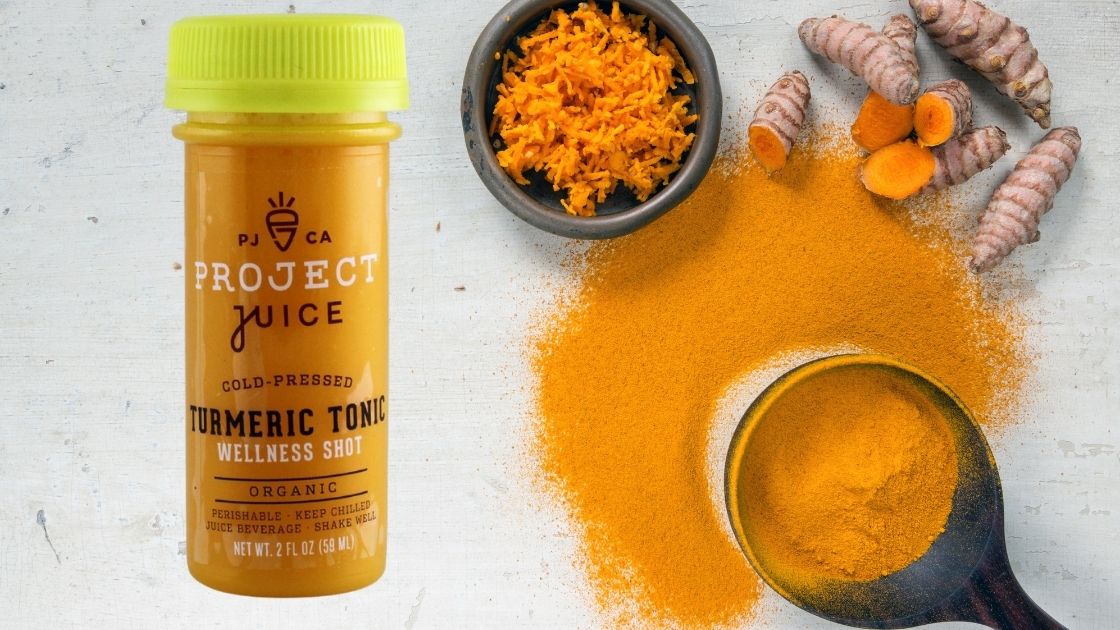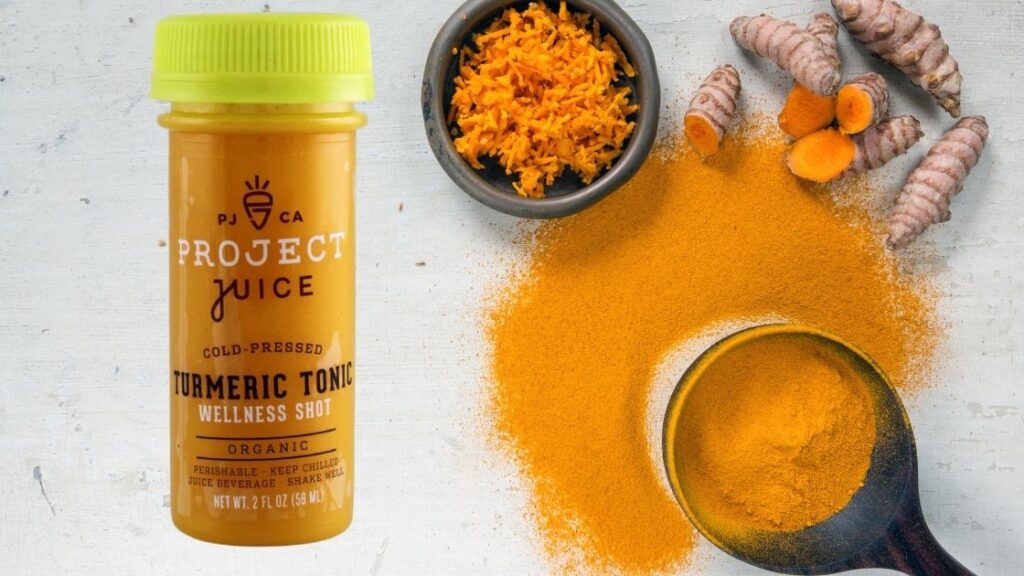 Pricing Range: $4.25 each
Great for stimulating metabolism and helping to flush toxins.
Fights inflammation.
Rich in amino acids, vitamins, and minerals.
Great for skin.
Turmeric adds a bitter taste.
Raw Fountain: Ginger Shot
The ginger shot by Raw Fountain is a 59ml shot that promotes a healthy immune system and healthy living with ginger and lemon. It is 100% organic cold pressed juice with no artificial additives. Start celebrating your health with your newly found favorite ginger shot. Raw Fountain provides one of the best wellness shots and healthy juice. You should try this.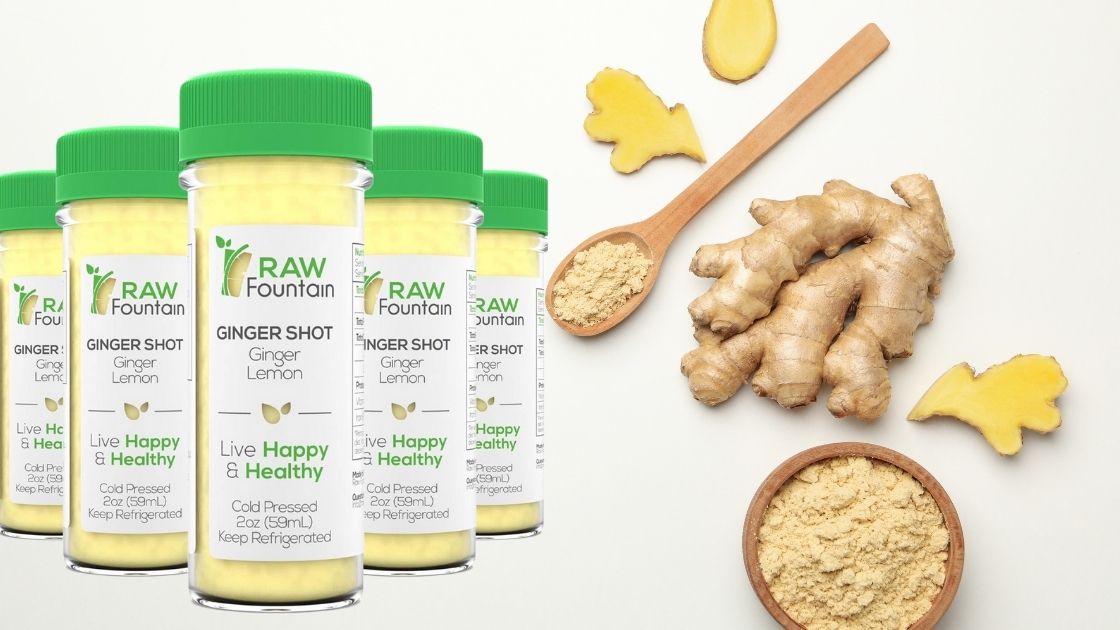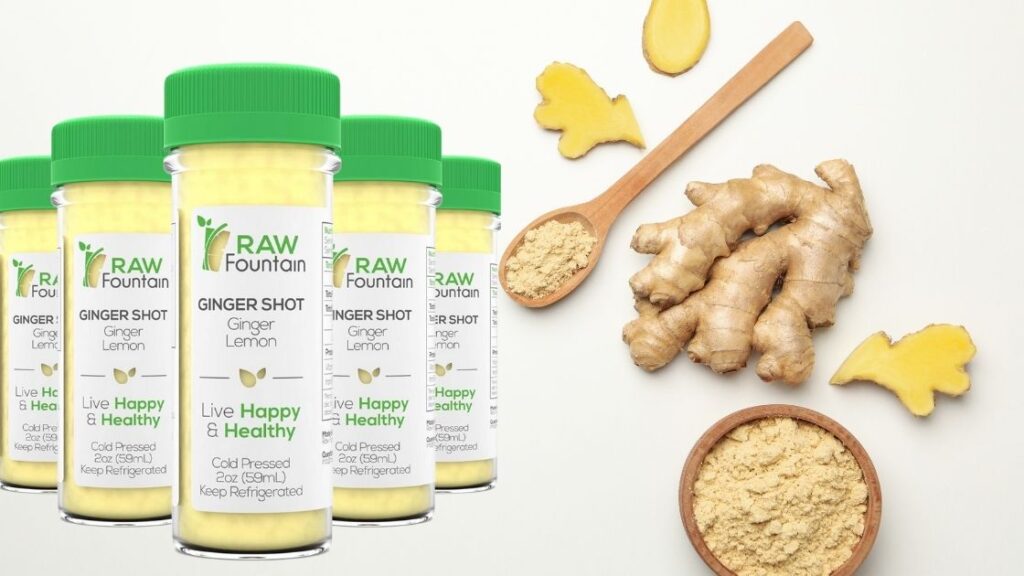 Pricing Range: $99.99 pack of 20
Protects your gut.
An antioxidant and anti-inflammatory wellness shot.
All-natural.
Vegan Friendly.
Only available in a pack of 20
Smart Fruit: Harvest Greens
Pour your own cold-pressed juice shots with this 1.4L bottle of Harvest Greens. It's the perfect green juice for detox and is packed with dark greens such as kale and spinach, with apples and kiwis for a burst of flavor, lemongrass, and spirulina for improved immunity. In the juicer's own words: "being healthy never tasted this good" you will be surprised with the refreshing taste with no added sugar.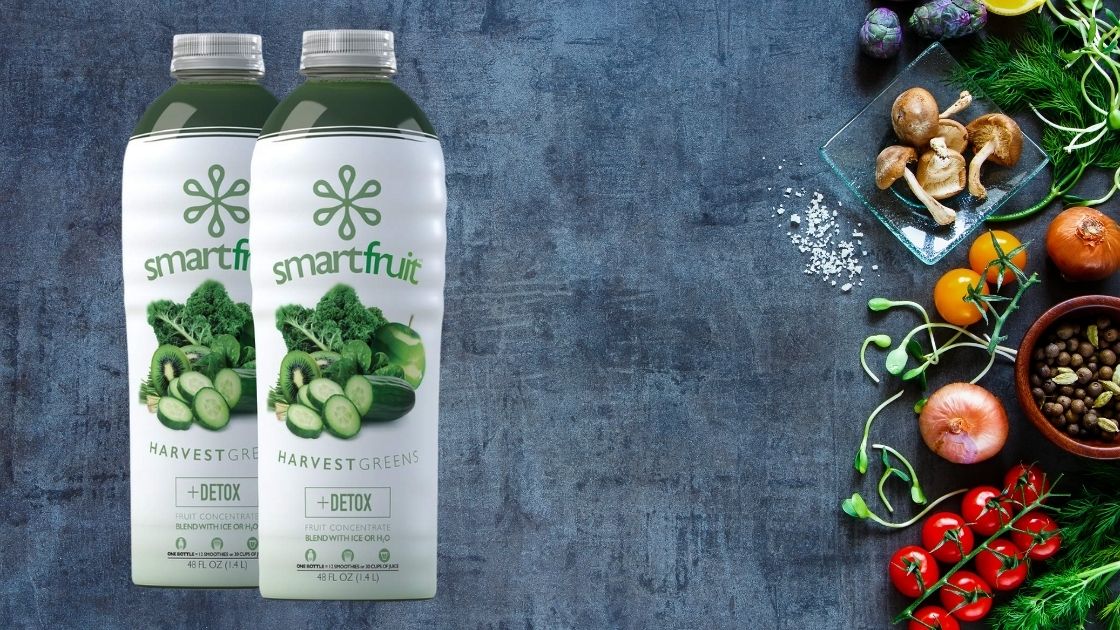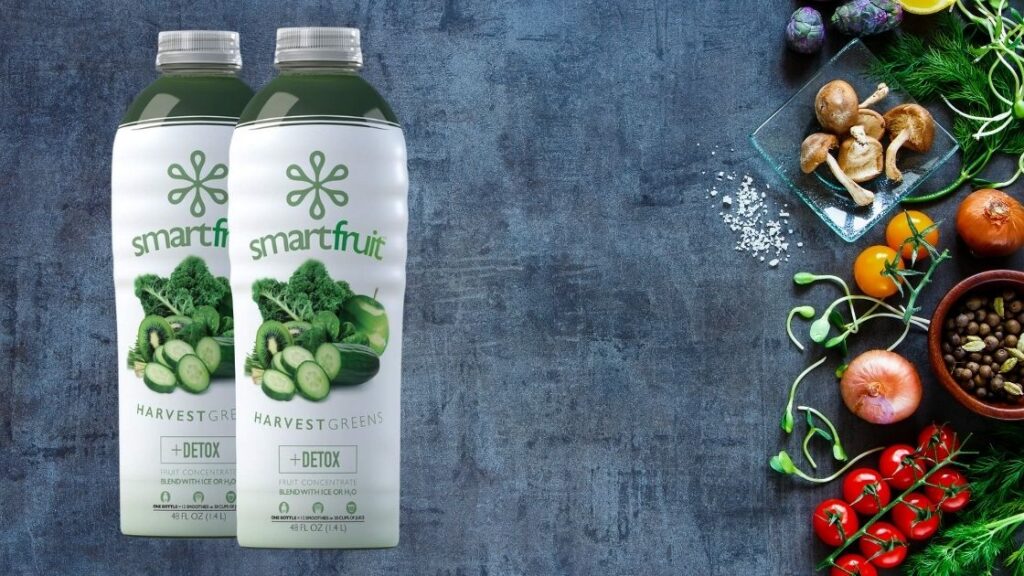 Pricing Range: $24,99 per 1,4L bottle ($1.50 per shot)
Detoxifier.
Rich in chlorophyll, protein, vitamins, and fatty acids.
No added sugar.
Gluten-Free.
Not available in shot serving.
Squeezed: Squeezed Cleanse
The 1 Day squeezed Cleanse comes in various cold pressed juice flavors that can also be used as shots. Squeezed is one of the top-rated cold-pressed juice cleanses in the US for you to enjoy either as shots or as a juice fast.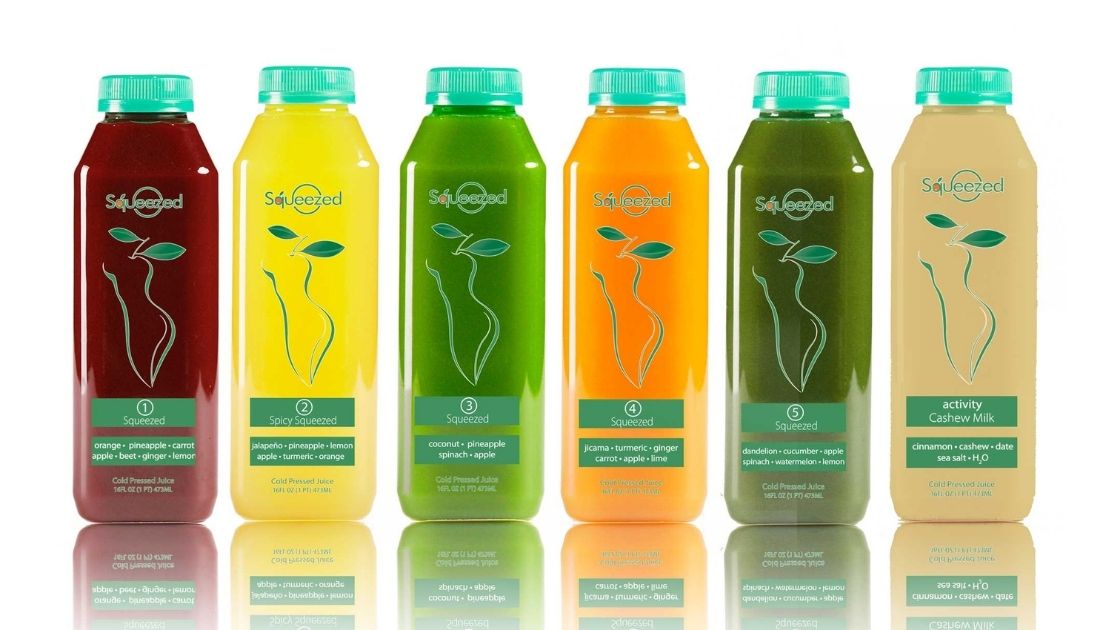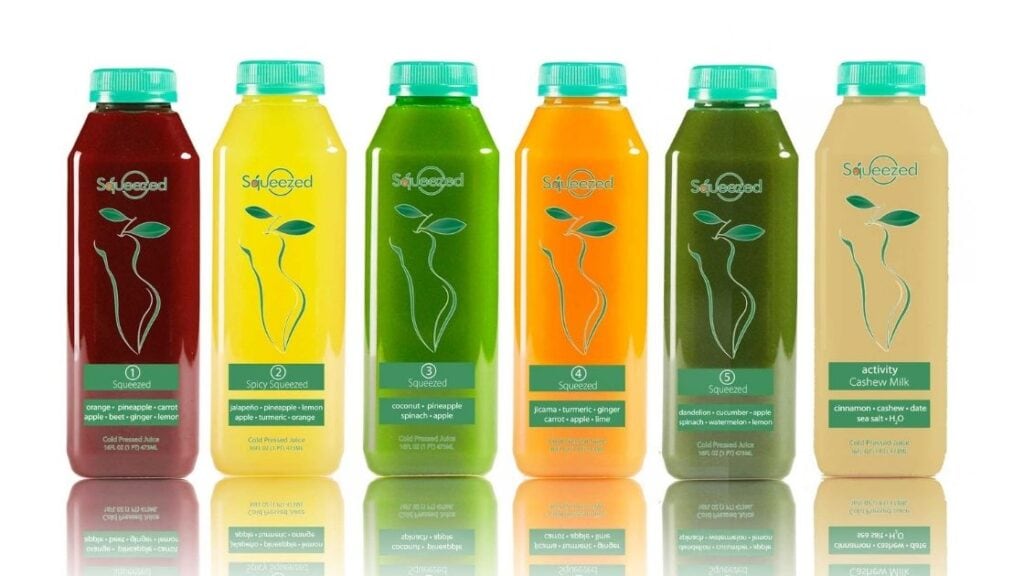 Pricing Range: $33.32 per cleanse of 6 bottles
Great taste
Nationwide same day delivery
Helpful cleanse and detoxing
Only available as a cleansing package
Raw Generation: Sweet Roots
Cold-pressed beet juice with a sweet, earthy taste that offers a plethora of health benefits. See it as your guilt-free dessert that will boost your energy and give you increased stamina for exercise. Some of the ingredients in this earthy drink include apple, carrot, beet, triple filtered water, and lemon juice.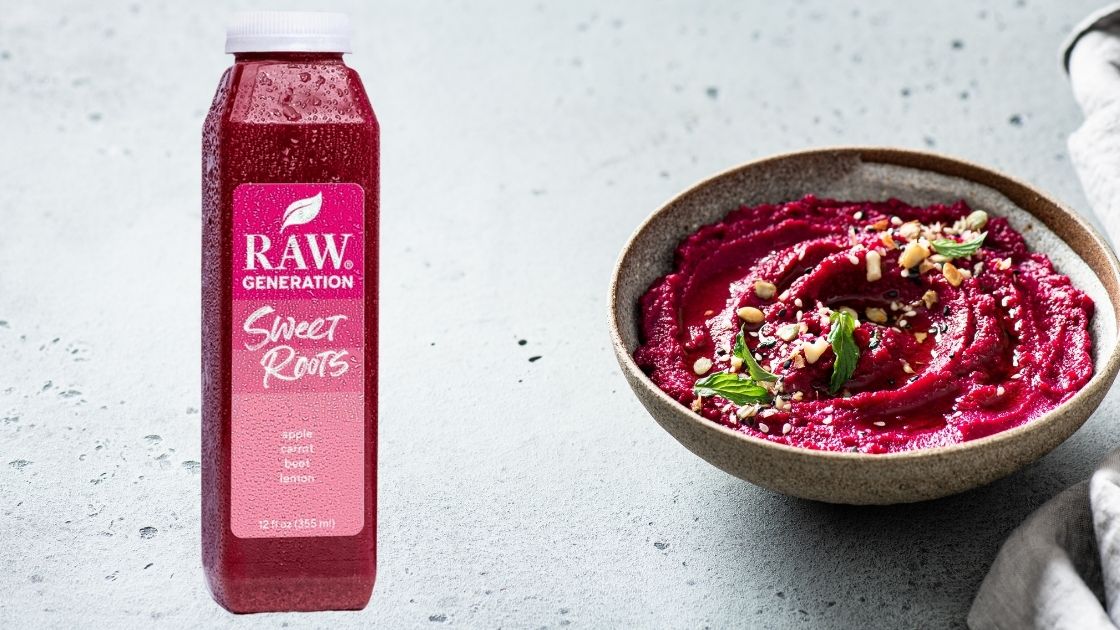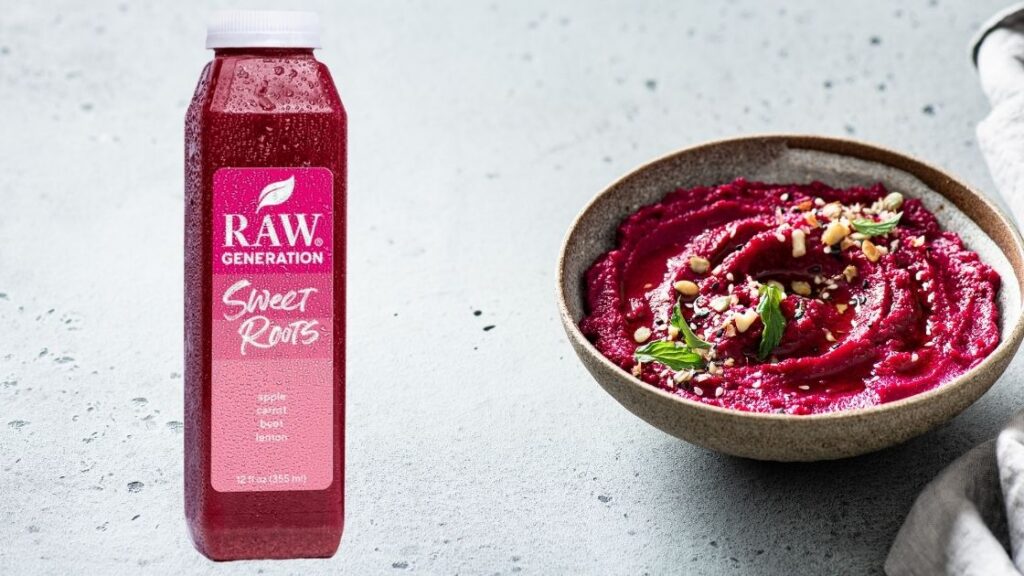 Pricing Range: $99.22 for a pack of 12
Sweet taste.
Boosts energy.
Revives your system.
Antioxidizing.
It needs to be thawed before consumption.
Pressed: Ginger Lemon Cayenne Shot
These lemony shots kick a punch with ginger and cayenne. It is the perfect start to your day and could help you as a midday revitalizer. This cold-pressed fruit juice is semi-sweet with a spicy tingling. The use of ginger, lemon, and cayenne have long been used for medicinal practice to help arthritis patients and reduce inflammation, making this the perfect medicinal shot to help with those inflammatory conditions.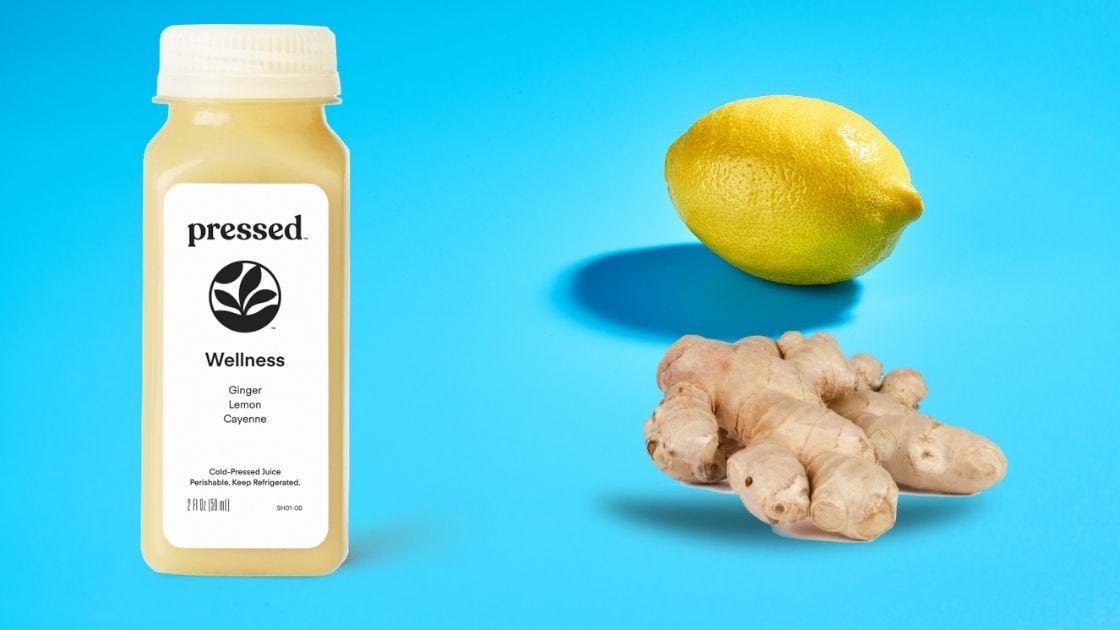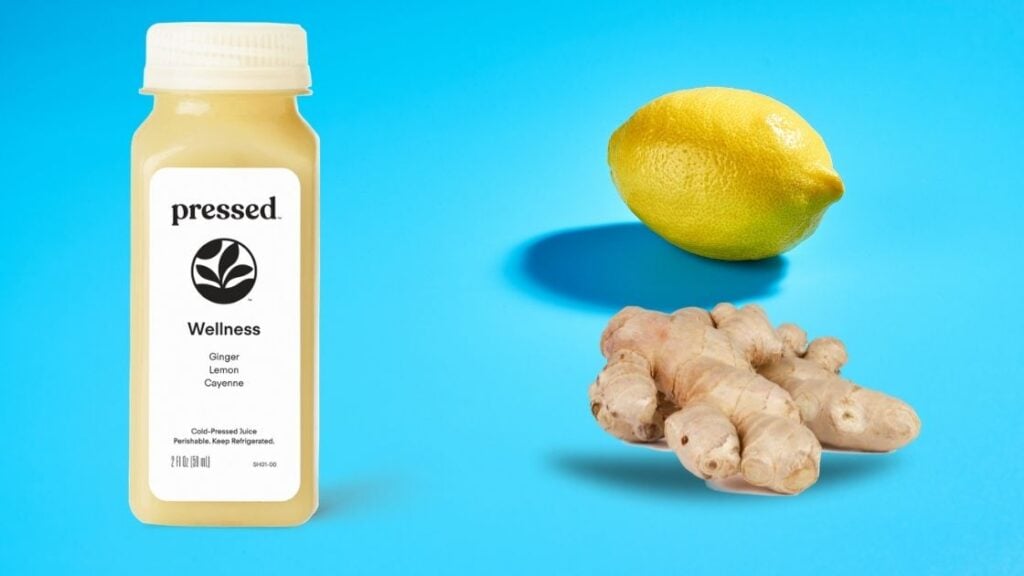 Pricing Range: Price starts from $3.25 per shot
Vegan
Gluten-Free
Non-GMO certified
Some may find the drink too spicy.
Suja Juice: Vitamin C shot
Your perfect vitamin C shot with functional ingredients and probiotics. This shot provides you with 100% of your recommended daily value of Vitamin C. You will have a lot of different flavors of cold-pressed juices with fruits and vegetables to pick from. If you are looking for a super picker-upper, this could be your shot to greatness.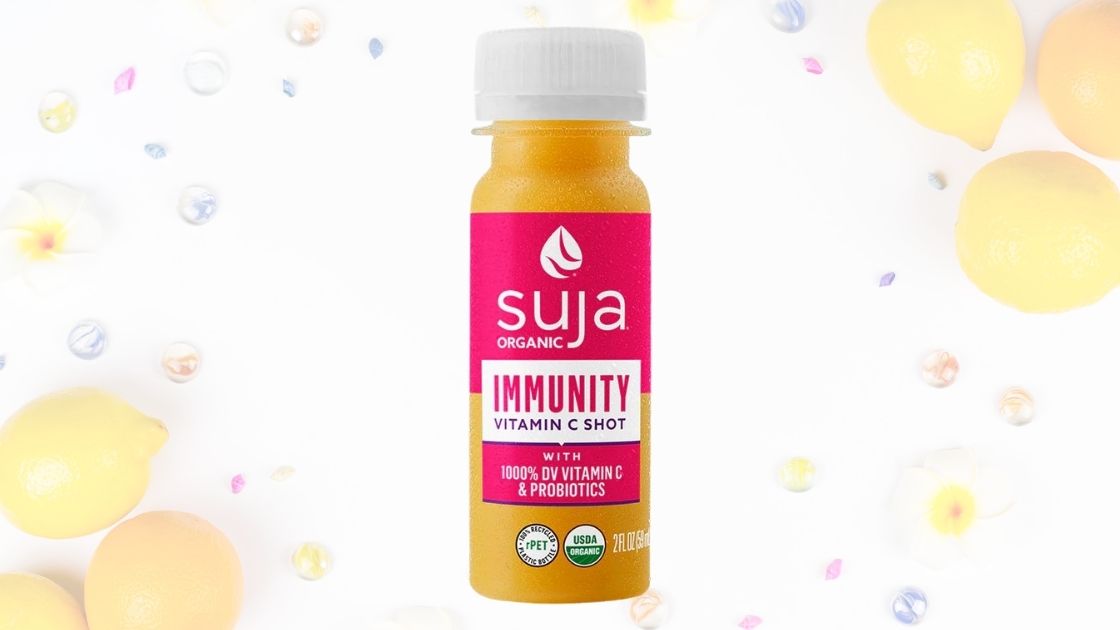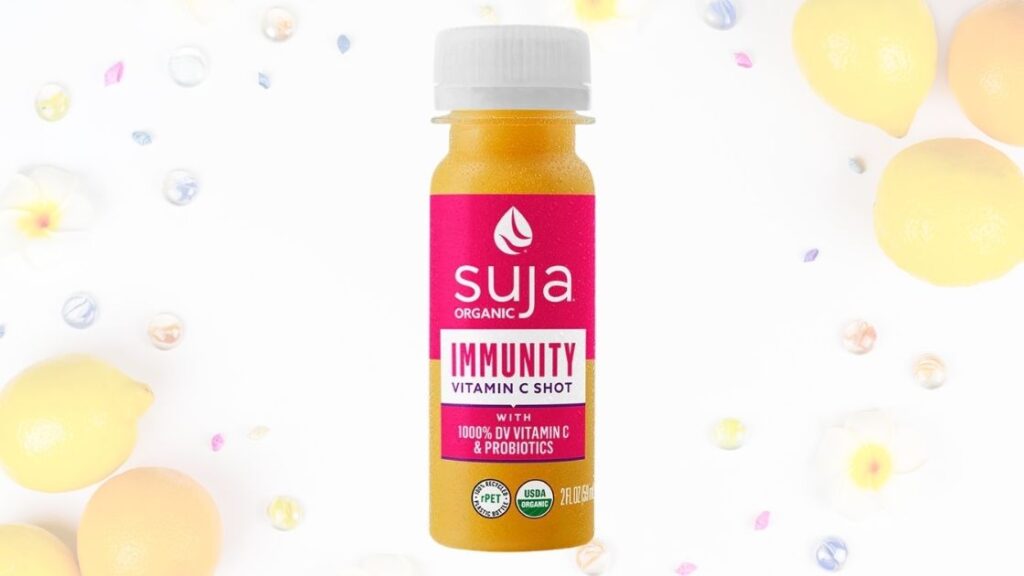 Pricing Range: $79 for a pack of 20
Support immune and digestive health.
USDA Organic.
NON-GMO.
No added sugars.
Nekter Juice: Ginger
Nekter Juice offers two official wellness shots, and you can also get seasonal shots. The ginger shot is an energizing boost of ginger and lemon. Nekter juice bar is well known in the revolution of cold-pressed juices, and you will be surprised with all the different flavors of juices available. This ginger shot is one of the purest ginger shot recipes.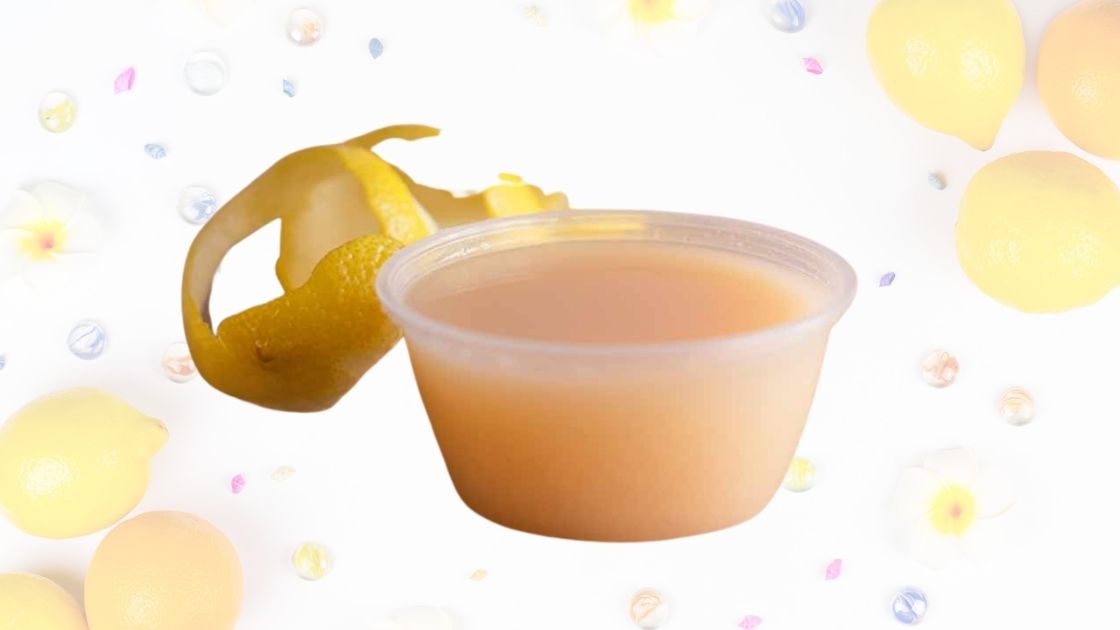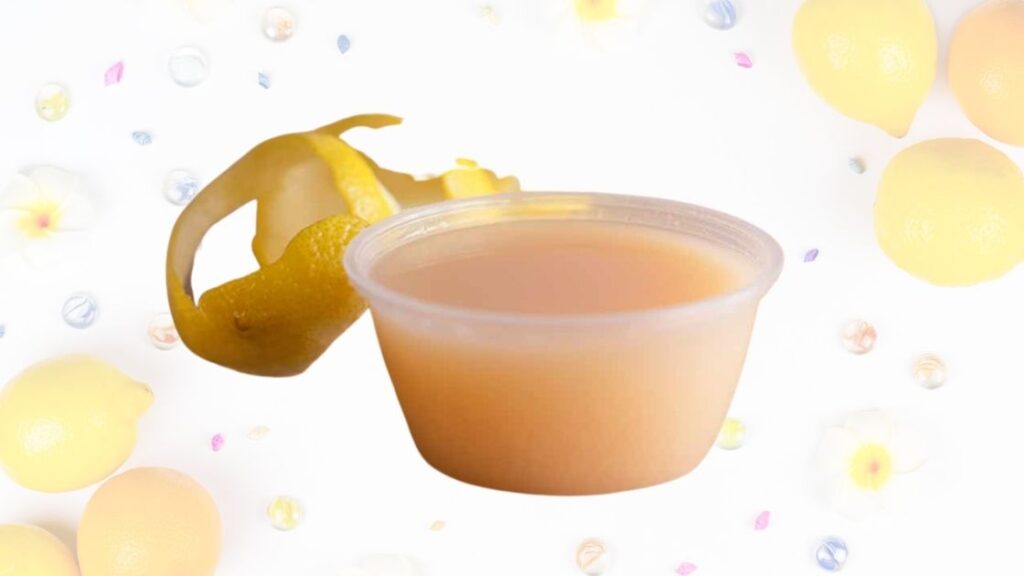 Pricing Range: $4
Only ten calories
Great for a boost of energy
All-natural
Ginger can be overpowering to some
Midwest Juicery: Holy Tom-8-0
Description: An all-vegetable juice with garlic, cilantro, and the main ingredient; tomato. Don't ruffle your nose just yet – do yourself a favor and taste the first cold-pressed tomato juice on the market. This is a delicious and healthier version of the traditional tomato juice that you need in your life. It is literally packed with over a pound of fresh produce with no additives. Perfect for a dose of potassium that helps support your healthy blood pressure and muscle contraction.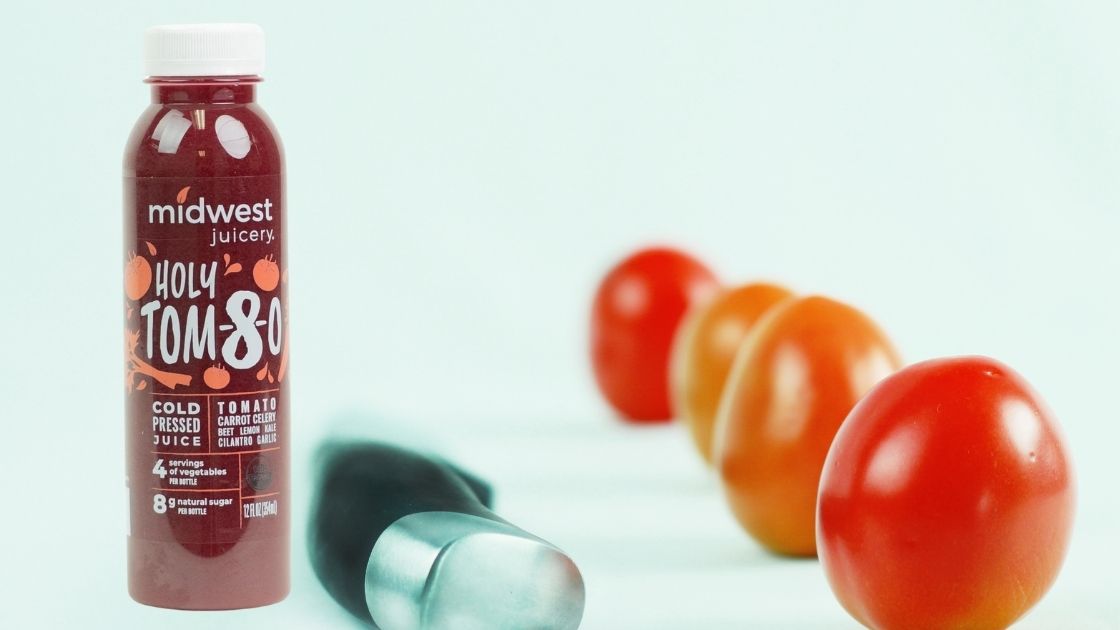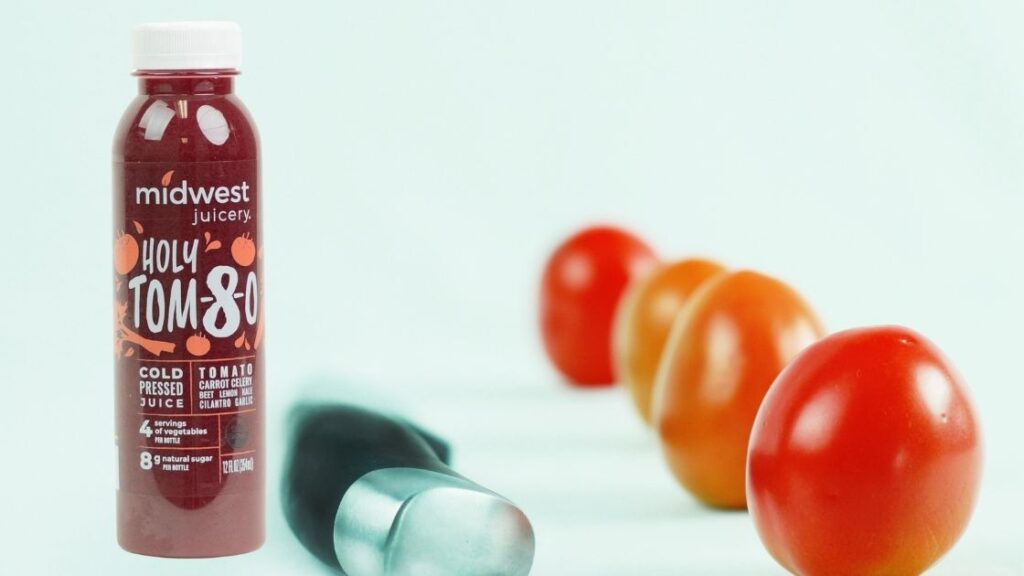 Pricing Range: $7.99 per bottle that contains four shot servings.
Gluten, Dairy, Soy, and Nut-free
Vegan
Organic and Non-GMO
Unpasteurized
Not available in a one-shot serving
Get Juiced Up the Healthy Way
Cold-pressed juice shots are a new health craze that is taking America by storm, and these are the best cold-pressed juice shots to try out.
Not only is it healthier than normal fruit juice, and contains no added sugar or pesticides, but it can also help you shake a few extra pounds.
All the health benefits of cold-pressed juices in a single shot? Why not? It's fast and efficient, and your body loves it. Try out some of the shots mentioned on this list, and you will immediately start to notice the health benefits. Available throughout the US, most of these juicers deliver nationwide.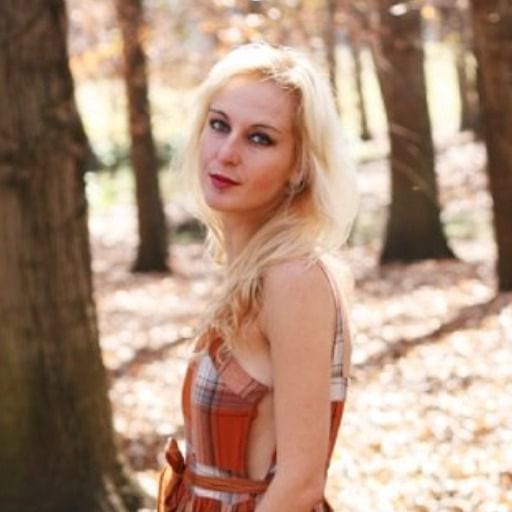 Reinette Robbertze is a highly qualified professional in the health and nutrition industry, having completed both Journalism and Nutrition diplomas. With a remarkable portfolio of health blogs and magazine articles to her name, Reinette's writing is fueled by her genuine passion for healthy living. Drawing on her academic background, Reinette delivers authentic and insightful information to her readers. Her engaging writing style, blended with personal anecdotes, creates an immersive experience that keeps readers engaged and informed. Keep following her work for the latest updates and informative articles on health and nutrition.