Reading time:

8

min
It is a highly nutritious vegetable that is consumed worldwide and can be found in various dishes and beverages
It has a long history of cultivation, dating back to ancient civilizations such as the Egyptians, Greeks, and Romans
It is packed with vitamins and minerals, including vitamin A, vitamin C, vitamin K, potassium, and calcium, which are beneficial for heart health
The high fiber content in celery promotes good digestion and may help prevent gastric ulcers
Studies have suggested that celery extract may have cognitive and neuroprotective benefits
Celery is one of the most consumed green vegetables in the world.
This is due to its potent nutritional value.
You can find it in juices, soups, as decoration, and to flavor any meal.
If you want to know more about celery health benefits, keep reading.
With us, you will learn all its nutritional value benefits and how to prepare recipes with celery.
Physical description
The celery plant is boggy in type and closely resembles parsley and carrot plants.
It forms clusters of eight to ten leaves and has long, sturdy, pale green fibrous stalks.
At the top, the stalks narrow and generate leaves.
Although most people throw the leaves away, they are delicious as well.
Celery has a subtle, earthy flavor and is just a touch spicy.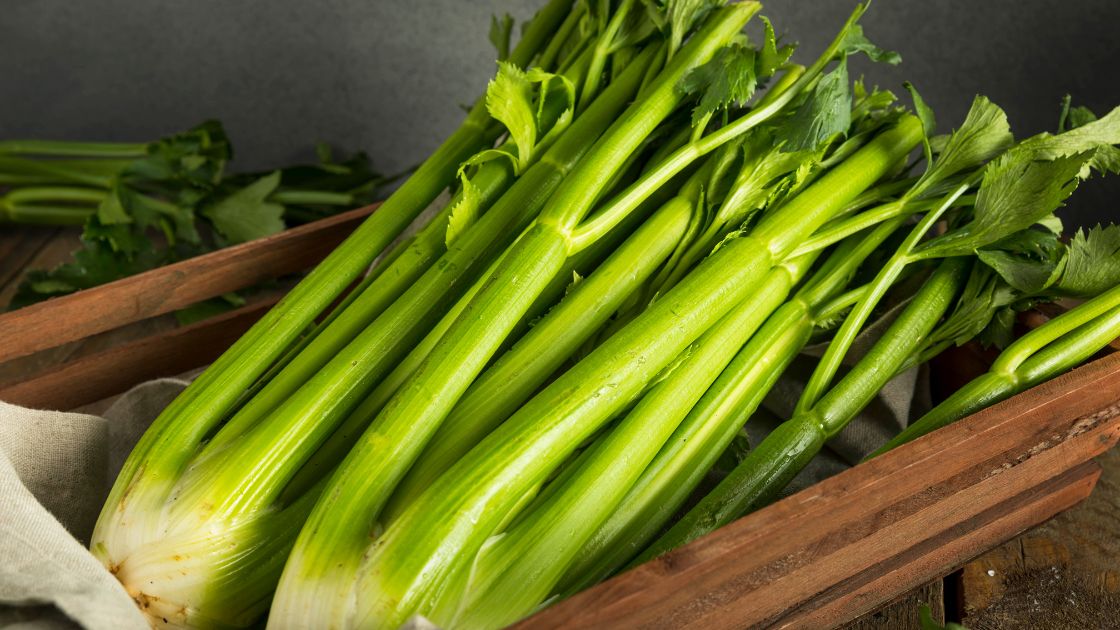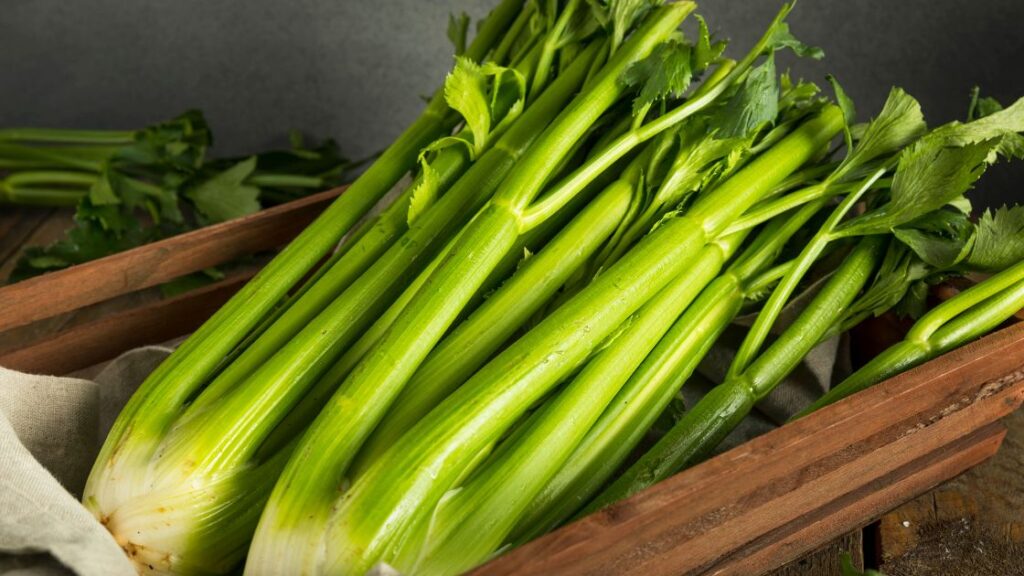 History and production
The Mediterranean and the Middle East are where celery first appeared.
Egyptians, Greeks, and Romans cultivated this vegetable as a flavoring and therapeutic plant. 
It was first cultivated in Italy in the 16th century after this wild variation.
The British Islands were later introduced to it by the French and Italians towards the end of the 17th century.
In North America, celery was first grown in the nineteenth century.
The crop is significant in the Valencian Community, Catalonia, and the Murcia region of Spain, where about 81,000t are produced annually.
The nutritional value of Celery is surprising.
Know the vitamins and minerals it has and its many health benefits.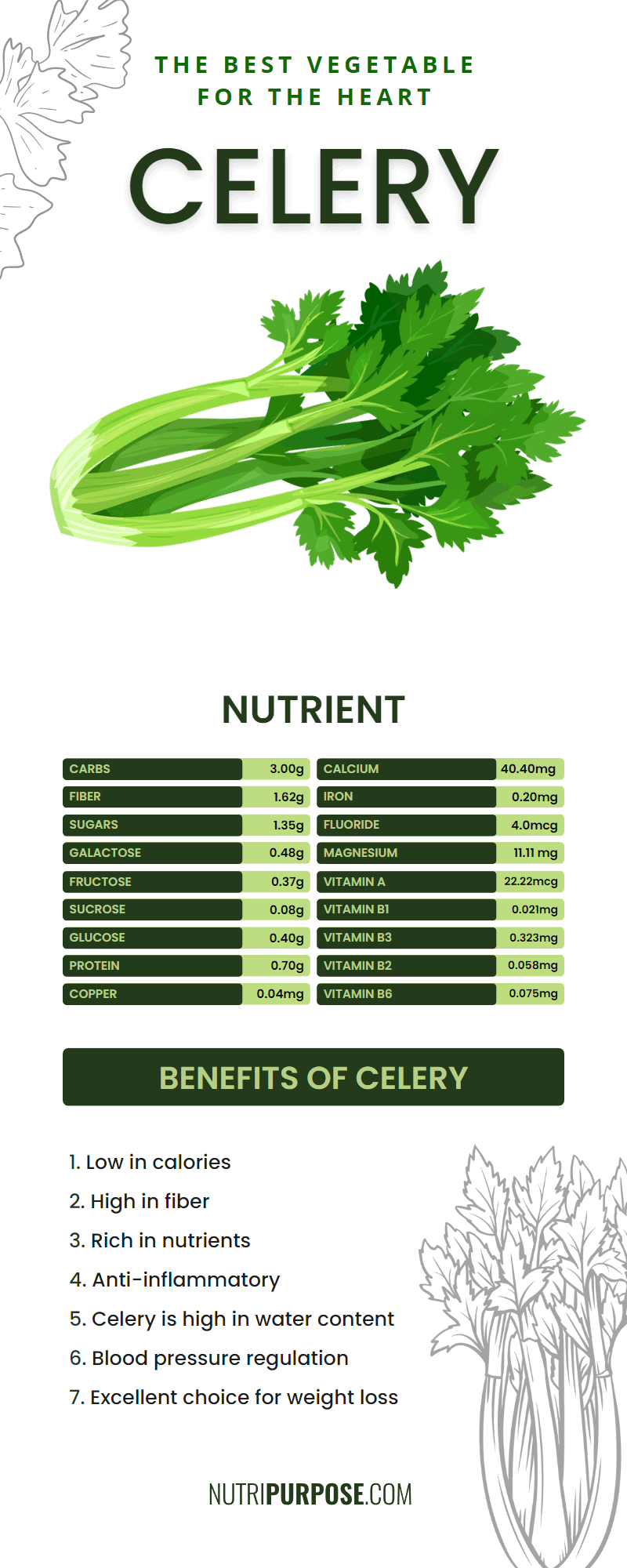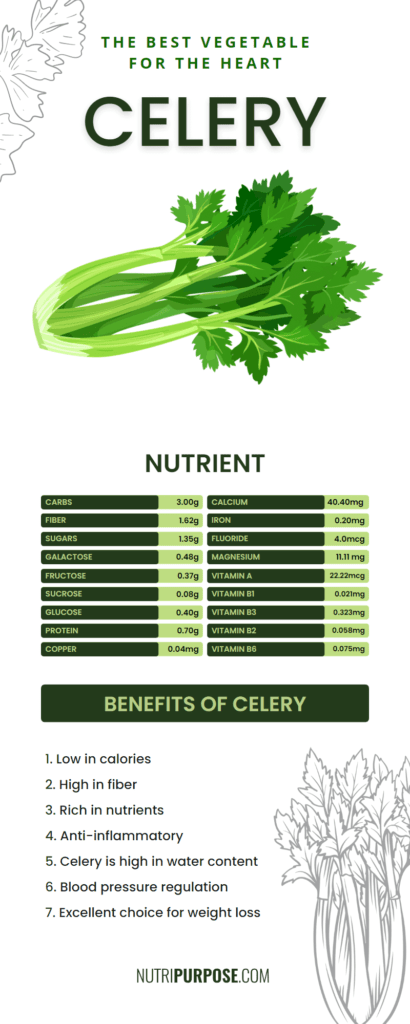 The fact of Celery Nutrition
Vitamins
Carotene, beta 272.70 mcg
Vitamin A, 22.22 mcg – 2 % of DV
Thiamin [Vitamin B1] 0.021 mg – 2 % of DV
Lutein + zeaxanthin 285.83 mcg
Niacin [Vitamin B3] 0.323 mg – 2 %
Riboflavin [Vitamin B2] 0.058 mg – 4 % of DV
Pantothenic acid [Vitamin B5] 0.248 mg – 5 % of DV
Folate, DFE [Vitamin B9] 36.36 mcg – 9 % of DV
Vitamin B6 0.075 mg – 4 % of DV
Vitamin C [Ascorbic acid] 3.1 mg – 3 % of DV
Folate, food 36.36 mcg
Vitamin E (alpha-tocopherol) 0.27 mg – 2 % of DV
Tocotrienol, alpha 0.01 mg
Tocopherol, alpha 0.27 mg
Vitamin K1 [Phylloquinone] 29.6 mcg
Vitamin K 29.6 mcg – 25 % of DV
Betaine 0.1 mg
Dihydrophylloquinone 0.0 mcg
Choline 6.2 mg – 1 % of DV
Minerals
Copper 0.04 mg – 4 % of DV
Calcium 40.40 mg – 3 % of DV
Iron 0.20 mg 1 % of DV
Fluoride 4.0 mcg
Manganese 0.104 mg – 5 % of DV
Magnesium 11.11 mg – 3 % of DV
Potassium 262.60 mg – 6 % of DV
Phosphorus 24.24 mg – 2 % of DV
Sodium 80.80 mg – 4 % of DV
Selenium 0.40 mcg – 1 % of DV
Zinc 0.13 mg – 1 % of DV
Proteins and Aminoacids
Alanine 0.023 g
Protein 0.70 g – 1 % of DV
Aspartic acid 0.118 g
Arginine 0.020 g
Glutamic acid 0.091 g
Cystine 0.004 g
Histidine 0.012 g – 1 % of DV
Glycine 0.021 g
Leucine 0.032 g – 1 % of DV
Isoleucine 0.021 g -1 % of DV
Methionine 0.005 g
Lysine 0.027 g -1 % of DV
Proline 0.018 g
Phenylalanine 0.020 g
Threonine 0.020 g – 1 % of DV
Serine 0.020 g
Tyrosine 0.009 g
Tryptophan 0.009 g – 2 % of DV
Phenylalanine + Tyrosine 0.029 g – 1 % of DV
Valine 0.027 g – 1 % of DV
Methionine + Cysteine 0.005 g
Carbohydrates
Fiber 1.62 g – 6 % of DV
Carbohydrate 3.00 g – 1 % of DV
Sugars 1.35 g
Galactose – 0.48 g
Fructose – 0.37 g
Sucrose 0.08 g
Glucose 0.40 g
Net carbs 1.38 g
Fats and Fatty Acids
Saturated fatty acids 0.042 g – 0 % of DV
Octadecanoic acid 0.004 g
Hexadecanoic acid 0.037 g
Monounsaturated fatty acids 0.032 g
Tetradecanoic acid 0.001 g
Octadecenoic acid 0.031 g
Hexadecenoic acid 0.001 g
Octadecadienoic acid 0.080 g
Polyunsaturated fatty acids 0.080 g
Sterols
Other
Health benefits of Celery
May benefit heart health
A lower risk of heart disease is linked to diets rich in fibrous foods like celery.
Celery contains many vitamins and minerals, including potassium and calcium, crucial for heart health. It also has a high water content.
Flavonoids have anti-inflammatory and protective properties for the cardiovascular system.
These potent beneficial plant components abound in celery.
In addition, it also contains folic acid and vitamin K.
These nutrients are essential for producing red blood cells and efficient blood clotting.
You can also consume black olives, watermelon, bosc pears, and pumpkins to care for your heart.
These foods also offer multiple benefits for heart health.
Promote good digestion
Both soluble and insoluble fiber are crucial for digestive health.
These two types of fiber are abundant in celery.
Celery extract contains phytonutrients that may be beneficial in maintaining proper digestive mucosa.
Also, its consumption can prevent gastric ulcers.
Possibly helps memory
In a 2017 animal study, celery extract appeared to improve cognitive performance related to aging and sadness.
Another study confirmed that participants with dementia and Alzheimer's disease benefited from the neuroprotective effects of celery extract.
Could make managing blood sugar better
Celery is advantageous for those who need to control their blood sugar levels.
This is because it has a low glycemic index (GI) and is high in fiber.
Numerous studies confirm that celery could reduce blood glucose levels.
So its consumption can be of great help to those who have this condition.
Since you know its multiple benefits, learn how to cook using celery.
Celery recipes
Soup with Celery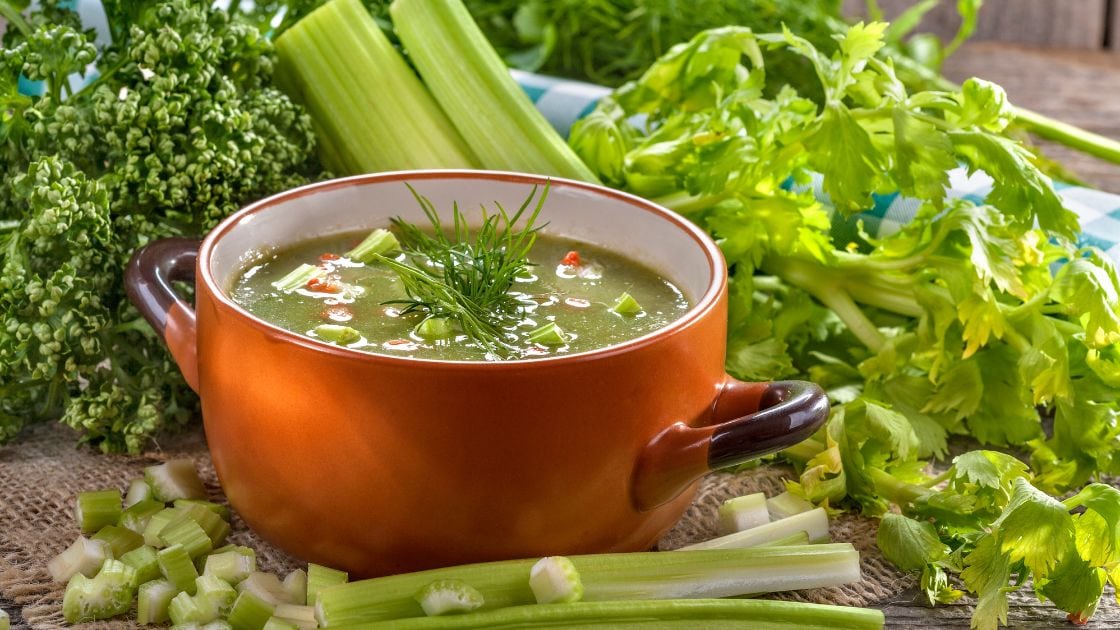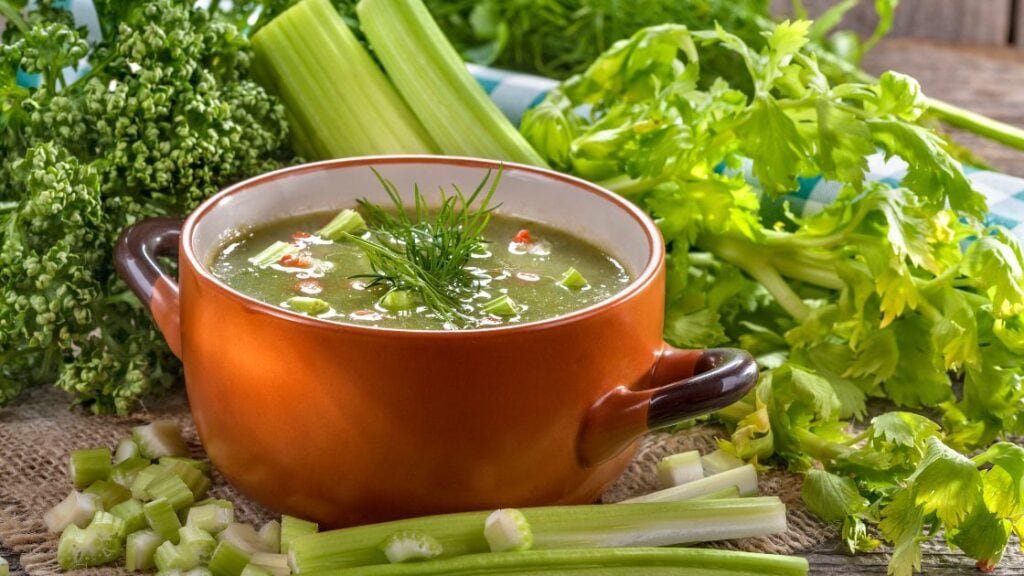 Preparation time: 40 minutes
Serving: 4
Ingredients:
200 grams of potatoes
300 grams of celery root
100 mililiters of milk
3 tablespoons of olive oil
500 milliliters of vegetable stock2 garlic cloves
Crusty bread
Salt at taste
Procedure:
Add the celery, garlic, and potatoes to a large saucepan preheated with oil over medium heat.
Cook over low heat for 15 minutes, stirring frequently. Add a little water if the vegetables start to stick together.
Add the vegetable broth and bring it to a boil.
After boiling, reduce heat and continue to simmer for 20 minutes or until potatoes are tender and celery is soft.
Blend the soup with a hand blender, add the milk, and pulse the machine again.
Serve along with crusty bread.
Celery juice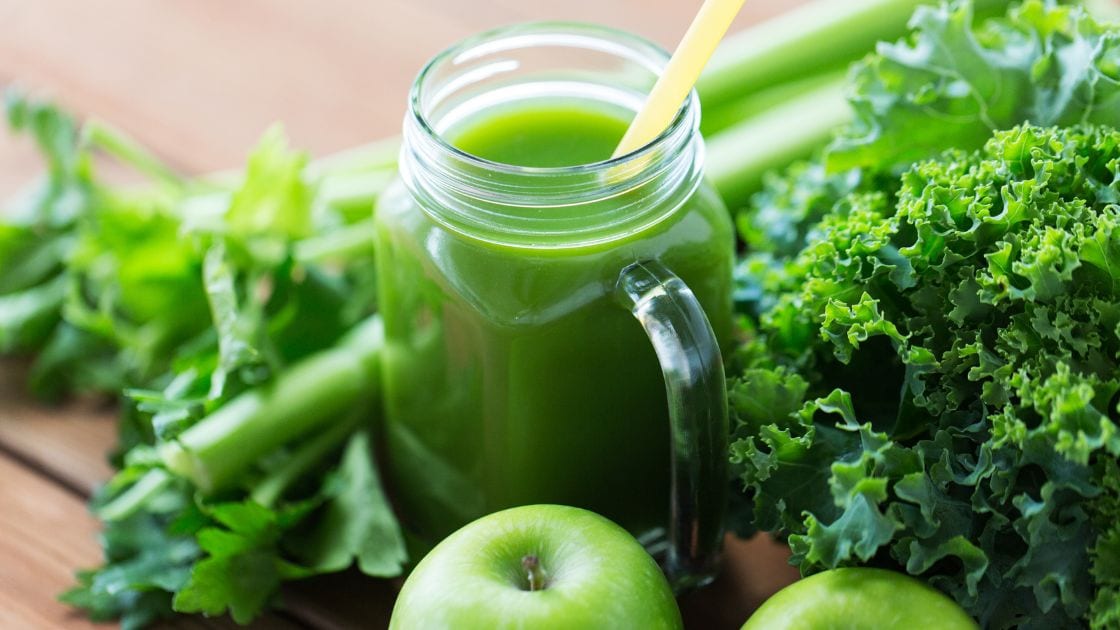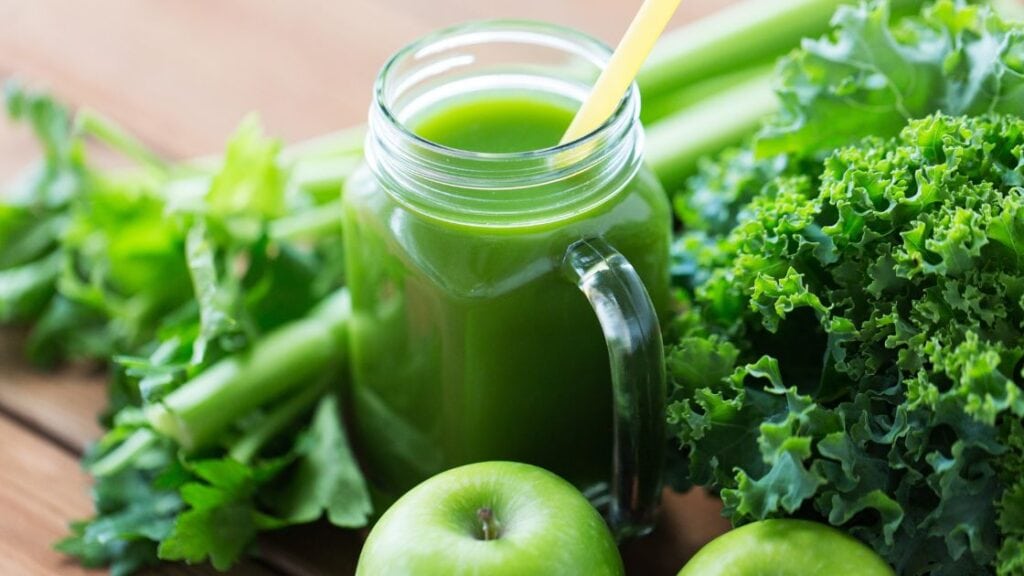 Preparation time: 10 minutes
Serving: 2
Ingredients:
120 grams of green apple
500 grams of celery
20 grams of ginger
1 lemon in juice
Procedure:
Clean and separate the celery stalks. Keep one of the young stems whole for serving. Cut the others into large pieces.
Place the finely chopped celery, apple, ginger, and half the lemon juice in a food processor or blender.
Add 80-100 milliliters of cold water while the engine runs, and mix until smooth.
Strain the mixture into a pitcher using a fine mesh strainer.
Serve the juice in glasses with a piece of celery stalk. If you like, add a little extra lemon.
I particularly love cooking a lot with celery. For me, the flavor it brings is unique. Lisa Edelstein thinks the same:
"I'm obsessed with broccoli, carrots, celery, string beans, snap peas, black kale, brussels sprouts, cabbage – I could go on! They used to call me 'rabbit' when I was a kid. I hate mushrooms, though. I apologize to fungi lovers, but this way, there's more for you!"
Some relevant facts about celery:
The celery is known in some regions as Apium graveolens.
Celery seeds and celery seed extract are mostly utilized as a diuretic; they help our bodies get rid of water by increasing urine production. They are also suitable for treating gout and arthritis and assist in reducing muscular spasms.
There are different varieties of celery: celeriac, green or Pascal celery, self-blanching, yellow (leaf) celery, and wild celery.
This green vegetable is a good source of antioxidants.
Although it is a healthy vegetable, some people may have celery allergies.
Celery can be eaten raw or cooked (blanched).
The best way to store celery is whole and wrapped in aluminum foil.
The stalk of celery brings more flavor than the leaves.
Raw celery is perfect for adding to green juices.
Celery also lowers blood pressure and is low-calorie.
During the growing season, celery needs at least 1 to 2 inches of water from irrigation or weekly rainfall.
Eat Celery From Now
Start including celery in your daily diet. You can start by drinking green juices at breakfast or adding it to your meals.
You cannot miss the opportunity to take advantage of this green vegetable's benefits.
So get excited and start now.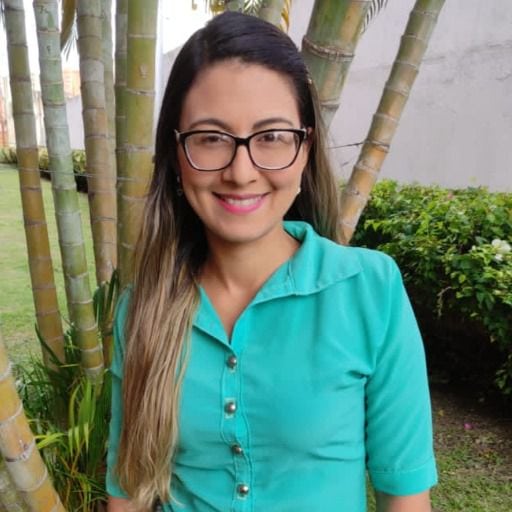 I am a professional health and nutrition writer with extensive experience in the industry. My passion for sharing valuable insights on nutrition and wellness stems from over 15 years of personal training and maintaining a healthy lifestyle. My commitment to continuously educate myself on the latest trends and research in the field allows me to deliver high-quality content that is informative and engaging. My mission is to empower individuals to make informed decisions about their health and well-being through my writing.