Reading time:

8

min
It is a versatile vegetable that can be added to almost any meal
It is rich in nutrients, including vitamins B1, B3, B2, and C, as well as minerals like copper, calcium, and iron
The antioxidant polyphenols in it can reduce the risk of diseases like cancer, diabetes, and heart disease
It can help alleviate morning sickness during pregnancy
It is low in calories and carbohydrates, making them a good choice for weight loss
Heart of palm is a vegetable very versatile and can be added to almost any meal.
But there is a type of preparation in which it is more frequent to find them. Do you know what it is?
The salads.
Hearts of palm adapt to any salad, which is why it is one of the favorite vegetables for vegetarians.
Continue on our blog and learn about all the nutrients and benefits the Hearts of palm offers.
Physical description
Hearts of palm are extracted from the inner core of a kind of white vegetable called a palm tree.
This plant is a wide and long piece of wood that can measure up to 20 meters in height. It has a large number of lanceolate, flexible, and resistant leaves.
Hearts of palm is also known as palm cabbage, palm hearts, palmito, swamp cabbage, and chonta.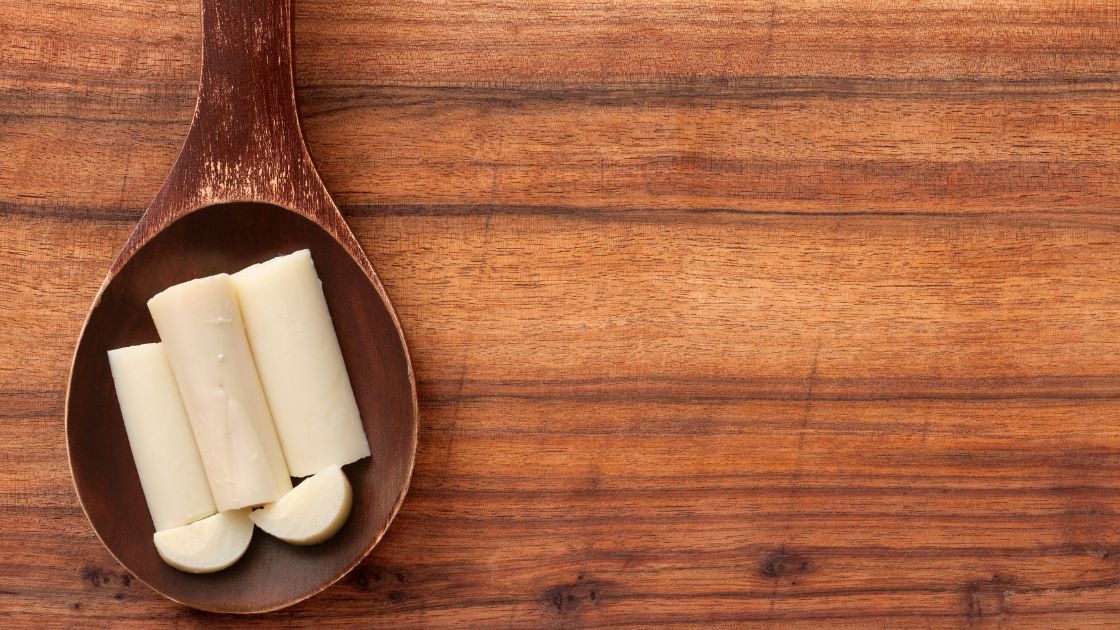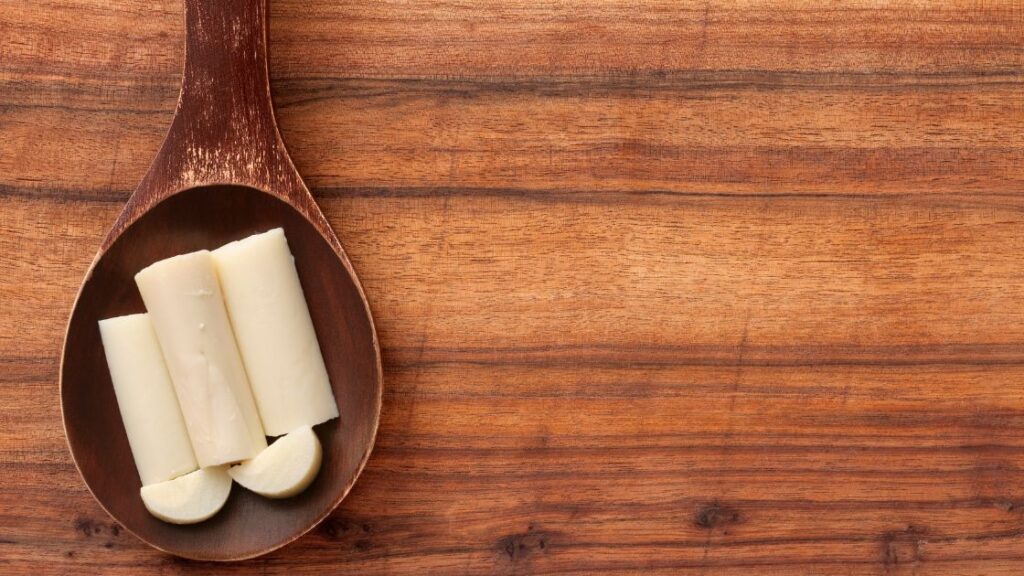 History and production
Hearts of palm is a tropical plant that grows in humid climates.
"Euterpe edulis" palm is one of the most popular used to obtain the heart of palm.
Fundamentally, it only grows in Argentina, Brazil, Costa Rica, Paraguay, and the Amazonas.
The best harvests are produced in these areas.
They can grow if humid, arctic conditions and a tropical or subtropical climate exist.
Many people frequently consume hearts of palm for their important nutritional value.
Keep reading and find out in detail all its nutrients and the benefits it can provide.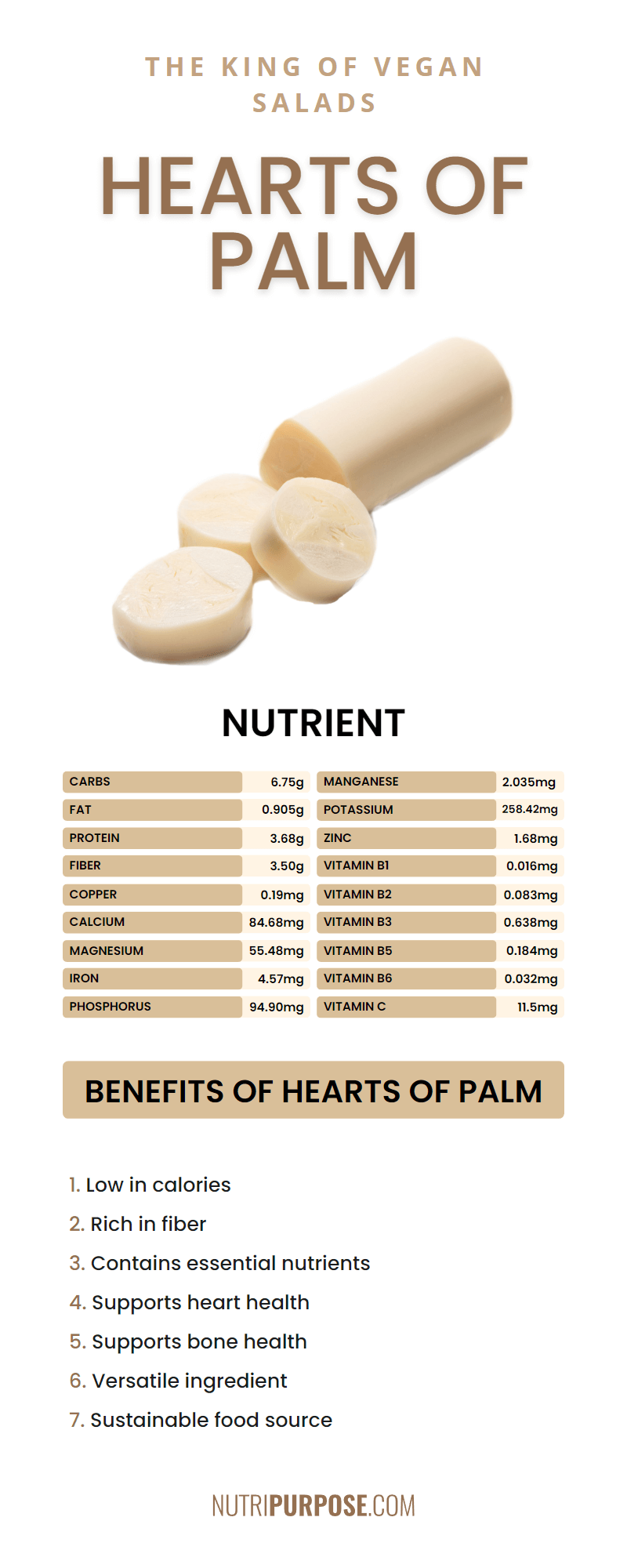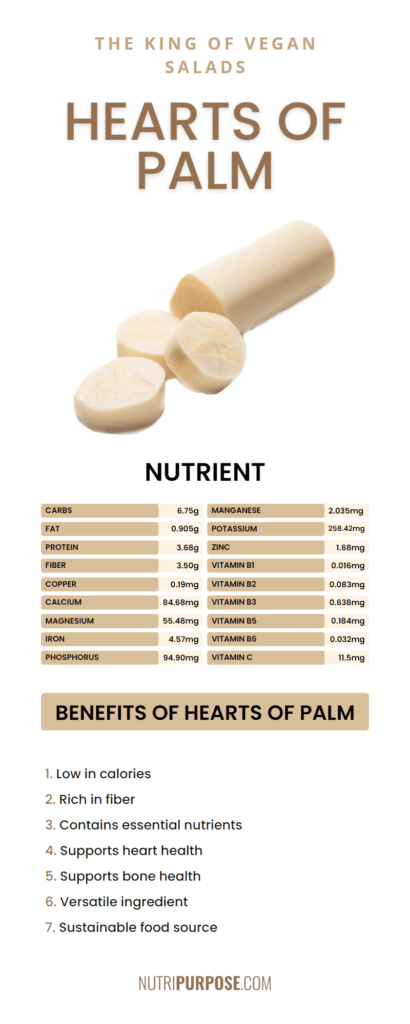 Hearts of palm Nutrient (canned)
Vitamins
Thiamin [Vitamin B1] 0.016 mg – 1 % of DV
Niacin [Vitamin B3] 0.638 mg – 4 % of DV
Riboflavin [Vitamin B2] 0.083 mg – 6 % of DV
Vitamin B6 0.032 mg – 2 % of DV
Pantothenic acid [Vitamin B5] 0.184 mg – 4 % of DV
Folate, food 56.94 mcg
Folate, DFE [Vitamin B9] 56.94 mcg – 14 % of DV
Vitamin C [Ascorbic acid] 11.5 mg – 13 % of DV
Minerals
Copper 0.19 mg – 21 % of DV
Calcium 84.68 mg – 7 % of DV
Magnesium 55.48 mg – 13 % of DV
Iron 4.57 mg – 25 % of DV
Phosphorus 94.90 mg – 8 % of DV
Manganese 2.035 mg – 88 % of DV
Selenium 1.02 mcg – 2 % of DV
Potassium 258.42 mg – 5 % of DV
Zinc 1.68 mg -15 % of DV
Sodium 621.96 mg – 27 % of DV
Proteins and Aminoacids
Alanine 0.162 g
Protein 3.68 g – 7 % of DV
Aspartic acid 0.245 g
Arginine 0.260 g
Glutamic acid 0.432 g
Cystine 0.028 g
Histidine 0.080 g – 7 % of DV
Glycine 0.158 g
Leucine 0.247 g – 7 % of DV
Isoleucine 0.147 g – 9 % of DV
Methionine 0.061 g
Lysine 0.133 g – 4 % of DV
Proline 0.128 g
Phenylalanine 0.143 g
Threonine – 0.142 g – 9 % of DV
Serine 0.118 g
Tyrosine 0.072 g
Tryptophan 0.034 g – 8 % of DV
Phenylalanine + Tyrosine 0.215 g – 8 % of DV
Valine 0.166 g – 8 % of DV
Methionine + Cysteine 0.061 g – 4 % of DV
Carbohydrates
Fiber 3.50 g – 12 % of DV
Carbohydrate 6.75 g – 2 % of DV
Net carbs 3.25 g
Fats and Fatty Acids
Saturated fatty acids 0.190 g – 1 % of DV
Fat 0.905 g – 1 % of DV
Octadecanoic acid 0.023 g
Hexadecanoic acid 0.166 g
Octadecenoic acid 0.150 g
Monounsaturated fatty acids 0.150 g
Octadecadienoic acid 0.267 g
Polyunsaturated fatty acids 0.295 g
Octadecatrienoic acid 0.028 g
Other
Ash 2.98 g
Water 131.69 g
Health benefits of Hearts of Palm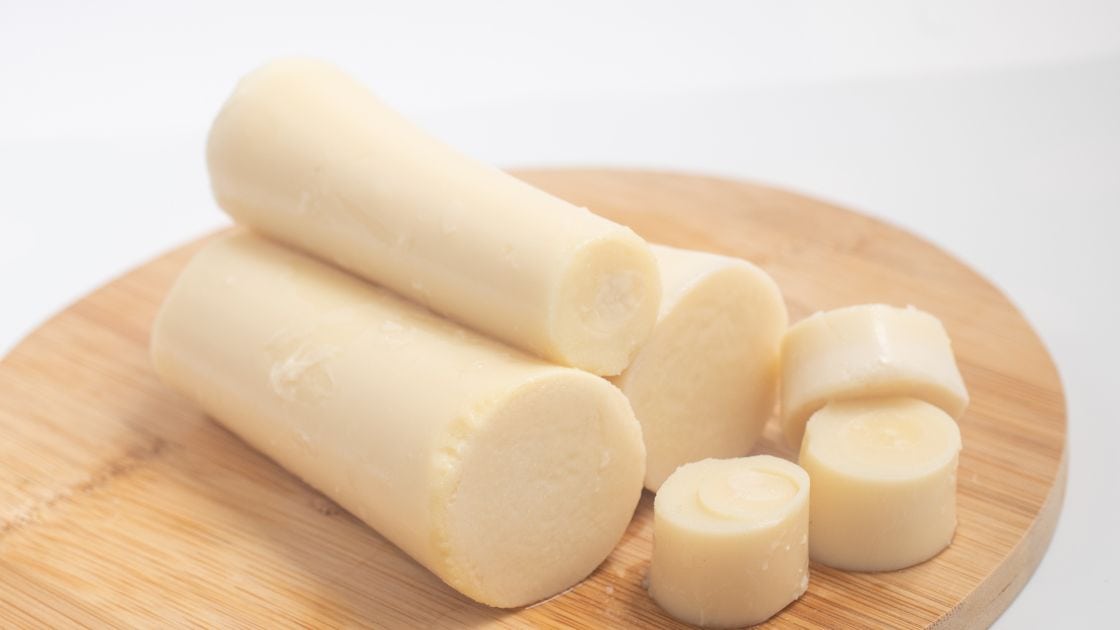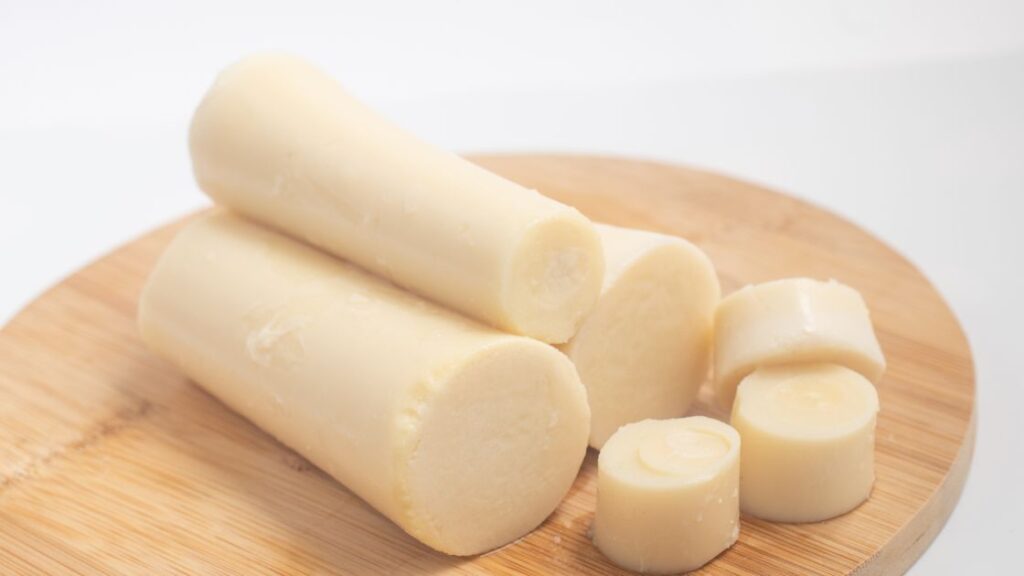 Rich in antioxidants
The heart of palm contains antioxidant polyphenols.
These are powerful plant substances that neutralize free radicals.
Free radicals are unstable chemicals.
When they are present in our bodies in excessive amounts, they can cause oxidative damage.
There are numerous diseases related to oxidative damage.
That's why antioxidant-rich diets are powerful.
In conclusion, antioxidants can reduce the risk of developing certain diseases such as cancer, diabetes, and heart disease.
Inflammation is considered one of the main contributors to many of these diseases.
Fortunately, diets rich in polyphenols are also linked to decreased inflammation.
Decrease Morning Sickness
During the first months of pregnancy, more than half of women experience nausea and vomiting.
Pyridoxine is one of the components in the heart of palm that helps minimize the effects of morning sickness.
Pyridoxine is often known as vitamin B6.
When combined with doxylamine (an antihistamine), this vitamin has the best effects in relieving morning sickness.
Help with Weight loss
Hearts of palm may help in a plan to lose weight because it has a low-fat and low-carb content.
It only has 36 calories and 4 grams of carbohydrates per 3.5-ounce (100-gram) serving.
Replacing high-calorie foods with this vegetable can help us in weight loss efforts. So, we end up eating fewer calories than we need each day.
The hearts of palm can also promote sensations of satiety because it is rich in water and fiber.
This could help keep us full longer and therefore eat less.
This vegetable can also add weight to meals without adding many calories.
It is perfect for salads or stir-fry recipes.
Preserve Heart Health
Potassium predominates among all the vitamins and minerals found in the hearts of palm.
Our heart health is significantly influenced by potassium.
This vitamin can help control high blood pressure and encourage our hearts to release blood to the rest of the body.
It does this by reducing sodium's negative effects and stress on the blood vessel walls.
Bananas, spinach, cantaloupes, broccoli, and pumpkins are other food sources of potassium.
Get to know some recipes with the heart of palm that will get you out of trouble.
Recipes to Add Hearts of palm to your diet
Hearts of Palm salad with tomato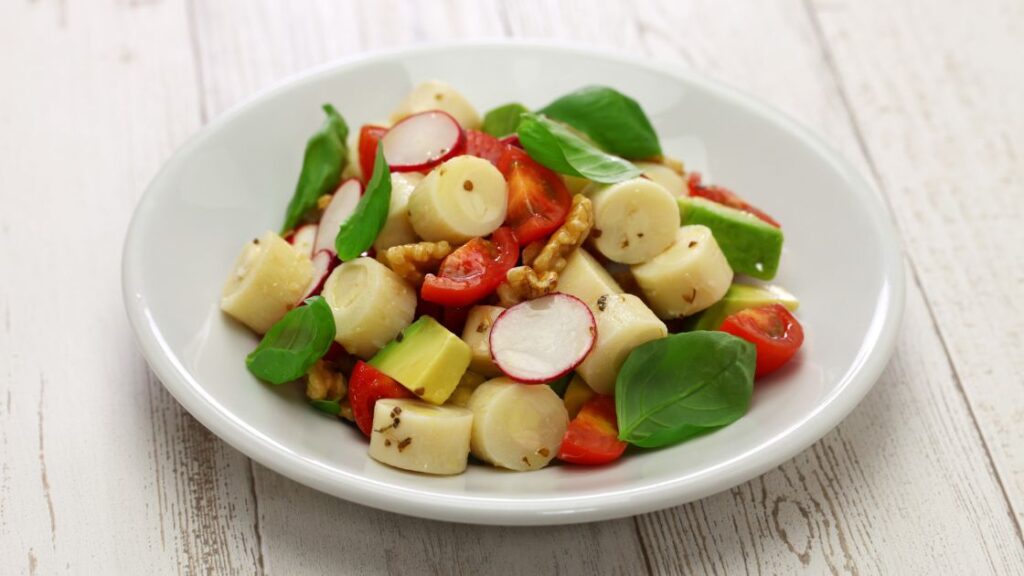 Preparation time: 10 minutes
Servings: 6
Ingredients:
250 grams of cherry tomato
400 grams of fresh hearts of palm (canned or jarred hearts)
A large handful of parsley
1 tablespoon of sherry vinegar
2 spring onions
2 tablespoons of olive oil
Procedure:
Combine the tomatoes, spring onions, and hearts of palm.
Separately mix the sherry vinegar and olive oil.
Add the previous mixture to the salad.
Add the parsley, stir everything together, and then serve.
American salad with heart of palm
Preparation time: 20 minutes
Servings: 4
Ingredients
100 grams of wedge blue cheese
30 grams of artichoke heart
30 grams of white asparagus
2 ripe avocados
3 Cos lettuces
4 cups of hearts of palm
A handful of toasted pine nuts
For the dressing
2 tablespoons of balsamic vinegar
100 milliliters of extra-virgin olive oil
Procedure:
Wash all lettuce, artichokes, and asparagus, and cut them into pieces.
Cut the avocados in half, remove the seed, and cut them into chunks.
Hearts of Palm should be divided into pieces of the same size.
Combine the dressing ingredients in a bowl with a little salt and pepper.
Cut the cheese into small pieces.
Distribute the already chopped lettuce between four plates.
Add to each plate the additional ingredients. Divide it so that they are distributed among the 4 plates.
Everyone should mix their salad and add toasted pine nuts and the dressing to taste.
Heart of Palm is the king of salads.
There is no salad to which the heart of palm cannot be added and enhance its nutritional value.
That is why salads are excellent for health, as Laurie Colwin says:
"Many people eat salad dutifully because they feel it is good for them, but more enlightened types eat it happily because it is good."
Some interesting facts about the hearts of palm:
Hearts of Palm taste is delicate and sweet, similar to nuts flavor.
This green vegetable is a good protein, fiber, and manganese source.
Heart of palm is high in fiber, similar to broccoli and spinach.
Jarred heart of palms can be eaten raw.
The hearts of palms are often confused with a plant, and they do not know that it is edible.
This green vegetable is a vegetable harvested mostly in South America.
Hearts of Palm make us feel full for a long time. This is thanks to the fact that this palm is an excellent source of fiber.
Canned hearts of palms is the most sought-after presentation on the market.
Always buy hearts of palm; this makes us have it at home and thus consume it frequently.
Nutritious Hearts of palm is the king of salads
Now you know why the heart of palm is the king of salads.
Its flavor and nutritional contribution make it a healthy option that many seek.
More and more people are joining their consumption.
From vegetarians and vegans to people who consume animal protein.
If you haven't tried it yet, do it now and take advantage of all its benefits.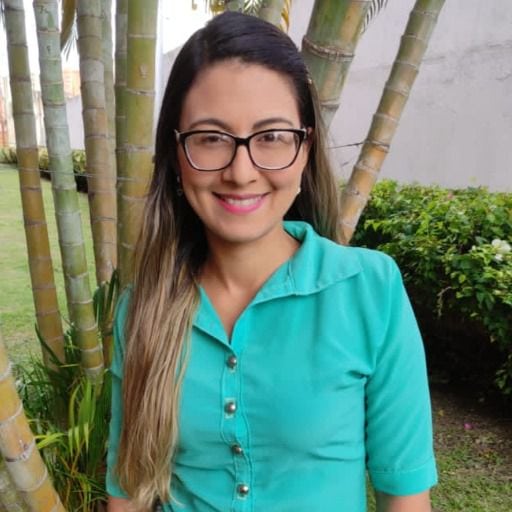 I am a professional health and nutrition writer with extensive experience in the industry. My passion for sharing valuable insights on nutrition and wellness stems from over 15 years of personal training and maintaining a healthy lifestyle. My commitment to continuously educate myself on the latest trends and research in the field allows me to deliver high-quality content that is informative and engaging. My mission is to empower individuals to make informed decisions about their health and well-being through my writing.