Reading time:

12

min
They are low in calories and high in fiber, protein, and antioxidants
Regular consumption of mushrooms can help maintain a healthy weight and a low BMI
They have been linked to various health benefits, including improved digestive health, a strengthened immune system, and many more
Using mushrooms for weight loss can help suppress appetite and provide a high level of satiety
There are many delicious and healthy mushroom recipes that can be enjoyed at any meal
From the oriental oyster to the slender shiitake, the bold portobello to the petite button—you got it; today we're talking about mushrooms.
Mushrooms come in every size and shape available, but did you know that mushrooms could also help keep you at your healthiest size and in your best shape?
That's right, mushrooms benefit your body in more ways than one, and you can even use mushrooms for weight loss.
Low in calories and high in fiber, protein, and antioxidants, mushrooms make a great addition to any meal and even work amazingly as a healthy meat substitute.
We've even collected some of our best mushroom recipes to inspire you tonight for a healthier tomorrow.
Here's How to Cook Mushrooms for Weight Loss!
Why are mushrooms popular as a medicinal food?
Because he's a fungus… Okay, but seriously, a better question might be, "Why aren't mushrooms popular?"
This delicious ingredient is low in calories and fat and high in antioxidants, fiber, and protein.
They stand strong on their own and make a great addition to salads, bakes, stir-fries, and breakfasts.
It's also the ultimate substitute for meat.
It's high in protein and has a consistency that just can't be beaten.
Try mushrooms as a replacement for meat in curries, ground meat dishes, stews, or kebabs.
Nowadays, mushroom supplements are also available on the market.
But just what health benefits can these little guys bring to the table?
The Nutritional Profile of a Mushroom
100 g, or about a cup, of eating mushrooms contains:
22 Calories
0.3g Fat
3.1g Protein
1g Fiber
318 mg Potassium
They are also high in copper, Vitamin B, Selenium, and other important trace minerals.
Additionally, mushrooms also have good amounts of folate, antioxidants, and Vitamin D.
Mushroom Benefits
The health benefits of mushrooms have been linked to many positive outcomes.
Mushrooms may:
Facilitate digestive health: Mushrooms are a good source of dietary fiber which will help keep your digestive system running smoothly.
Strengthen the immune system: Antioxidants in mushroom powder like selenium may help with disease prevention as well as strengthen the immune system.
Help you maintain a healthy weight: Mushrooms are low in calories and high in taste. Regular consumption can help you keep your body weight in check and your BMI low.
Fight against cancer: Preliminary studies in animals show that daily mushroom consumption is associated with a lower risk of some cancers.
Prevent Alzheimer's Disease: There is research suggesting that the consumption of certain types of mushrooms (notably Lion's Mane) may help in the fight against Alzheimer's disease and other cognitive disorders.
Reduce the risk of diabetes: Mushroom benefits extend to reducing your risk of developing diabetes by keeping your blood sugar level stable.
Why should I use Mushrooms for Weight Loss?
Mushrooms are a great option if you are looking to slim down because they are super low in calories and fat.
They also have plenty of other nutrients that can support digestive health, improve your immune system, help keep your weight under control, and much more!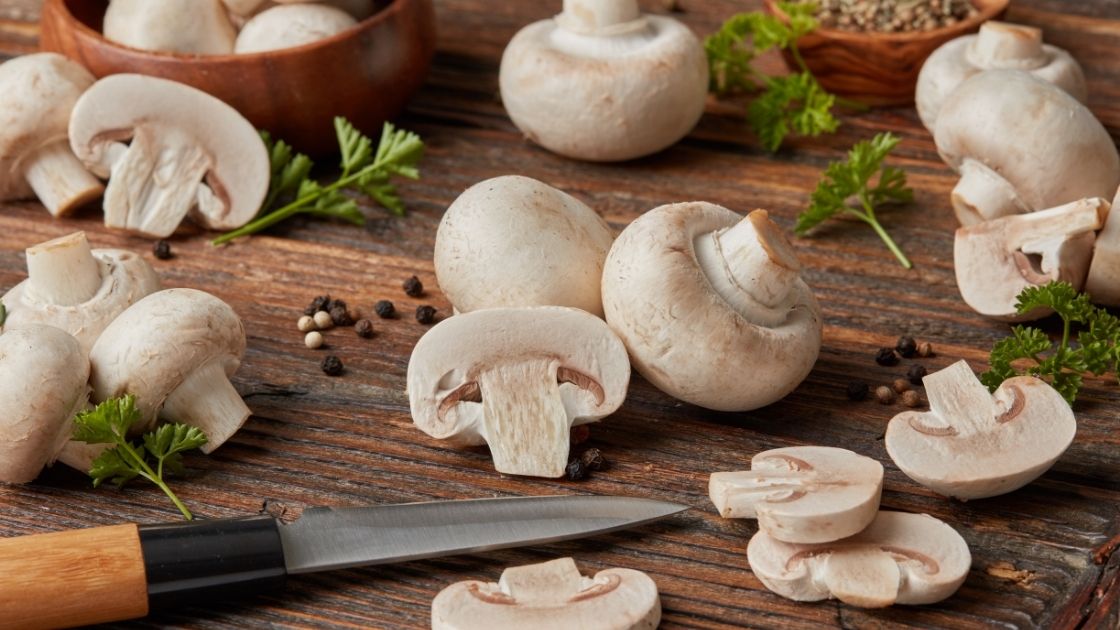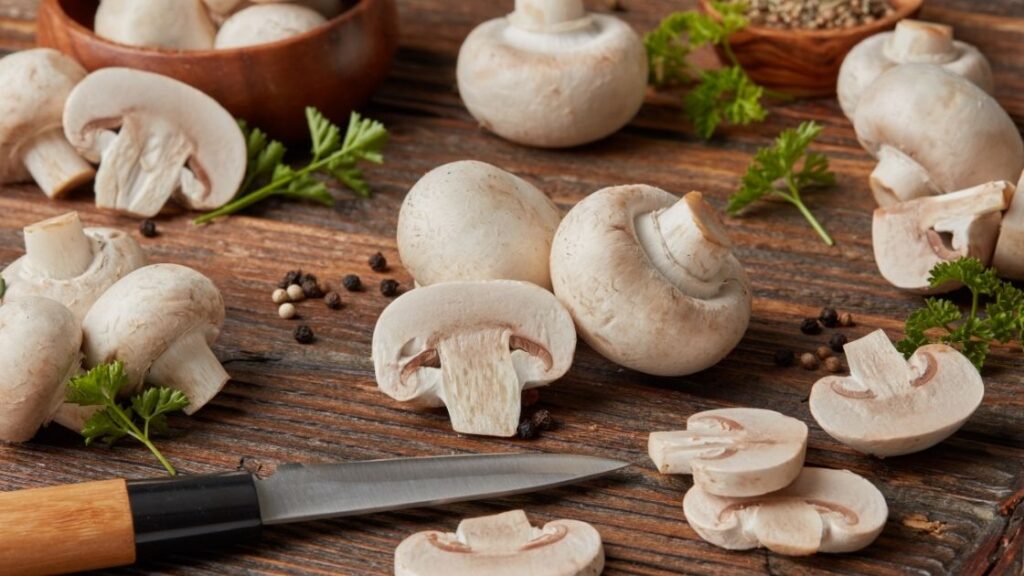 Another reason to use mushrooms for weight loss is that they have a pretty high satiety index.
That means mushrooms are going to fill up your tummy and suppress your appetite without filling your body full of calories.
If it wasn't enough, cooked mushrooms also taste great.
They are delicious, versatile, and make a great vegan, vegetarian, and plant-based option, suitable for the whole family.
Best Mushroom Recipes for Weight Loss
Mushrooms can be enjoyed at any meal of the day and in a variety of cuisines. Here we've compiled a list of some of the best mushroom recipes for weight loss that are low in calories and high in flavor.
Remember, there are many different types of mushrooms.
Enoki mushrooms, Chaga mushrooms, Reishi mushrooms, maitake mushrooms, shiitake mushrooms, Oyster mushrooms, and everything in between—there's a mushroom out there for every dish.
Here, unless otherwise stated, we've used white mushrooms, like a white button mushroom, which you should be able to find pretty easily at your local grocery store.
You can easily make this mushroom diet at home.
Mushroom Spinach Cauliflower Rice
This risotto-inspired rice dish is perfect for winter.
It's delicious, warming, and has fewer carbs and calories due to the clever addition of cauliflower.
Perfect for the whole family, you can even switch up the ingredients depending on what you have on hand.
Grated pumpkin goes well with mushrooms and gives this dish a lovely golden color.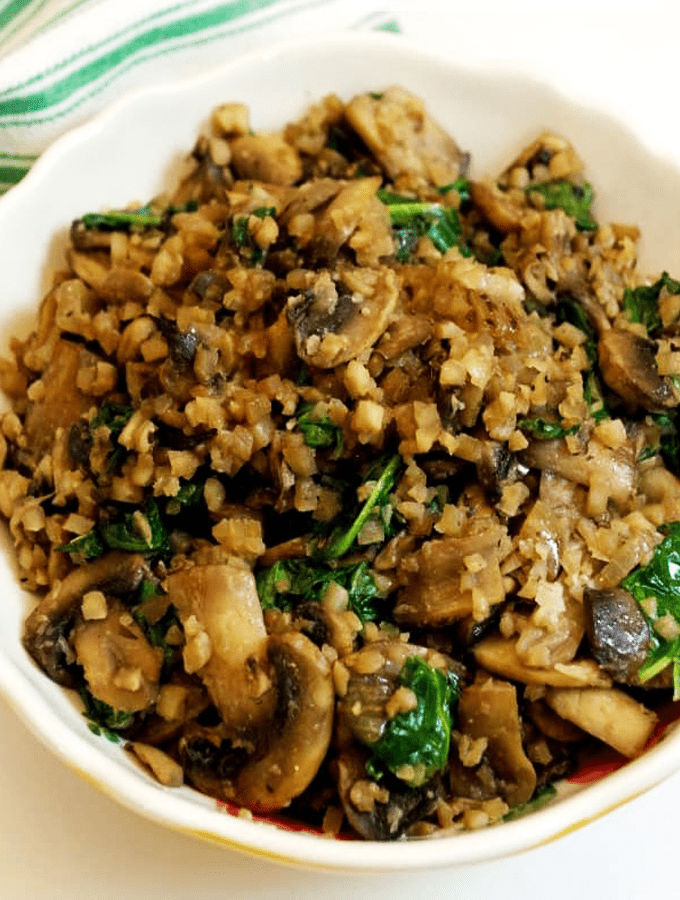 Ingredients
250g mushrooms (we recommend shiitake for something a little special)
Bunch of spinach
½ heads of cauliflower
2 cups uncooked rice (we recommend brown)
3 cups vegetable stock
Method
Chop the vegetables into small pieces.
Cook the rice as per the directions on the packet, substituting water for the chicken stock.
Add the vegetables after about 5 minutes and allow them to cook with the rice, taking care not to burn the bottom of the rice.
Remove when the rice is cooked through, and the vegetables are tender.
Serve warm, with a garnish of chopped herbs or parmesan if you want to make it extra fancy.
Taco Stuffed Portobello Mushrooms: A Keto Recipe
Taco Tuesday? Here's our healthier take on the Mexican staple:
Portobello mushrooms make a great vegetarian substitute and a nice change from the usual bean taco filling.
These are a great crowd-pleaser and allow the whole family to get involved and choose whatever fillings they like!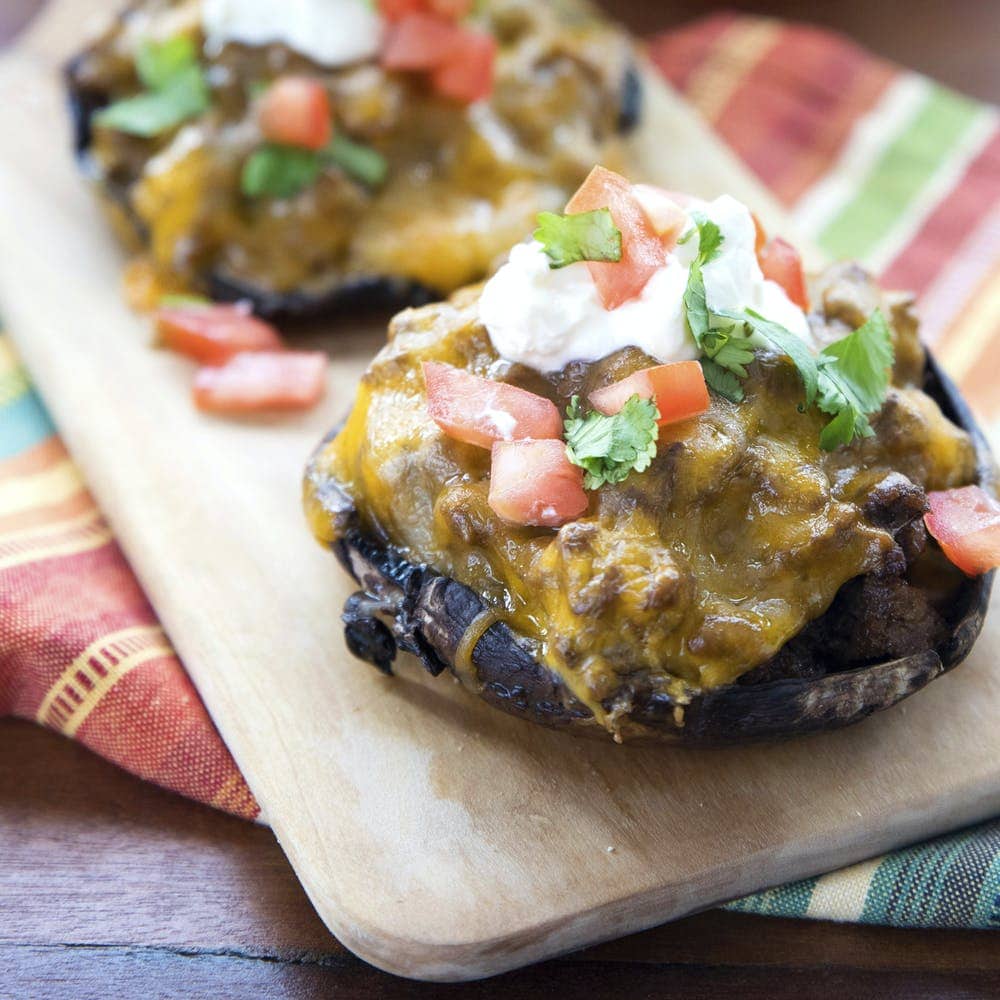 Ingredients
250g portobello mushrooms
1 tablespoon extra virgin olive oil
Taco seasoning
8 taco shells, hard or soft
Your favorite taco fillings (lettuce, tomato, corn, avocado, etc)
Method
Heat the oil in a pan.
Roughly chop the portobello mushrooms into large chunks and add them to the oil.
Sauté over low heat until mushrooms are well cooked through.
Add the taco seasoning and mix well.
Prepare your tacos with a base of this mushroom mixture and top them off with any or all of your favorite taco fillings!
Parmesan Garlic Oven Roasted Mushrooms
These delicious baked mushrooms are one of our best mushroom recipes.
Mouthwatering, garlicky, and cheesy—what more could you want?
Treat them like a low-calorie steak and serve with your choice of side dish.
You may also like to try using these mushrooms in place of hamburger patties at your next barbecue.
They are much healthier, and you'll also be getting all those delicious mushroom benefits in each bite. Yum!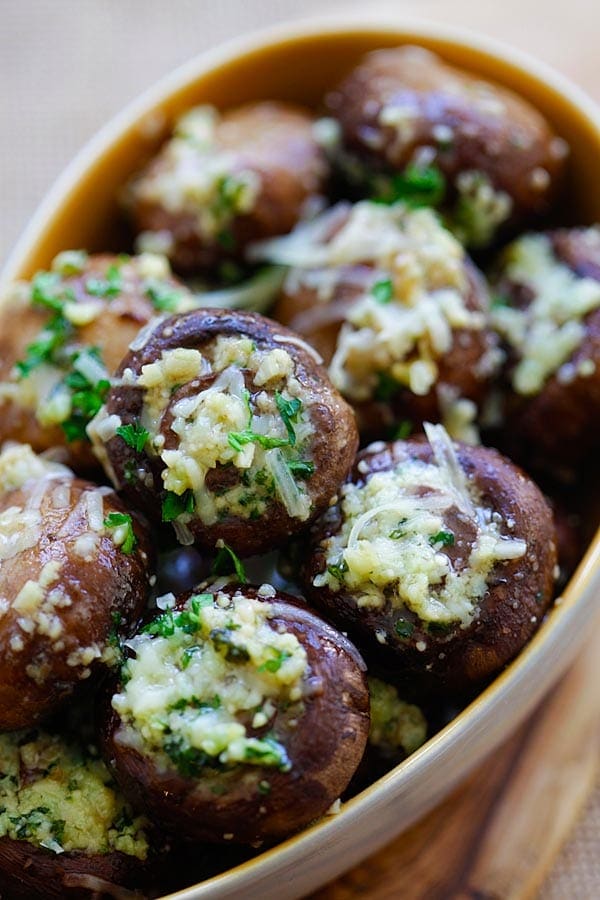 Ingredients
8 large, whole mushrooms (try portobello or any other larger mushroom)
2 tablespoons olive oil
3 cloves finely chopped garlic
⅓ cup grated parmesan cheese
Method
Prepare the mushrooms by removing the stalks and brushing gently to remove any remaining dirt.
Place, gills up, on a lined tray, and set your oven to moderate heat.
In a bowl, mix the finely chopped garlic with the olive oil.
You may also like to add some herbs at this point, such as cilantro or basil.
Brush the oil mixture over the mushrooms and place them in the oven for about 15 minutes.
When the mushrooms are almost done, scatter your grated parmesan on top and allow them to cook for a further 2–3 minutes.
That's it!
Serve with your favorite side vegetables as a vegetarian burger option at your next barbecue.
Creamy Garlic Mushrooms and Bacon Recipe
This recipe is a delicious stroganoff-inspired dish.
Keep calories and fat down by using lean bacon.
We also recommend using coconut cream for extra creaminess without the added cholesterol.
Who said eating mushrooms for weight loss had to be boring?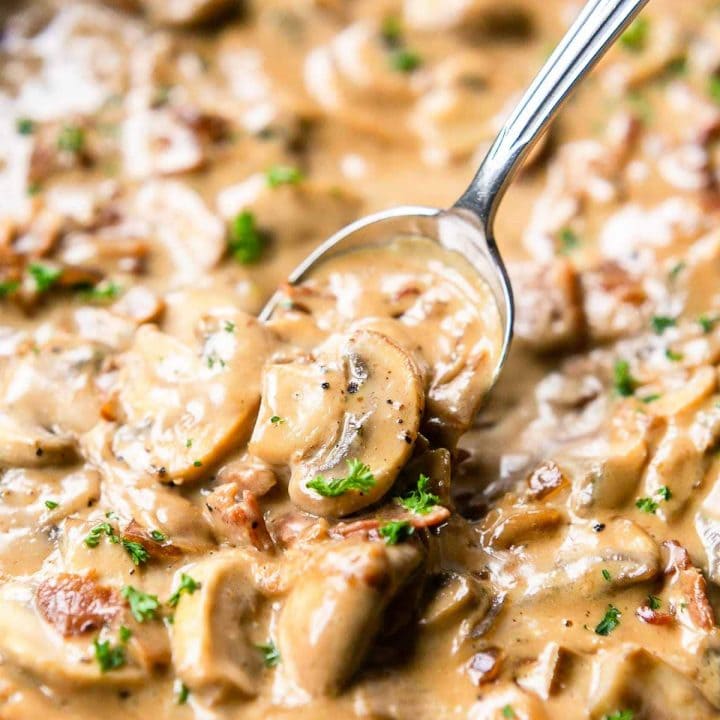 Ingredients
400g mushrooms (we like to use whole white button mushrooms for this recipe)
200g lean bacon, cubed
4 cloves garlic, chopped
½ onions, chopped
2 cups vegetable or chicken stock
1 can coconut cream
Method
Heat a large pan and add the bacon, stirring frequently for about 3 minutes.
Add the garlic and the onion and sauté for a further 3–5 minutes, or until soft and fragrant.
Add the mushrooms, stock, and coconut cream and allow to simmer over low heat, uncovered, for about 25 minutes.
Serve immediately with whole-grain pasta or brown rice, or use it as part of our cheesy mushroom casserole!
Cheesy Mushroom Casserole Recipe
This cheesy casserole is great if you somehow end up having leftovers from your creamy garlic mushrooms and bacon dinner the night before.
Revamp it the healthy way with this casserole recipe.
It's super quick, which makes it perfect for those busy nights without compromising on health or flavor.
For an even healthier take, try using nutritional yeast in place of the grated cheese.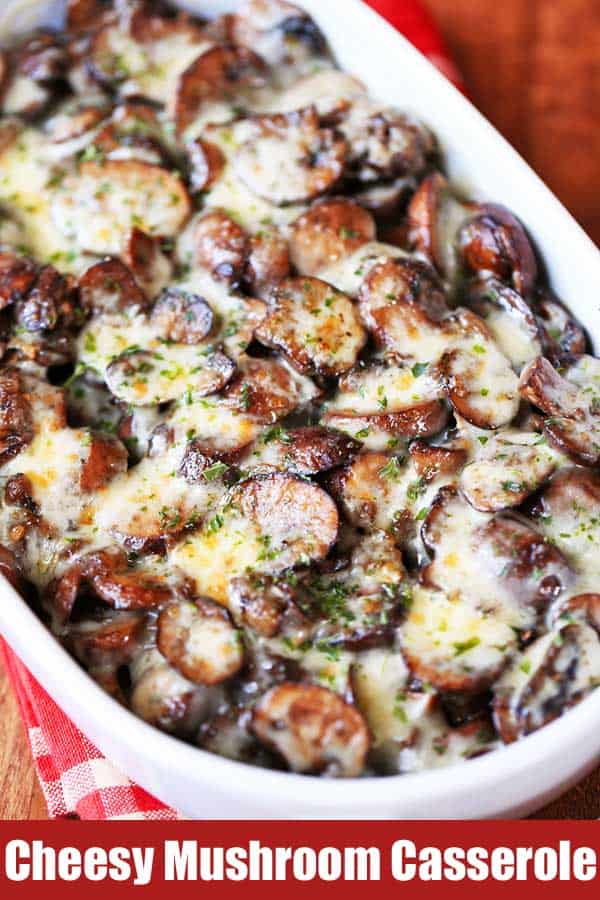 Ingredients
½ portions of our creamy garlic mushroom and bacon recipe
½ heads of cauliflower, cut into bite-sized pieces (for this recipe, we like to use just frozen cauliflower)
½ cups shredded cheese or nutritional yeast
3 slices day-old brown bread, crushed
Method
Mix the leftovers from your creamy garlic mushroom and bacon recipe with cauliflower and spoon into a large casserole dish.
In a separate bowl, mix the crushed bread and cheese.
Scatter over the top of the cauliflower and mushroom mixture and cook, covered, for about 15 minutes.
Serve warm.
Cream of Mushroom Soup Recipe
Cream of mushroom soup has survived through the ages to remain one of the favorite soups of all time.
Here we use coconut cream to keep it vegan-friendly and cholesterol-free, while the high mushroom content keeps it low in calories.
We like to use a mix of different types of mushrooms for this recipe.
Choose from a selection of Oyster mushrooms, Maitake mushrooms, Chaga mushrooms, or traditional White mushrooms for best results.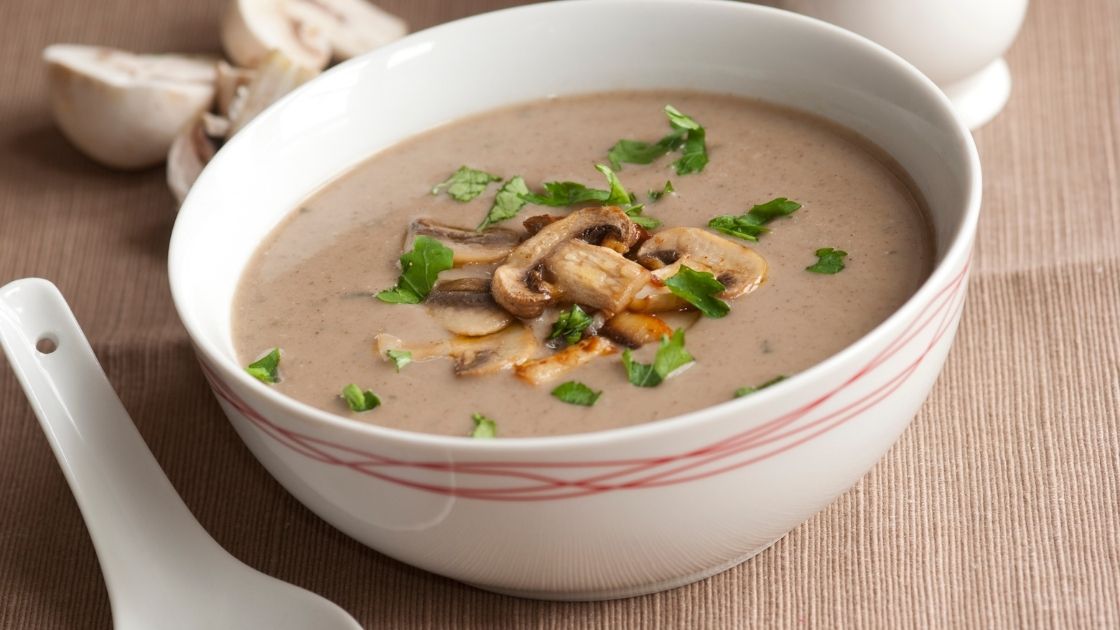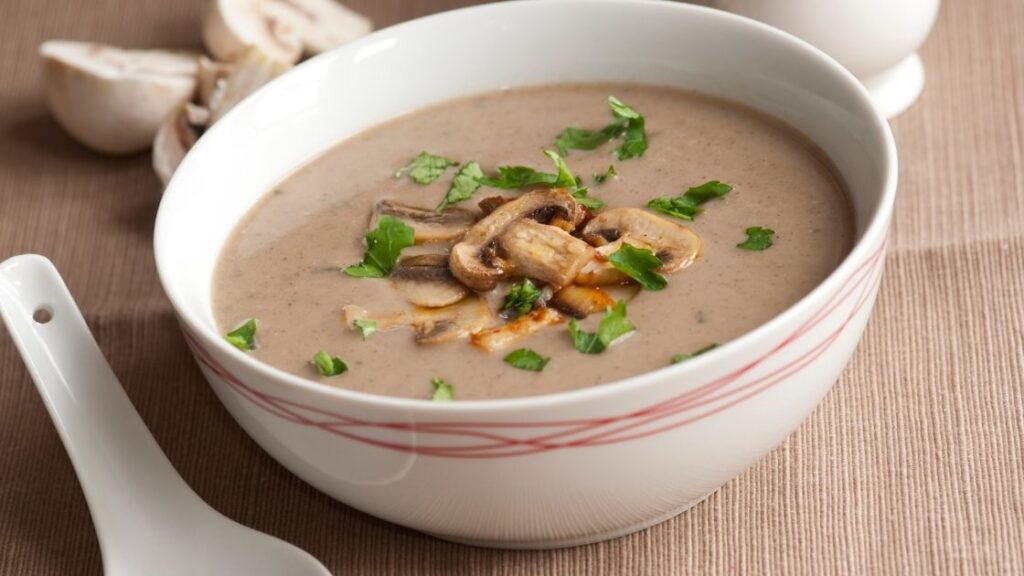 Ingredients
400g your choice of mushrooms
2 large potatoes
½ cans of coconut cream or lite cream
3 cups vegetable stock
White pepper, to taste
Method
Combine the potatoes (roughly cut) and the stock in a large pot and cook over moderate heat until soft.
Add the mushrooms and cream, and simmer for a further 30 minutes.
Remove from the heat, and blend until smooth before adding pepper.
Serve with croutons or a splash of olive oil.
One-Skillet Chicken with Green Beans and Mushrooms
Who doesn't love a one-pot wonder?
This homestyle chicken recipe is made even more delicious by the addition of fresh green beans and mushrooms for added texture, protein, and vitamins.
Chicken breasts keep it low in calories, and simmering will keep all the delicious flavors in the pot without needing to add excess oil.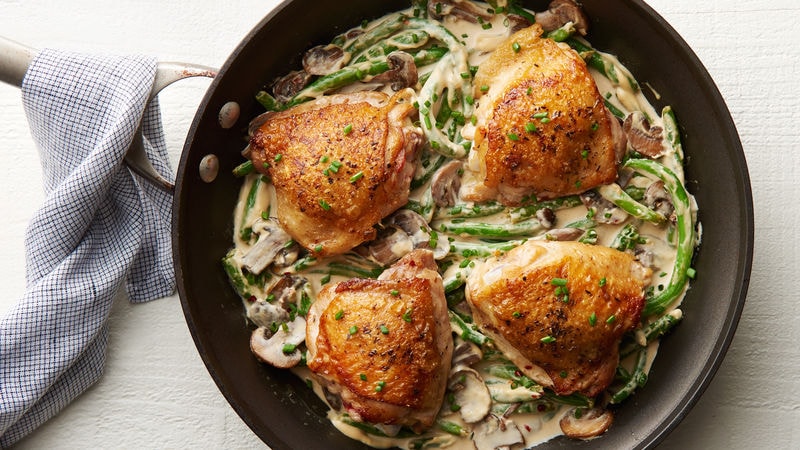 Ingredients
4 small chicken breasts
½ onion
2 cloves garlic
One tablespoon olive oil
1 cup chicken stock
2 cups green beans, de-strung and sliced
1 cup mushrooms, quartered
Method
Heat the oil in a large skillet before adding the chopped onion and garlic.
Add the chicken breast and chicken stock and allow to simmer with the lid ajar for about 10 minutes.
Add the green beans and mushrooms, and leave to cook for a further 15 minutes.
Serve immediately on a bed of rice or grits.
Chicken Thighs with Mushroom Sauce Recipe
This recipe is a family favorite and super versatile.
It's a great quick throw-together for a weeknight meal, but you can also dress it up if you are looking for an easy, diet-friendly dinner party dish.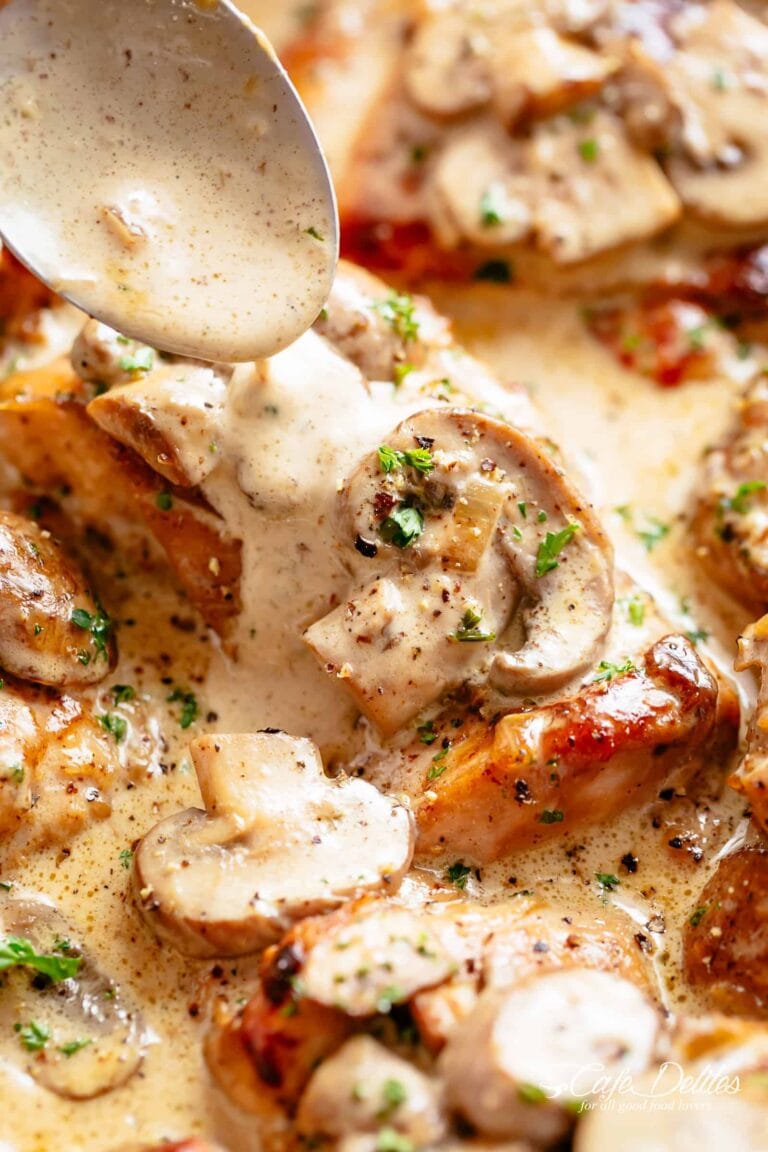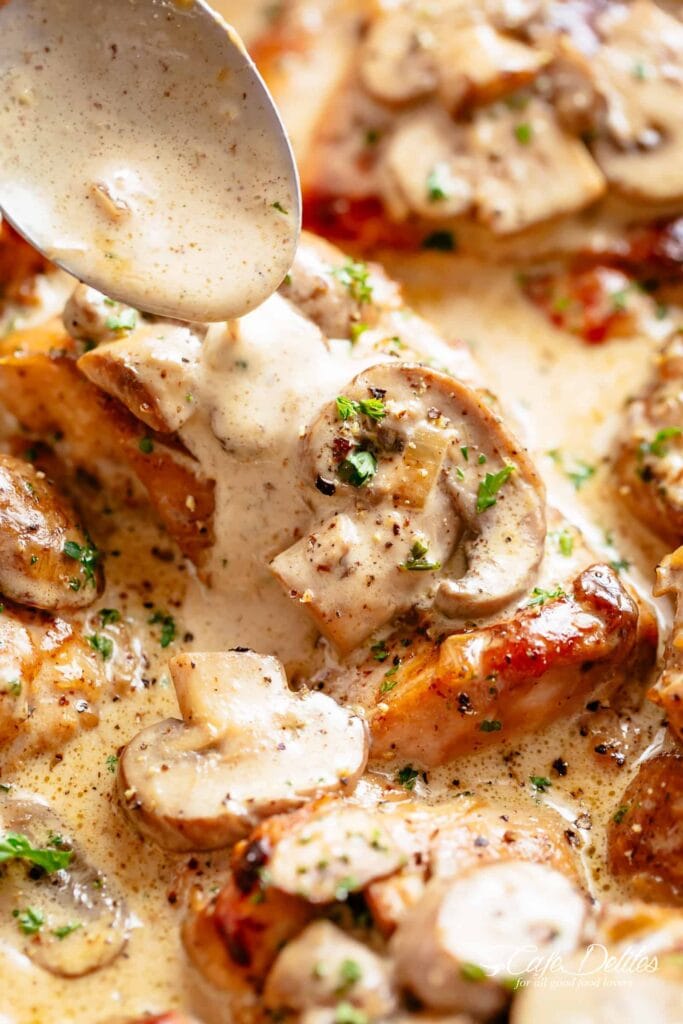 Ingredients
6 large chicken thighs
1 tablespoon olive oil
½ onion
2 cloves garlic
1 cup vegetable or chicken stock
3 cups mushrooms, sliced
Method
Heat the oil, garlic, and onion in a large pan.
Brown the chicken by cooking over high heat, stirring constantly, for about 5 minutes.
Add the stock and mushrooms and cover, allowing them to simmer for about 30 minutes or until cooked through.
This dish is great accompanied by basmati rice to soak up all that delicious sauce.
Final Advice
Whether you choose an exotic Enoki mushroom, a tasty Turkey Tail mushroom, or a regal Reishi mushroom, mushrooms of all shapes and sizes are great when it comes to keeping your body at a healthy weight.
Packed full of fiber, protein, and antioxidants, all while being low in calories, mushrooms can help you keep your heart, digestion, and even your mind healthy.
Try one of our mushroom recipes out for size tonight!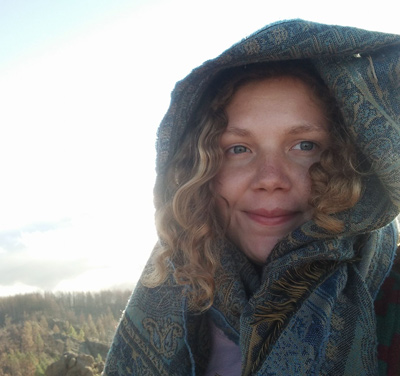 Rosily Ryan is an accomplished health and fitness writer, editor, and health activist based in Sydney, Australia. With a wealth of knowledge and expertise in the health and nutrition industry, Rosily has established herself as a trusted authority in the field. She has contributed to several leading publications, including Pure Green Magazine, where her work has been widely recognized for its insightful analysis and engaging style.
Rosily's passion for health and fitness is evident in her writing. Her extensive research and first-hand experience in the field allow her to provide valuable insights and practical advice to her readers. As an advocate for healthy living, Rosily has been actively involved in various health initiatives and campaigns that aim to raise awareness about the importance of physical and mental well-being.