Reading time:

7

min
They are loaded with potassium and have a spicy flavor
They can be sweet, especially the winter white daikon radish
They have a long history and were one of the first vegetables brought to the New World
They have a high nutritional value, including vitamins and minerals
They offer health benefits such as reducing the risk of diabetes, improving liver function
Have you heard of spring radishes or radish greens?
If you are a lover of salads, you probably already know them.
This vegetable is loaded with potassium and can be too peppery for some people.
Despite its pungent characteristics, it is an edible vegetable.
Keep reading to learn the nutrients and health benefits of radishes, and how to prepare them in your meals.
Physical description
Radish balloons, also known as bulbs, come in a variety of sizes and colors.
The most commonly eaten radish cultivar is vividly colored and has a small tail like a ping-pong ball.
Radish root is mainly eaten as a vegetable.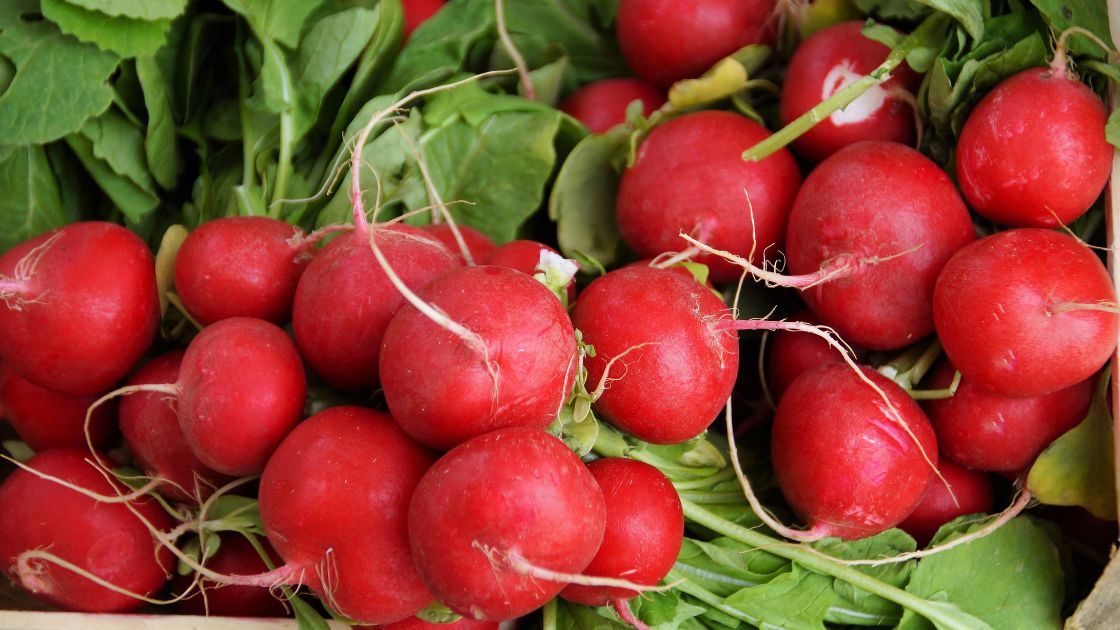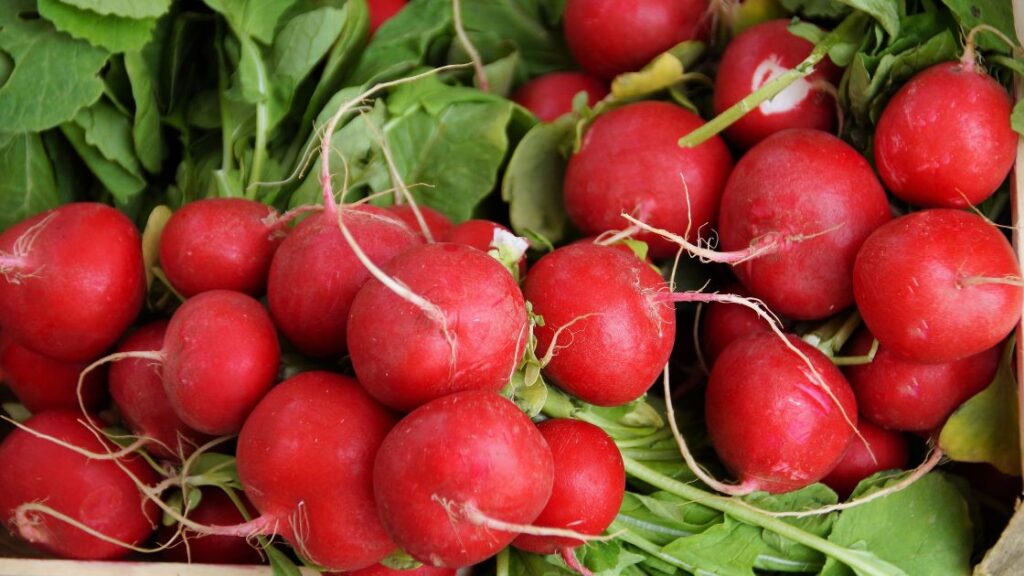 They are found in black, purple, or white. They can be oblong in shape or larger.
Although some radishes can be sweet, radishes generally have a spicy flavor.
The flavor is milder in types with a lighter color, such as winter white daikon radish.
Daikon radish is also very popular and is loaded with a lot of nutrients.
If radishes are not eaten soon or not eaten right away, they take on an excessively spicy taste.
The finest flavor and texture can be found in the smallest radishes.
History and production
The true wild varieties of radish can still be found in China, where they were first cultivated.
The word "radish" is derived from the Latin word "radix," which means "root," and more specifically, the root of the radish.
This cruciferous vegetable was one of the first vegetables brought to the New World. In Haiti in 1565 and Mexico in 1500, radishes were already being grown commercially. Globe radish harvestings have spread over time.
The radish quickly gained popularity in the Americas, and today it has become very common in American homes.
So, there are more and more companies in the world planting radishes.
The radish tree is easy to grow and germinate.
Radishes can sow at any time, but the best season to grow well is in the spring.
There are 3 types of radish variety: the daikon, the black radish, and the little radish.
Surely, you have heard about winter radishes and summer radishes.
But their difference varies most of all in size; they are from the same family of radishes.
Know the nutrients and benefits of this root vegetable so you are encouraged to consume them.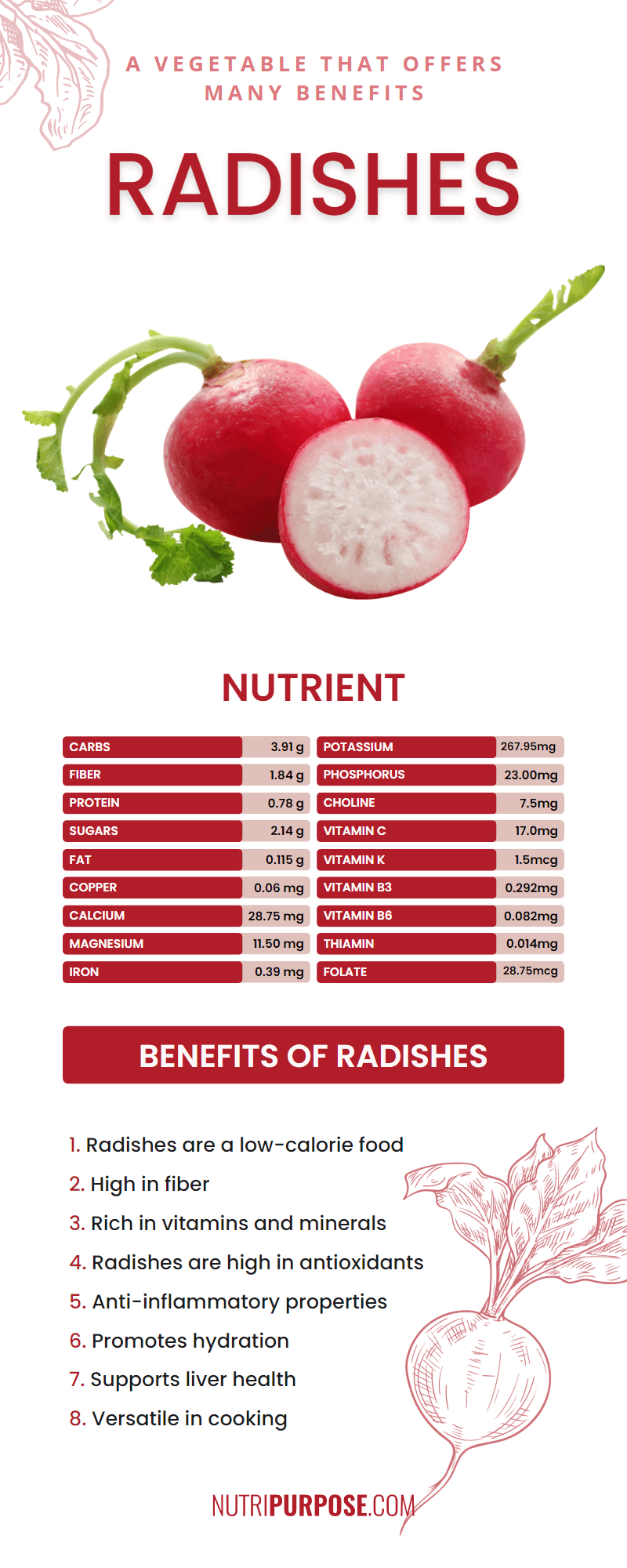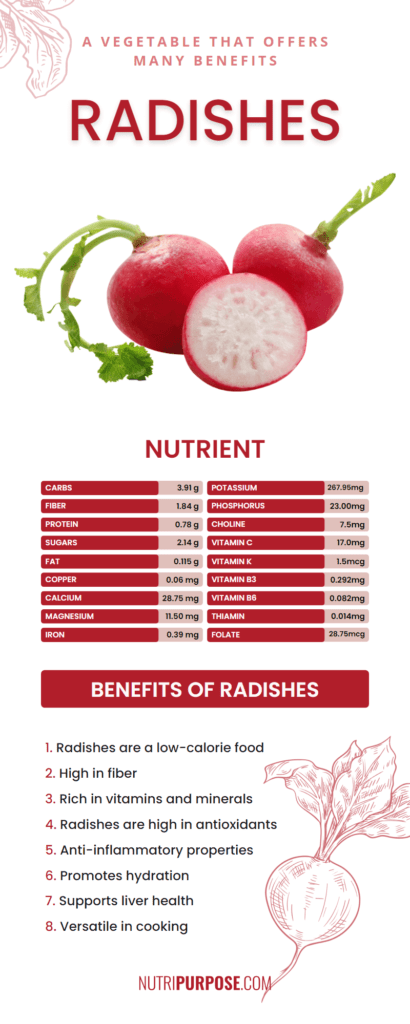 Nutritional Value of Radishes
Vitamins
Lutein + zeaxanthin 11.50 mcg
Carotene, beta 4.60 mcg
Riboflavin [Vitamin B2] 0.045 mg – 3 % of DV
Thiamin [Vitamin B1] 0.014 mg -1 % of DV
Vitamin B6 0.082 mg – 5 % of DV
Niacin [Vitamin B3] 0.292 mg – 2 % of DV
Folate, food 28.75 mcg
Folate, DFE [Vitamin B9] 28.75 mcg – 7 % of DV
Vitamin K 1.5 mcg -1 % of DV
Vitamin C [Ascorbic acid] 17.0 mg – 19 %
Choline 7.5 mg – 1 % of DV
Vitamin K1 [Phylloquinone] – 1.5 mcg
Minerals
Copper 0.06 mg – 7 % of DV
Calcium 28.75 mg – 2 % of DV
Magnesium 11.50 mg – 3 % of DV
Iron 0.39 mg – 2 % of DV
Potassium 267.95 mg – 6 % of DV
Phosphorus 23.00 mg – 2 % of DV
Sodium 44.85 mg – 2 % of DV
Selenium 0.69 mcg – 1 % of DV
Zinc – 0.32 mg – 3 % of DV
Protein 0.78 g – 2 % of DV
Carbohydrates
Carbohydrate 3.91 g – 1 % of DV
Fiber 1.84 g – 7 % of DV
Sugars 2.14 g
Net carbs 2.07 g
Fat 0.115 g – 0 % of DV
Saturated fatty acids 0.037 g -0 % of DV
Hexadecanoic acid 0.031 g
Octadecanoic acid 0.005 g
Monounsaturated fatty acids 0.020 g
Octadecenoic acid 0.020 g
Polyunsaturated fatty acids 0.055 g
Octadecadienoic acid 0.020 g
Octadecatrienoic acid 0.036 g
Other
Health benefits of radishes
Reduced Diabetes Risk
Radishes are a good source of chemicals like glucosinolate and isothiocyanate.
These can help control blood sugar levels.
Radishes may encourage our bodies to manufacture more adiponectin naturally.
More of this hormone may offer protection from insulin resistance.
Additionally, radishes contain coenzyme Q10, an antioxidant that aids in preventing the development of diabetes.
Improved Liver Performance
Two compounds that promote the liver's detoxification and repair processes are found in radishes: indole-3-carbinol and 4-methylthio-3-butenyl-isothiocyanate.
These same molecules also assist the kidneys to clear out pollutants.
Promote the health of the digestive system
Radishes contain 1 gram of fiber per 1/2 cup serving.
We can achieve our daily fiber intake goal by eating a few servings of fruit and vegetables every day.
By giving our stool more volume, we can avoid constipation. In this way, waste will pass through our intestines more easily.
Especially advantageous can be radish leaves. Radish leaves are a useful source of fiber to aid in enhancing digestive function.
If you still want to consume more fiber, you can include persimmons, bananas, and spinach in your diet.
Strengthened cardiovascular system
Radishes are rich in antioxidants and minerals like calcium and potassium.
Together, these nutrients lessen your chance of getting heart disease and high blood pressure.
Additionally, radishes are an excellent nitrate source that naturally improves blood circulation.
Do you know how to cook with radishes?
Here I explain, look at these recipes.
Tasty recipes to eat radishes
Roasted radishes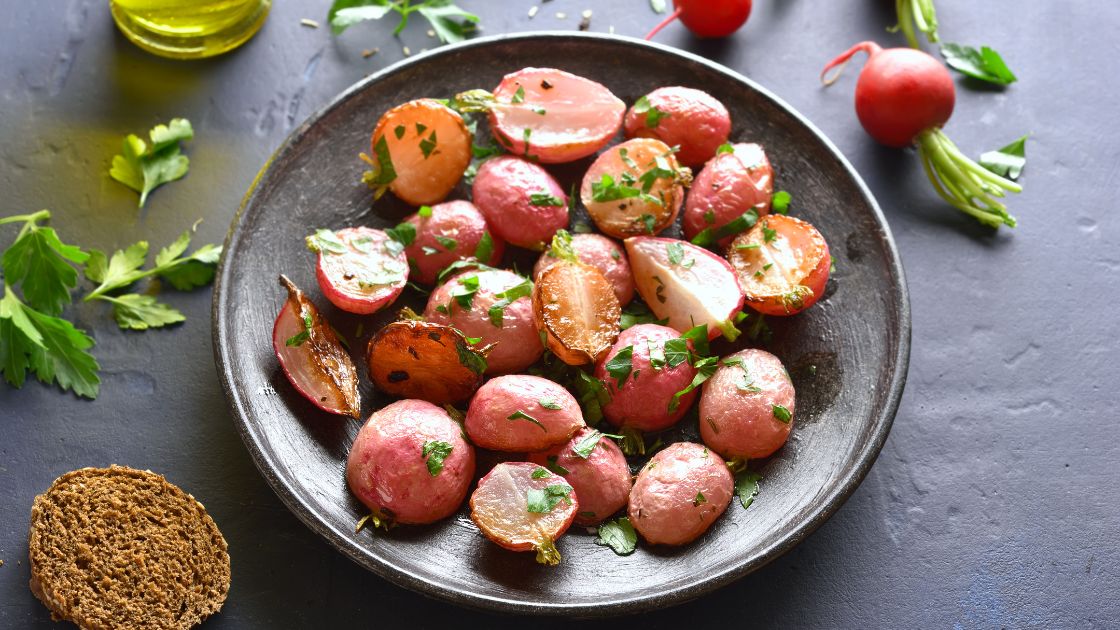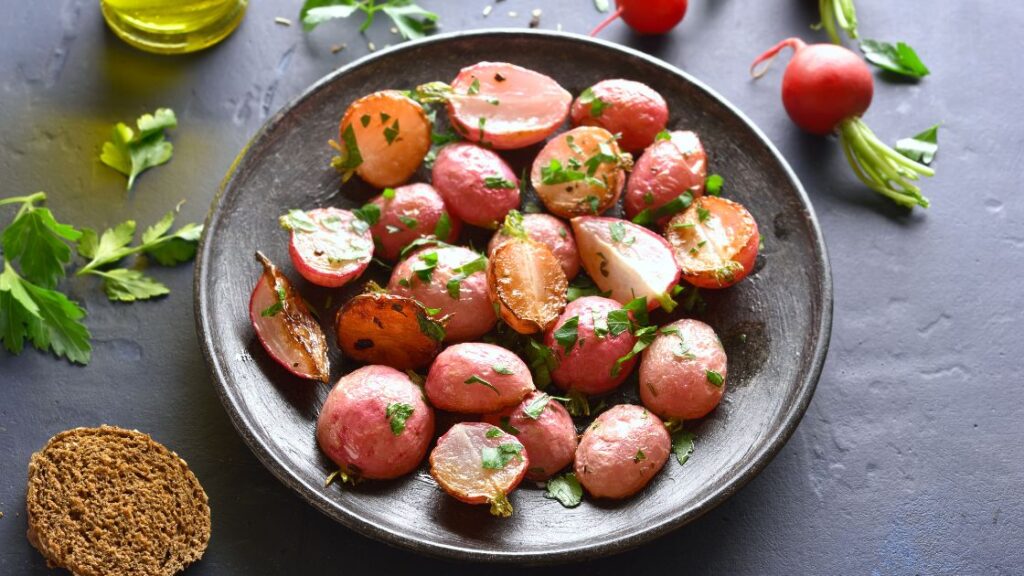 Preparation time: 35 minutes
Servings: 6
Ingredients:
5 garlic cloves
400 grams of radishes (thin)
1 tablespoon of olive oil
Procedure:
The oven should be heated to 200°C/180°F.
Place the radishes and crushed garlic in a roasting pan, season to taste, and then sprinkle with oil.
Garlic and radishes are coated by tossing.
Roast the radishes for 30 to 40 minutes or until they are soft.
After removing the garlic's skins, gently stir and serve.
Salad with radish and cucumber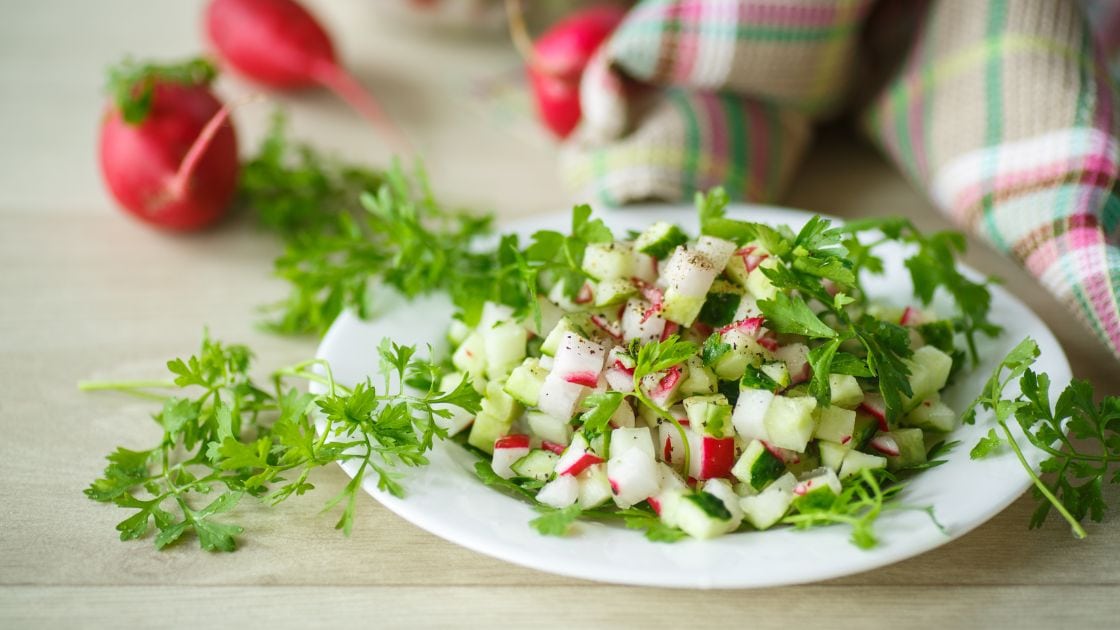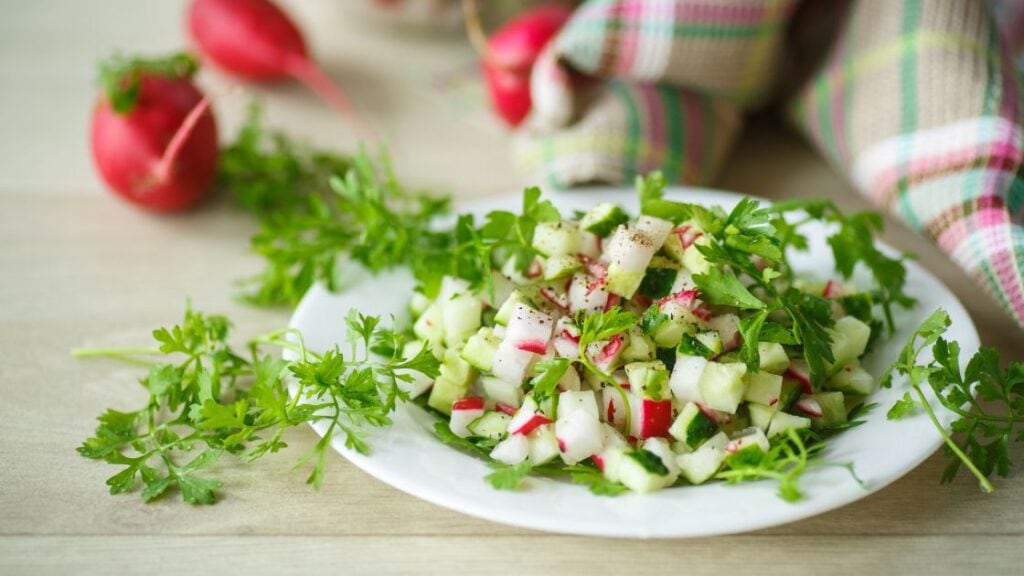 Preparation time: 12 minutes
Servings: 10
Ingredients:
500 grams of radishes
1 cucumber
1 large red onion
1 bunch of flat-leaf parsley
6 tablespoons of olive oil
3 tablespoons of lemon juice
Procedure:
Slice the cucumber into quarters. Cut each quarter into chunks that are about 1 cm in diameter.
Put the cucumber into a tray or a serving bowl. Include parsley, celery, onion, and radishes.
Combine the lemon juice and oil in a lidded glass container, season, and shake well.
When the salad is ready to be served, drizzle the dressing over it and toss it to incorporate.
Radishes pickles are also a great option.
Go ahead and prepare them at home and enjoy their flavor and benefits.
Radishes are delicious, Emeril Lagasse also thinks the same:
Radishes grow just about anywhere. People think, 'Oh it's just a radish.' But radishes are delicious, and people don't think of cooking them.
Enjoy the delicious spiciness of radishes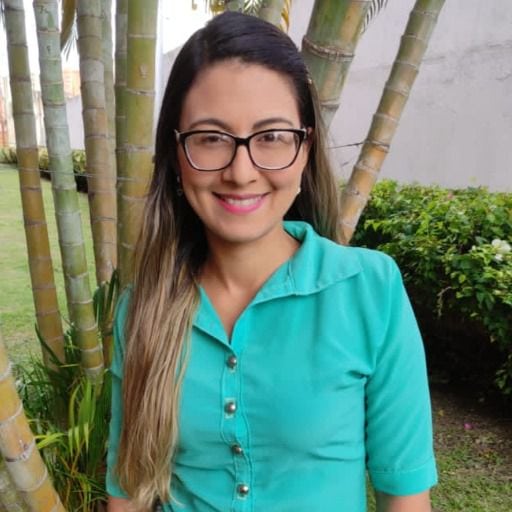 I am a professional health and nutrition writer with extensive experience in the industry. My passion for sharing valuable insights on nutrition and wellness stems from over 15 years of personal training and maintaining a healthy lifestyle. My commitment to continuously educate myself on the latest trends and research in the field allows me to deliver high-quality content that is informative and engaging. My mission is to empower individuals to make informed decisions about their health and well-being through my writing.