Reading time:

9

min
Cauliflower has unique plant components that are found to help minimize the risk of several ailments. This makes it a very popular vegetable.
There are more and more people who want to have a healthy and balanced eating style. Right there the cauliflower becomes special.
Many say that it is the perfect substitute for white and brown rice. It serves to accompany the protein and provides very few calories.
Keep reading and learn a little about the history of cauliflower, its nutrients, and its benefits.
Physical description
The cruciferous vegetable cauliflower is made up of numerous tiny, tightly spaced bloom heads (known as curds). These blooms grow from a large central stem into a single, spherical head.
The majority of cauliflowers are white, but also there are green and purple types. There is also a Romanesco cauliflower which is the sweetest of all. It stands out a bit from the rest because it has pointed florets.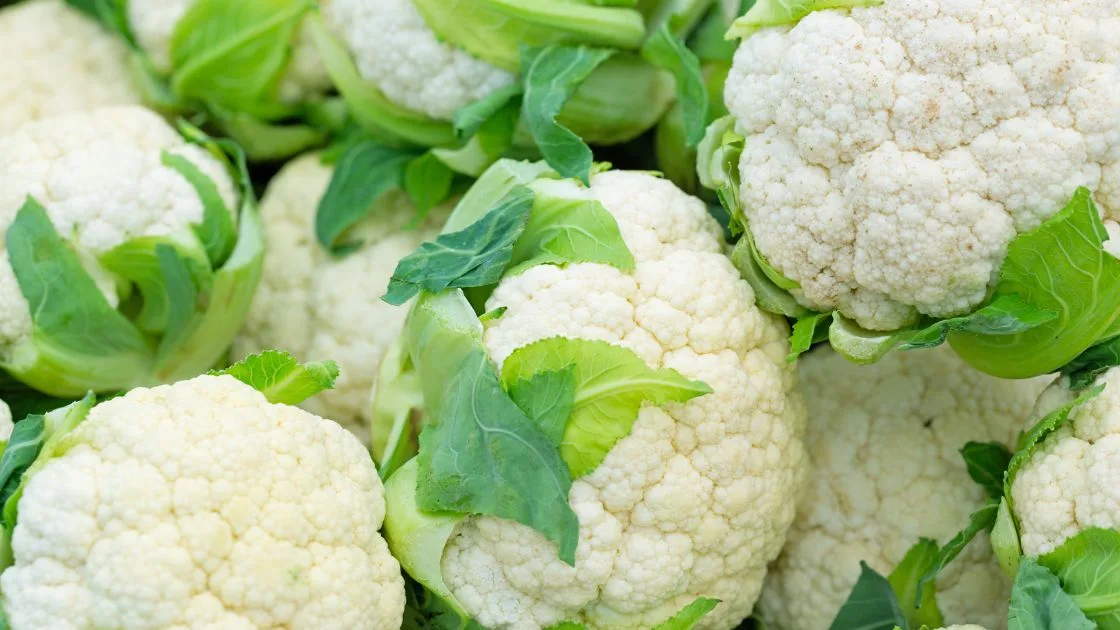 History and production
The Mediterranean and the Middle East are where celery first appeared. This vegetable was cultivated as a flavoring and therapeutic plant by the Egyptians, Greeks, and Romans.
It was first cultivated in Italy in the 16th century after this wild variation. The British Islands were later introduced to it by the French and Italians towards the end of the 17th century. It was first grown in North America in the nineteenth century.
The crop is significant in the Valencian Community (11,514t) and Catalonia (19,906t). Also, the Murcia region produces (49,627t). In total, Spain produces about 81,000t annually.
Now, learn in detail all the nutritional content of cauliflower and the multiple benefits it offers for health.
Nutrients of Cauliflower
Vitamins
Lutein + zeaxanthin 1.07 mcg
Riboflavin [Vitamin B2] 0.064 mg – 5 % of DV
Thiamin [Vitamin B1] 0.054 mg – 5 % of DV
Pantothenic acid [Vitamin B5] 0.714 mg – 14 % of DV
Niacin [Vitamin B3] 0.542 mg – 3 % of DV
Folate, DFE [Vitamin B9] 60.99 mcg – 15 % of DV
Vitamin B6 0.197 mg – 12 % of DV
Vitamin C [Ascorbic acid] 51.6 mg – 57 % of DV
Folate, food 60.99 mcg
Tocopherol, alpha 0.09 mg
Vitamin E (alpha-tocopherol) 0.09 mg – 1 % of DV
Vitamin K 16.6 mcg – 14 % of DV
Tocopherol, gamma 0.21 mg
Vitamin K1 [Phylloquinone] 16.6 mcg
Choline 47.4 mg 9 %
Minerals
Copper 0.04 mg – 4 % of DV
Calcium 23.54 mg – 2 % of DV
Iron 0.45 mg – 2 % of DV
Fluoride 1.1 mcg
Manganese 0.166 mg – 7 % of DV
Magnesium 16.05 mg – 4 % of DV
Potassium 319.93 mg – 7 % of DV
Phosphorus 47.08 mg – 4 % of DV
Sodium 32.10 mg – 1 % of DV
Selenium 0.64 mcg – 1 % of DV
Zinc 0.29 mg – 3 % of DV
Proteins and Aminoacids
Alanine 0.124 g
Protein 2.05 g – 4 % of DV
Aspartic acid 0.189 g
Arginine 0.092 g
Glutamic acid 0.275 g
Cystine 0.021 g
Histidine 0.060 g – 5 % of DV
Glycine 0.076 g
Leucine 0.113 g – 3 % of DV
Isoleucine 0.076 g – 5 % of DV
Methionine 0.021 g
Lysine 0.232 g – 7 % of DV
Proline 0.076 g
Phenylalanine 0.070 g
Threonine 0.081 g – 5 % of DV
Serine 0.092 g
Tyrosine 0.055 g
Tryptophan 0.021 g – 5 % of DV
Phenylalanine + Tyrosine 0.125 g – 5 % of DV
Valine 0.134 g – 7 % of DV
Methionine + Cysteine 0.021 g – 1 % of DV
Carbohydrates
Fiber 2.14 g – 8 % of DV
Carbohydrate 5.32 g – 2 % of DV
Fructose 1.04 g
Sugars 2.04 g
Glucose 1.01 g
Net carbs 3.18 g
Fats and Fatty Acids
Omega-3 0.02 g
Omega-6/Omega-3 ratio 0.50 g
Saturated fatty acids 0.139 g – 1 % of DV
Fat 0.300 g – 0 % of DV
Docosanoic acid 0.002 g
Decanoic acid 0.019 g
Heptadecanoic acid 0.001 g
Eicosanoic acid 0.003 g
Hexadecanoic acid 0.100 g
Pentadecanoic acid 0.002 g
Octadecanoic acid 0.010 g
Tetracosanoic acid 0.002 g
Cis-hexadecenoic acid 0.003 g
Monounsaturated fatty acids 0.036 g
Cis-octadecenoic acid 0.029 g
Octadecenoic acid 0.029 g
Hexadecenoic acid 0.003 g
Tetradecenoic acid 0.002 g
Polyunsaturated fatty acids 0.033 g
Tetracosenoic cis acid 0.002 g
Linoleic acid n-6 (LA) 0.01 g
α-linolenic acid n-3 (ALA) 0.02 g
Octadecadienoic acid 0.017 g
Octadecadienoic CLAs acid 0.003 g
Octadecatrienoic acid 0.016 g
Sterols
Other
Know the Health Benefits of Cauliflower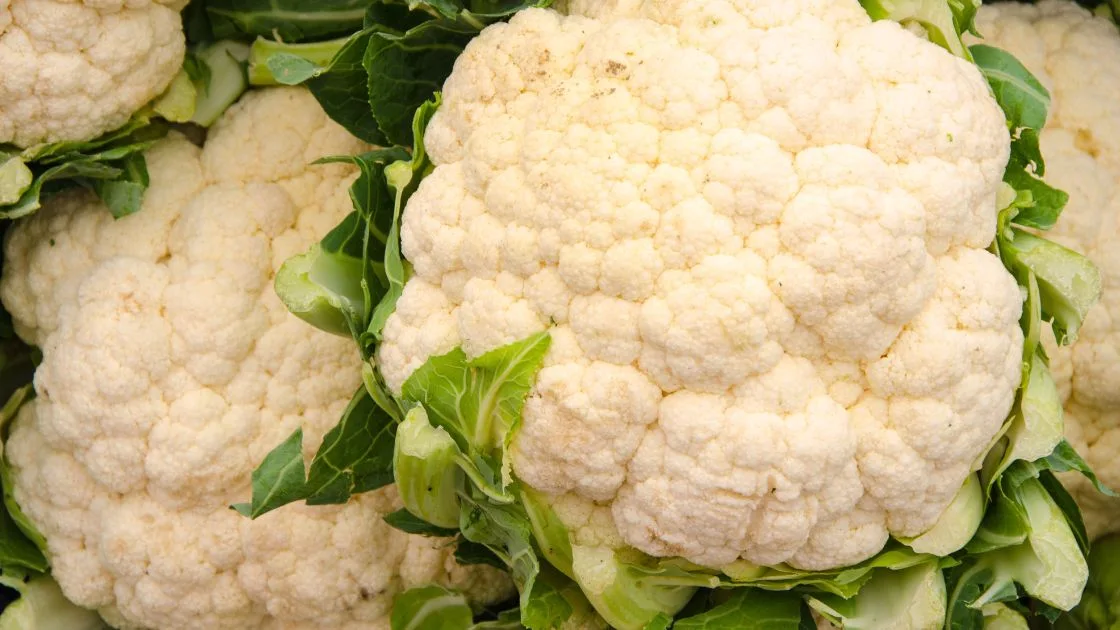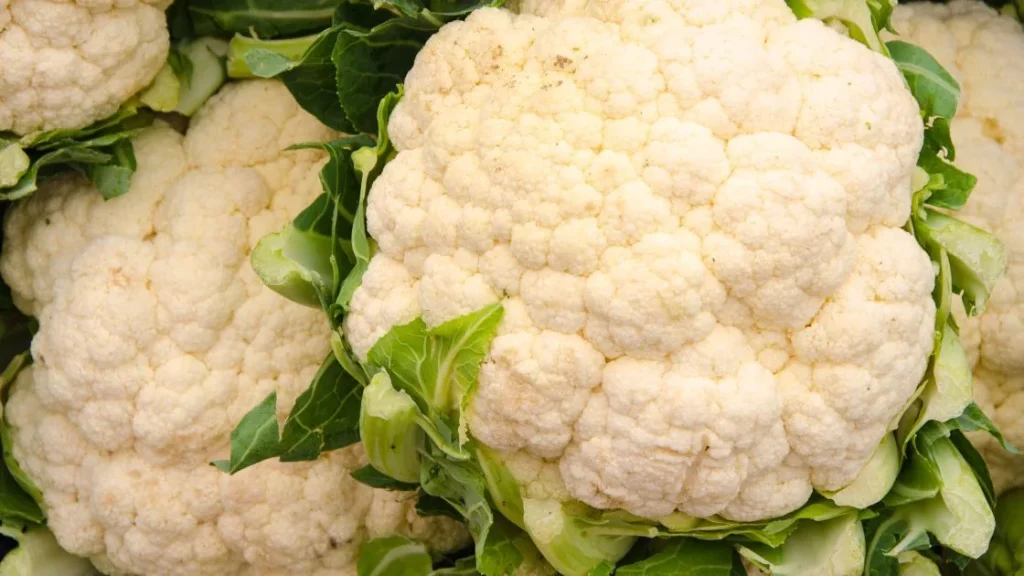 An antioxidant source
Numerous studies affirm that cauliflower has sulforaphane, a plant substance that protects the heart.
Sulforaphane works as an antioxidant and reduces inflammatory damage caused by oxidative stress. This is an important factor in the development of heart disease.
By reducing oxidative damage, blood pressure and atherosclerosis are lowered.
Has a lot of choline
Choline is a crucial vitamin for mood, recall, and memory, and it can be found in cauliflower.
This vitamin is a fundamental component of acetylcholine, a chemical messenger that communicates with the central nervous system. That is why choline is crucial for brain development.
Very sulforaphane-rich
The sulforaphane component in cauliflower, like that in broccoli and cabbage, has a number of health benefits.
In addition to protecting cells from DNA damage and inactivating carcinogens, sulforaphane may potentially prevent several types of cancer.
Could help with hormonal balance
Indole-3-carbinol (I3C), a plant chemical that functions like plant estrogen, is found in cruciferous vegetables like cauliflower. This chemical can contribute to hormonal balance by controlling estrogen levels.
Furthermore, I3C has shown promise in reducing the risk of cancers. Especially in estrogen-induced breast and reproductive cancers in both men and women.
After knowing the nutritional value and benefits of cauliflower, you cannot miss the following recipes.
Recipes for Cauliflower
Cauliflower rice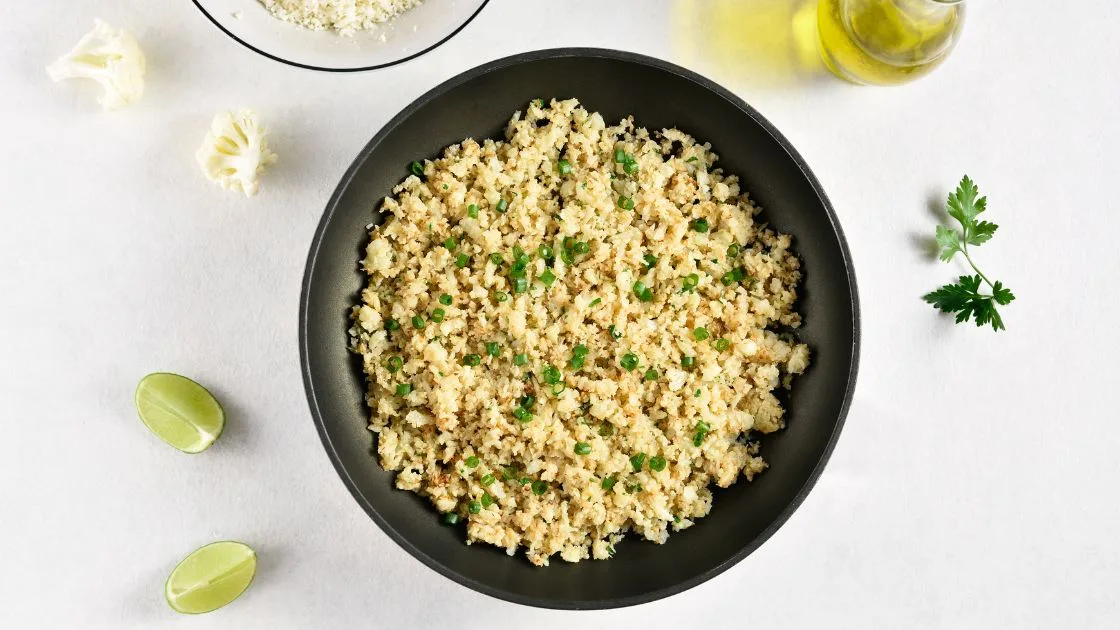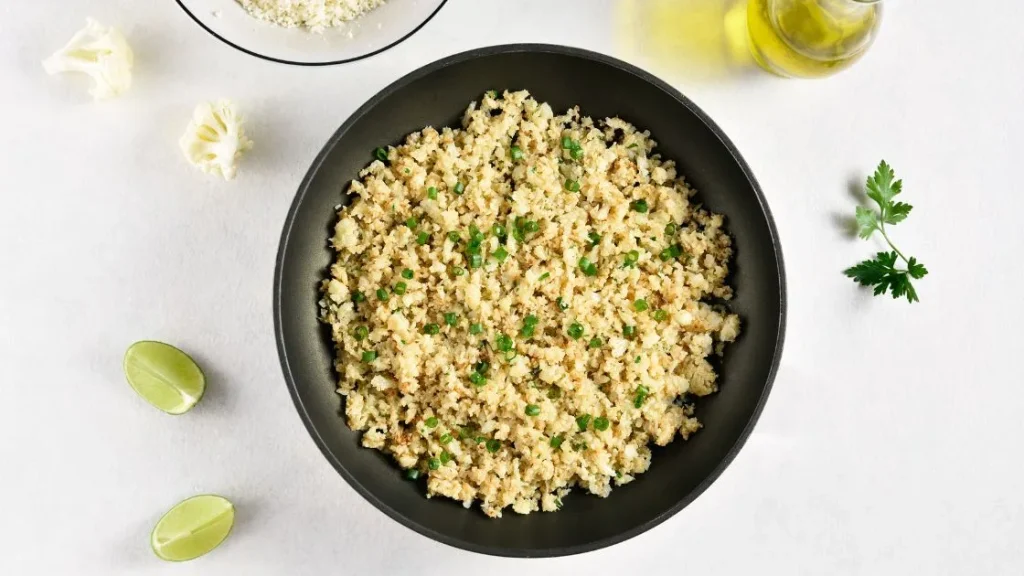 Preparation time: 7 minutes
Servings: 4
Ingredients:
A big handful of coriander (chopped)
400 grams of cauliflower
2 tablespoons of cumin seeds (toasted) – (optional)
Salt and pepper to taste
Procedure:
Remove the hard core and stems from the cauliflower.
Process the remaining ingredients until they resemble rice-sized grains in a food processor.
Place in a microwave-safe bowl, cover with cling film, pierce, and cook for 7 minutes. It must be at a high temperature and without adding water.
Add the coriander, stirring. Add toasted cumin seeds to the rice for spicier rice.
Cauliflower soup with cheese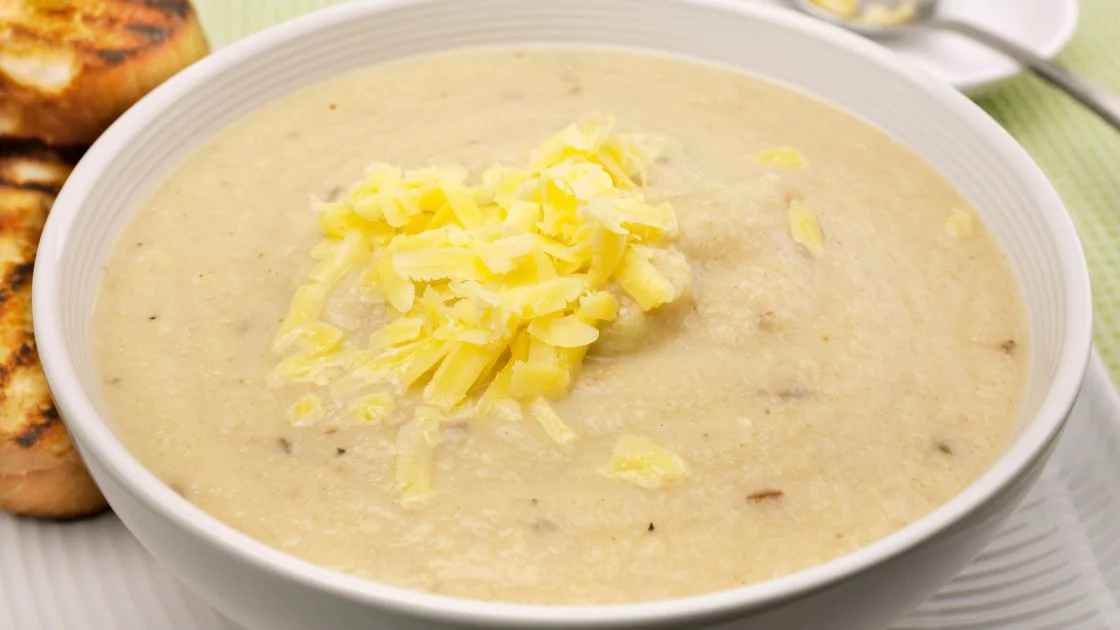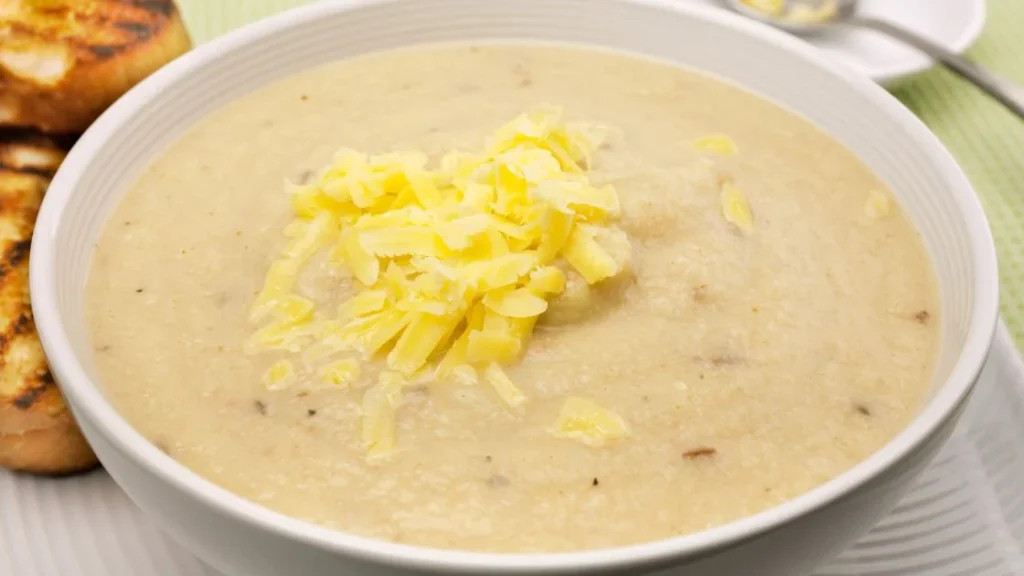 Preparation time: 10 minutes
Servings: 6
Ingredients
900 grams of cauliflower
Knob of butter
100 grams of mature cheddar (diced)
1 onion (finely chopped)
700 milliliters of vegetable stock
1 potato, (chunks)
Salt and pepper to taste
Add turmeric if you prefer.
Cilantro to taste (optional)
Procedure:
Heat the butter in a large saucepan. Add the onion and cook until softened.
Stir frequently for approximately 5 minutes.
Add cauliflower, potato, vegetable stock, milk, and seasoning.
Bring to a boil, then reduce the heat and allow to simmer. Leave it on the fire for about 30 minutes or until the cauliflower is soft and the potato almost disintegrates.
Let cool slightly.
Pulse the mixture in a food processor or mash with a potato masher until you have a thick, creamy soup.
Add more milk if you want it a little thinner to serve in cups.
When ready to serve, ladle and dispense into cups or bowls. Top each soup with the cheese chunks, and cilantro then stir before eating.
You can make it up to 2 days ahead, chill, cover, and refrigerate until needed, or freeze for 1 month.
You can't wait to try these recipes. Remember that cauliflower is an excellent source of nutrients.
One of the best things that this vegetable has is that it can save you from trouble. William E. Simon also thinks the same:
"The of the cauliflower is that if all else fails, you can always cover it with melted cheese and eat it."
Fun facts about cauliflower:
Surprisingly, cauliflower florets are easier to prepare than the head of cauliflower.
Cook cauliflower is one of the most straightforward processes in vegetarian food.
The cauliflower head is the main component of the vegetable.
It is not usual but you can eat raw cauliflower.
The easiest way to eat this vegetable is to steam it.
Kale looks a lot like cauliflower but it's another vegetable.
Grate cauliflower is a good option for preparing stews to enhance its flavor.
Rice recipes can be substituted for cauliflower in the air fryer. Just moisten them a bit, cut them very small, and cook them there, they will be like fried rice.
You can blanch the cauliflower and add it to your favorite salad. You'll make a cauliflower salad.
The best cauliflower is the white one because it is the most versatile for cooking.
For whatever reason, many confuse it with broccoli, but no, it's cauliflower, a different vegetable.
Cauliflower provides a lot of Vitamin C, Vitamin K, and Vitamin B6.
Place some oiled cauliflower steaks on a baking sheet, and take them to the oven. This is a delicious way to eat cauliflower. You can add cheese on top to gratin and it will be even better.
Cauliflower is easy to cook. It's just a matter of washing, cutting as you prefer, and steaming, blanching, sautéing, or baking for a few minutes.
Use cauliflower if you want to go on a diet to lose weight. This vegetable has very few calories and will help you in your weight loss plan.
Cauliflower is great to combine with cheese and with any protein.
Enjoy a Nutritious Cauliflower
You don't need to make a lot of effort to eat cauliflower. Its sweet and delicate flavor will enchant you from the first moment. Best of all, you can season it with whatever you want and thus enhance its flavor even more. Be encouraged to prepare our cauliflower recipes and enjoy them.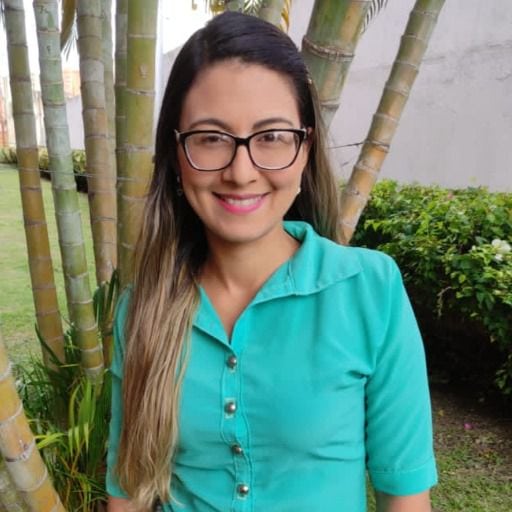 I am a professional health and nutrition writer with extensive experience in the industry. My passion for sharing valuable insights on nutrition and wellness stems from over 15 years of personal training and maintaining a healthy lifestyle. My commitment to continuously educate myself on the latest trends and research in the field allows me to deliver high-quality content that is informative and engaging. My mission is to empower individuals to make informed decisions about their health and well-being through my writing.