Reading time:

11

min
Hair smells can indicate underlying conditions beyond poor hygiene
Not washing your hair enough can lead to an oily scalp and bad odor
Over-washing your hair can damage your scalp's microbiome and cause unpleasant odor
Your diet can contribute to bad-smelling hair, especially heavy animal-based diets
Environmental factors like air pollution can cling to your hair and cause bad smells
Sometimes it's not in the air; take a good whiff, and you will realize it in your hair.
Most of us experience this at one time or another in our lives.
Sometimes, it might just be because of laziness – "I will wash tomorrow."
However, hair smells could indicate more serious underlying conditions than just poor hygiene.
There are many other reasons why your hair smells bad, and it may be because of issues such as smelly hair syndrome (yes, it is a thing), so do hair wash, and take another whiff.
If that doesn't help the situation, carry on reading if you still have a bad smell.
What Causes Smelly Hair and Scalp
Still here?
Don't shave your head just yet; let's look at some of the possible reasons why your hair smells and how you might fix the problem with a home remedy.
By now, you should be sitting outside with flowers in your hair, wondering how a bad day could get even worse. This guide will give you all the answers to all your questions and more, so just hold your breath.
Not Washing Your Hair Enough
A girl never wants to admit it, but let's be honest, it feels like a day's work to wash our head.
There's no way to wash n go; it takes time, effort, patience, and a lot of combing.
Are you washing too often?
Not enough?
Well, if you are not washing your head frequently, you may be building up an oily scalp, (oily hair is never a good look) sebum, and sweat.
And yes, these can cause a bad scent and an odor that can even rival a bad body odor.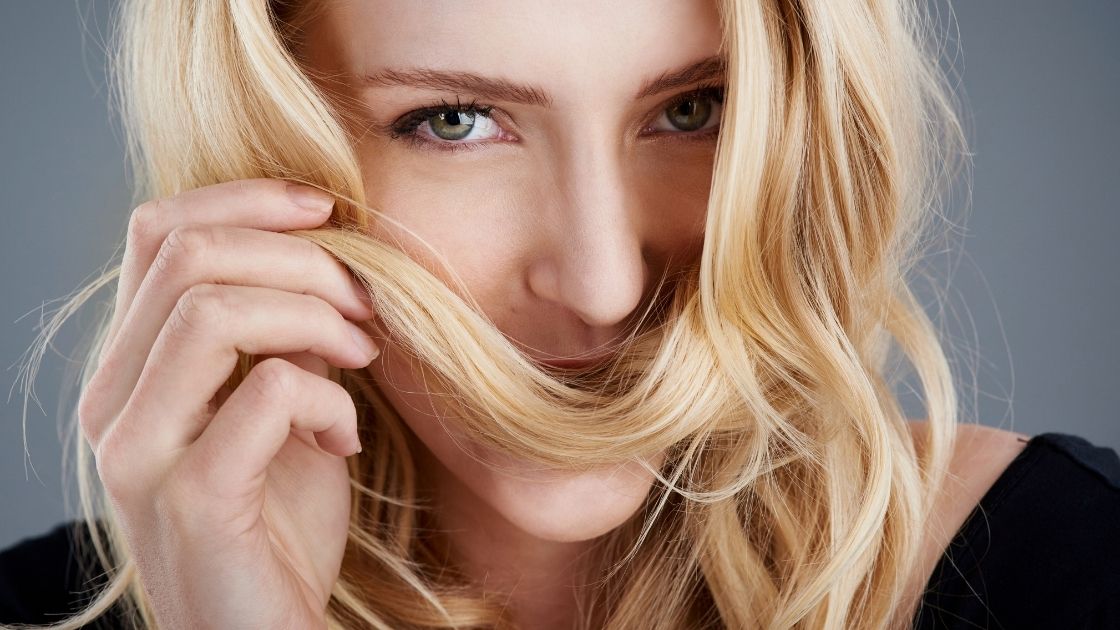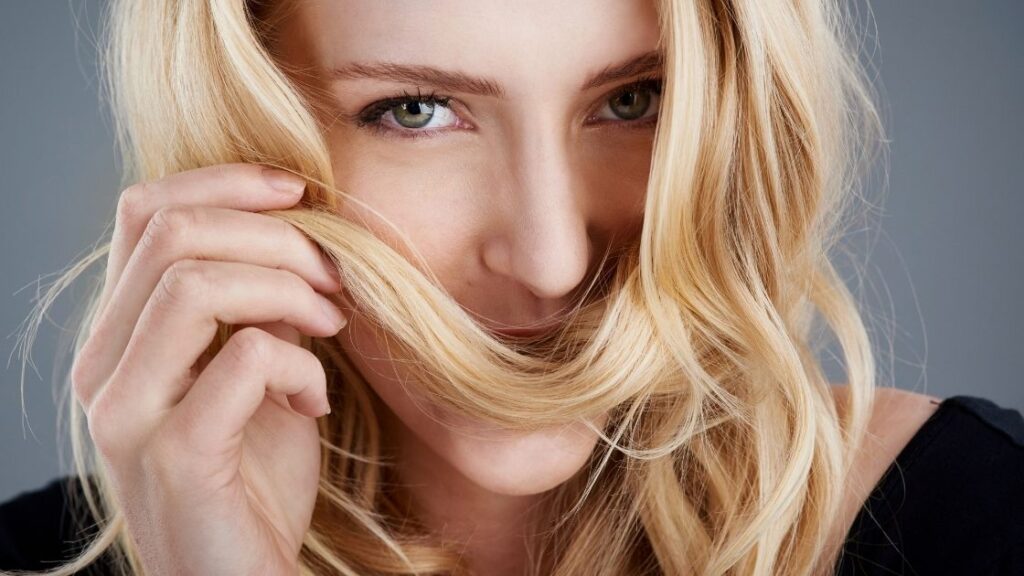 We all love to use a hair care product or two; hairspray, oils, and pampering products, but sometimes this can cause smelly hair, as well as exercising too much and excessive sweating.
So, if you live an active lifestyle (as you should), wash your hair frequently and smell like a summer breeze again.
Over-Washing Your Head
Don't get confused; yes, you may also be washing your hair too often.
Over-washing causes damage to your scalp's microbiome, which gives the green light for harmful bacteria and fungi to access your crowning glory.
These bacteria can cause inflammation and itching and, in turn, cause an unpleasant odor.
So, washing your hair could also be the cause why your hair smells bad.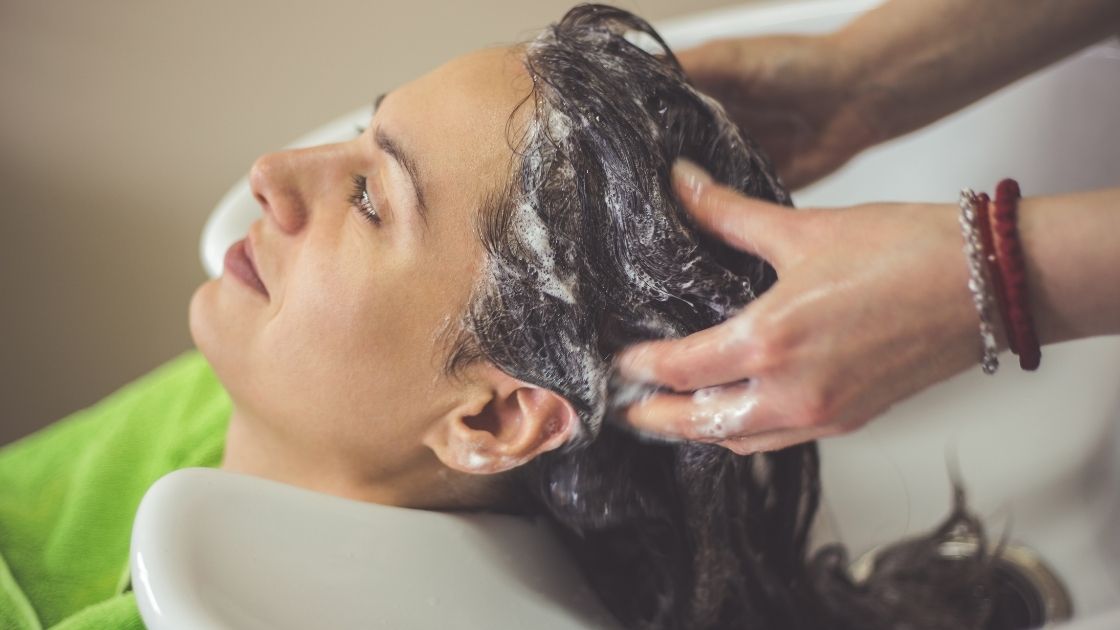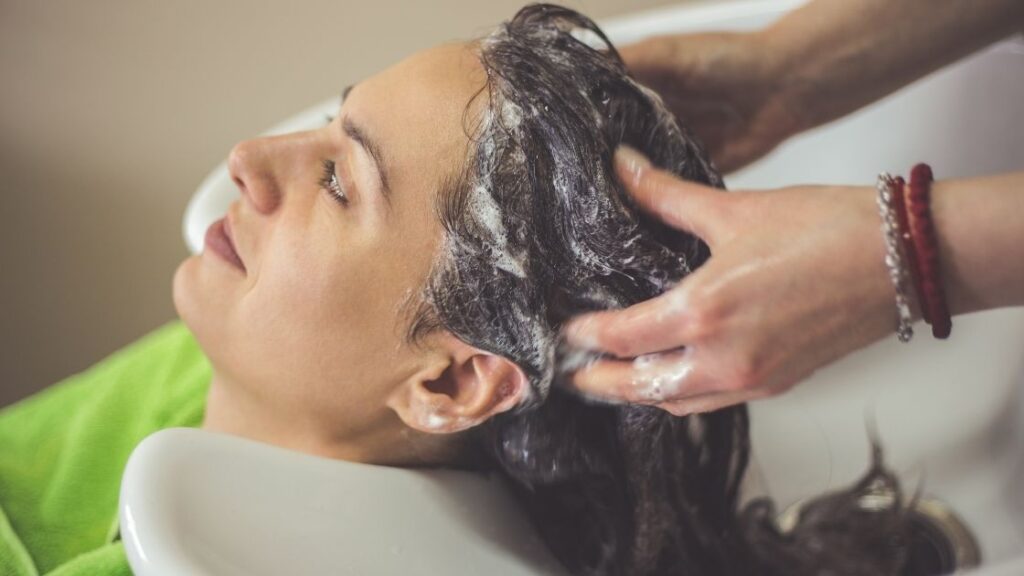 Knowing how often you should be washing your head may be confusing, as everyone is different.
A good rule of thumb is to wash your hair more than you cheat on your diet, meaning every three days.
In some cases, every two days could be helpful, especially with hormonal changes and exercise.
Dry shampoo is a good quick fix if you don't have time for a proper wash.
Hair smells terrific after a quick dry shampoo session, but excessive use can also cause a build-up on your scalp.
Your Diet
Please don't eat that; put it down slowly.
As previously stated, cheating on a diet now and then is fine, but bad odor causes more effort than running a couple of extra miles.
Let's look at how a diet could be causing it.
If your hair smells burnt or bad, going vegan could actually help, as heavy animal-based diets could also be the root cause.
Are you eating a lot of garlic and onions in your diet? You might have found the culprits.
Air Pollution
Alright, so maybe it's in the air.
Considered relocation?
Many environmental factors could be contributing to your bad hair smell.
If you live in an area where there is a lot of pollution in the air, you might have to start thinking about relocating to a place where you could breathe.
Smelly particles cling to your hair, and there really isn't much you can do about the situation.
Seborrheic Dermatitis
This is where things might get a bit more serious.
If you notice any red patches or powdery flakes on your head, it could cause harm and smell.
Don't let the name intimidate you though – we call it dandruff.
Still, dandruff could get severe and cause smelly hair and uncomfortable itchiness, and it just doesn't look that clean.
Scalp Psoriasis
Scalp psoriasis displays some of the same symptoms as dandruff (seborrheic dermatitis) but with more severe itching and a burning sensation on your head surface.
If not taken care of, it could cause your scalp not only to be smelly but also severe hair loss.
We want to avoid this at all costs; otherwise, just shave your head and start over.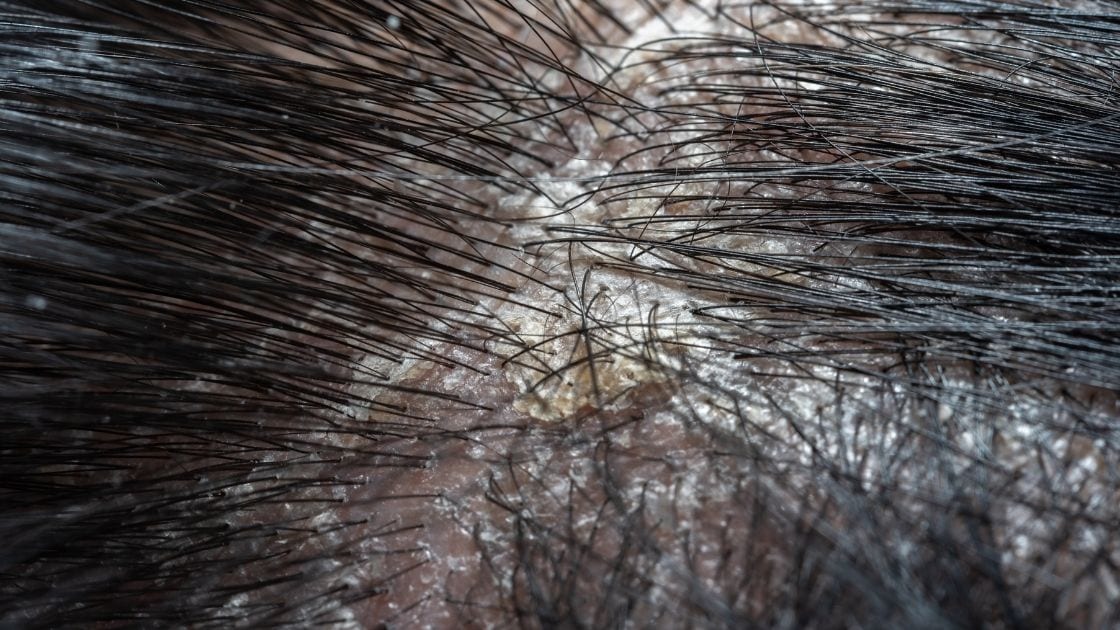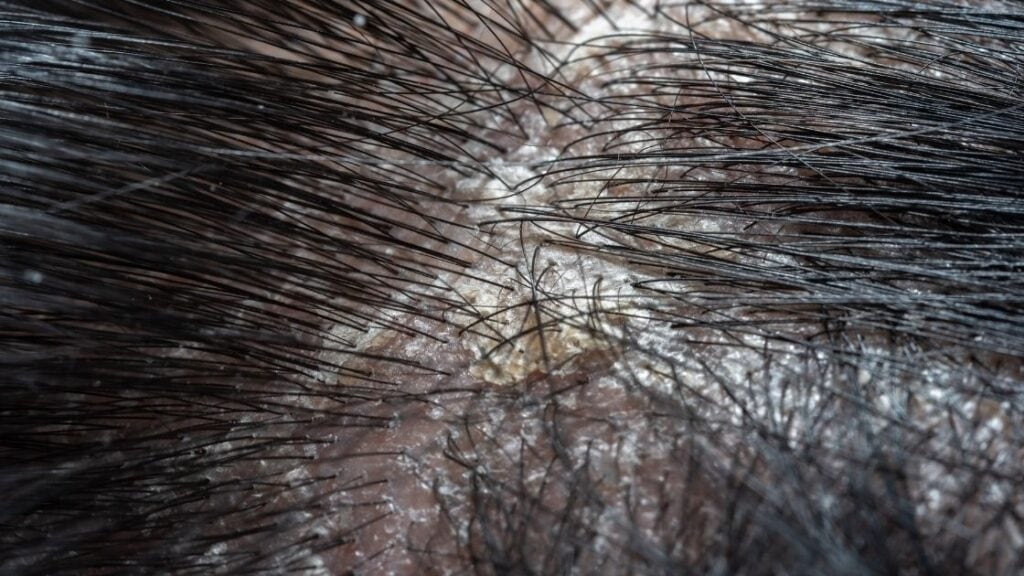 Infection
Fungal infections on the scalp can also lead to bad odor.
One of the main culprits is usually tinea capitis and scalp ringworm.
Don't run; it's not an actual worm.
Round areas of scaly skin generally mark ringworm and may seem swollen red, and contain puss and bald patches.
To avoid most infections, you should wash your hair frequently (but not daily), as infections quickly set in when the scalp is clammy but not clean.
For instance, if you had a rigorous workout but failed to wash your scalp, fungi might move in.
A dab of tea tree oil in your conditioner will also help fight infection and a scalp smell.
And did we mention that an excellent essential oil can promote healthy hair growth to boot?
Home Remedies for Hair Smell Syndrome
Yes, as we've mentioned, smelly hair syndrome is real, and the embarrassment is best avoided.
If you notice that your hair is not smelling as fresh as it used to, try some of these home remedies.
Alternatively, its treatment is best diagnosed by a dermatologist who can assess your circumstances and advise you on the best hair products.
Dandruff-Fighting Shampoo
Fight it till the end. If your bad smell is caused by dandruff, you can easily treat yourself and your hair to OTC dandruff shampoos that contain zinc.
Parathion, ketoconazole, selenium sulfide, and pretty much a lot of dandruff-fighting ingredients to get rid of the bad smell.
Baking Soda
It's not just for the kitchen but also for your head also.
Baking soda removes the unpleasant smell from your thick hair.
You could rub the baking soda into your scalp when in the shower and rinse after a few minutes.
Get into the shower, massage your scalp with baking soda, sing your lungs out for a couple of minutes, and your smelly hair might be a thing of the past.
Coconut Oil
Coconut oil works wonders with a variety of issues.
In fact, it even removes rust, so why not for bad smells?
Rub coconut oil into your head surface, leave it to soak in for about an hour, and your whiffy waves might be a thing of the past.
Besides, it smells better than any shampoo you have ever used.
Aloe Vera
Aloe Vera is another quick and easy method to get rid of most scalp issues that cause bad-smelling hair.
Apply a small amount of Aloe Vera to your scalp and rinse it off after about 20 minutes. It will leave your hair feeling smooth and clean while also helping with the smell.
Apple Cider Vinegar
You may have had a bad experience with the awful taste of apple cider vinegar.
However, there's no need to test your gag reflex, because you won't be drinking it.
This time your hair will be taking the punishment, and this time the vinegar may actually put a smile on your face and save you from a smelly one.
Lemon Juice
Lemon juice is almost as versatile as coconut oil, and even if your hair smells to such a degree that you are thinking of burning it off, you may actually be saved by lemon.
All you need to do is to mix two teaspoons of lemon juice with one cup of water and wash with it.
Remember to rinse – this may be a sour option, but the results may prove to be helpful. As an extra boon, lemon juice also lightens blonde.
How To Prevent a Smelly Scalp and Hair
Preventing a smelly scalp is easily done with a positive focus on good hygiene practices and seeing your dermatologist when the situation gets out of hand.
Not inflaming the infection or oil buildup and washing your head frequently are the primary preventative measures.
Since you have now realized that the smell is not in the air (usually), we can move on to prevention so that you don't get yourself into a smelly situation again.
Keep Hands Off
Please don't do it; keep your hands to yourself. Your scalpy situation doesn't need any more problems.
By touching or scratching your scalp, you will be causing more oil production, only making the infection or smell even worse.
Stay away from areas with a lot of dust, smoke, and debris if there is an infection.
Use Anti-Dandruff Shampoo Regularly
Chin up, cheer up; you can fight your dandruff and prevent any infection or another smelly situation with dandruff shampoo.
Use reputable brands that can save you from future uncomfortable situations at the supermarket or other queues.
Avoid Certain Products
So again, we get to the goods that make us feel good, smell good, and look even better (the mirror can't smell).
Everything that seems nice might be the culprit; see it as the jealous friend; she's there for you, but maybe not in the way she should be.
Some products can have extremely adverse reactions on your scalp, or you may have an unknown allergy.
Avoiding products such as hair perfume, SLS, and PPD, which contain an ingredient that could irate your skin, could be excellent prevention.
Use a Scalp Brush
The brushing never stops, and a regular routine for scalp care should never be neglected; find a routine and stick to it; focus on what works for your scalp and stick to it like a wax strip.
Using a scalp brush after every wash day could exfoliate your scalp and break up dead skin cells.
Otherwise, you risk a situation where you need to force yourself into social distancing to avoid any looks that might even kill your hair follicles.
Wash Your Hair After Workouts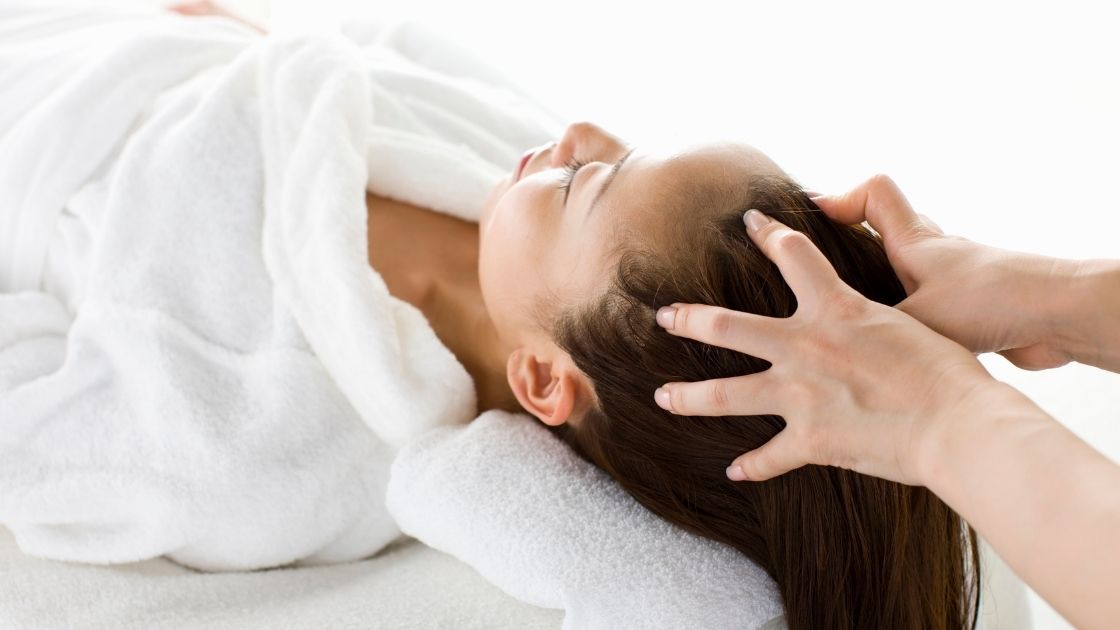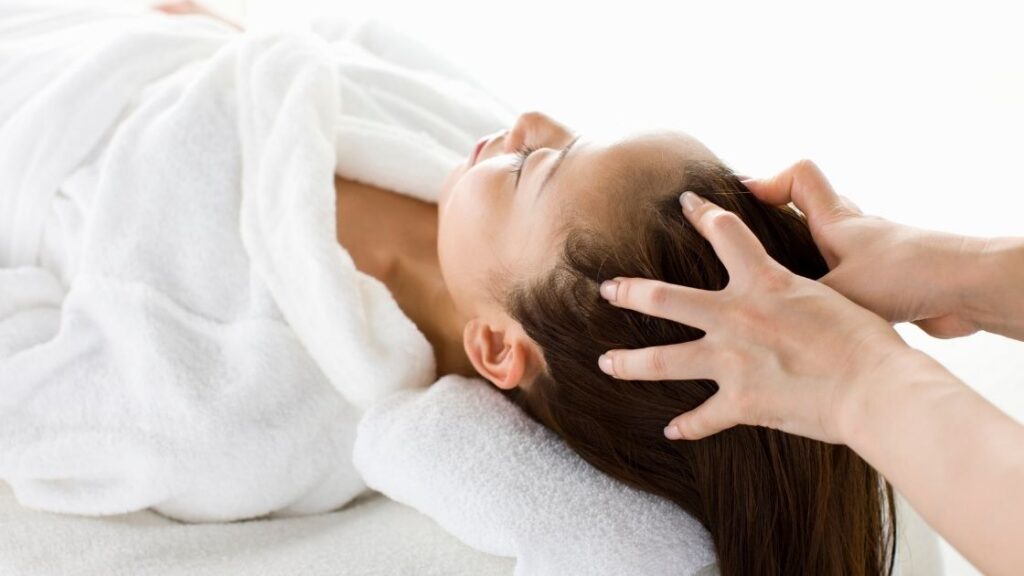 Diets, and workouts – both are essential parts of feeling good and looking the way you want to, but they could cause smelly hair and scalp problems.
Don't swap your smile and body weight goals for healthy hair, just take care in washing frequently to eliminate unnecessary oil buildup that causes smelly hair.
Sweat can be a breeding ground for harmful bacteria and should not be a factor in your health goals.
Pay Attention to Your Diet.
Food can either have a positive or a negative effect on our bodies, skin, and mental state. Who knew your hair could also benefit from a good diet?
Unfortunately, to determine whether a certain food is responsible for your unearthly hair smell, you would need to keep a diary.
As with a weight loss diary, you could then determine which foods are causing your hair to smell.
See a Doctor, or Is it in The Air?
If we have not addressed your questions, you should consider fumigation or a dermatologist.
We recommend the dermatologist get rid of the burnt hair smell for good.
Medical treatment might be required if you have tried the remedies and advice mentioned here to no avail.
If your hair odor is not improving, there is no need to shave your head, wear nose plugs, or socially distance yourself.
A dermatologist can assist you without the need for any serious treatment.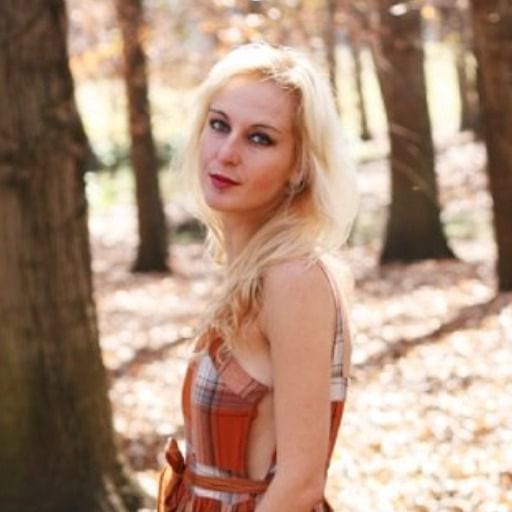 Reinette Robbertze is a highly qualified professional in the health and nutrition industry, having completed both Journalism and Nutrition diplomas. With a remarkable portfolio of health blogs and magazine articles to her name, Reinette's writing is fueled by her genuine passion for healthy living. Drawing on her academic background, Reinette delivers authentic and insightful information to her readers. Her engaging writing style, blended with personal anecdotes, creates an immersive experience that keeps readers engaged and informed. Keep following her work for the latest updates and informative articles on health and nutrition.