Reading time:

8

min
You are most likely familiar with string beans as they are a staple at the dinner table.
It is a practical green vegetable to cook with enchanting flavor.
You can eat them blanched, sautéed, or straight from a can. Either way, you will enjoy its flavor and benefits.
Keep reading to know the history of string beans, all their nutrients, their benefits, and easy and delicious recipes.
Physical description
In homes across the country, green beans are a regular staple. They are long, extremely narrow green vegetables made from the seed coats of a climbing plant.
There are many names for them; snap beans, green beans, french green beans, and string beans. These are the best-known among non acidic fruits.
They are not usually green, despite their name. The common bean, or Phaseolus vulgaris, of which the green bean is a variety, also comes in shades of yellow and purple.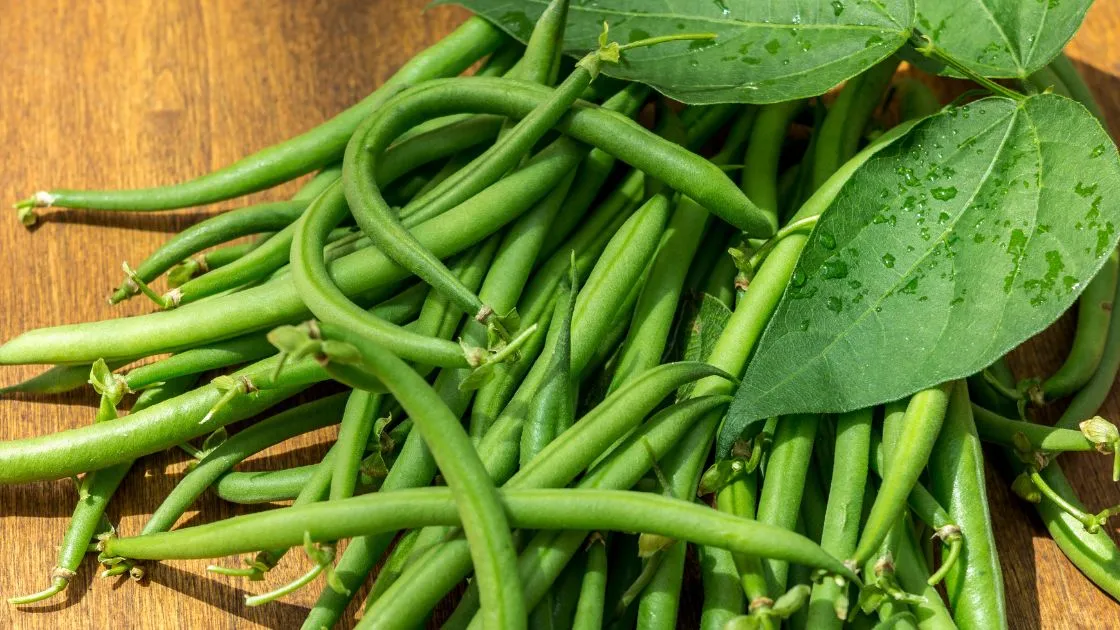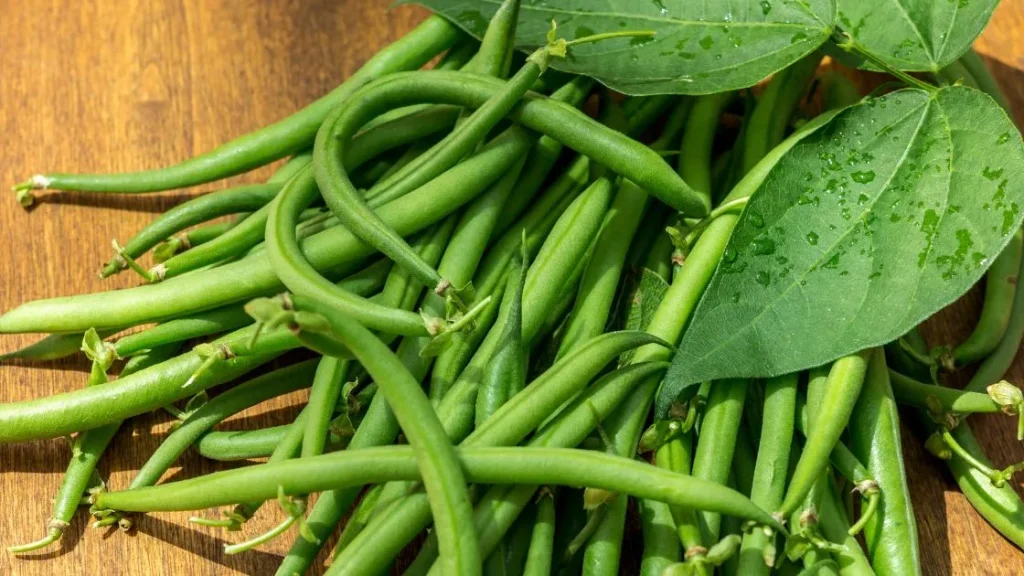 History and production
North, South, and Central America are the original home of green beans. However, now they flourish all over the world.
They grow year-round, so no matter the season, you can find them in most grocery stores. Although it is common to find them in neighborhood farmer's markets during their peak season, which is between May and October.
Now, check in detail all the nutrients that string beans offer and their benefits.
Nutrition Facts of String beans
Vitamins
Carotene, alpha 20.30 mcg
Vitamin A, 23.20 mcg – 3 % of DV
Carotene, beta 87.00 mcg
Retinol 14.50 mcg
Lutein + zeaxanthin 752.55 mcg
Riboflavin [Vitamin B2] 0.120 mg – 9 % of DV
Thiamin [Vitamin B1] 0.045 mg – 4 % of DV
Niacin [Vitamin B3] 0.512 mg – 3 % of DV
Vitamin B6 0.100 mg – 6 % of DV
Niacin [Vitamin B3] 0.512 mg – 3 % of DV
Folate, food 27.55 mcg
Folate, DFE [Vitamin B9] 27.55 mcg – 7 % of DV
Vitamin C [Ascorbic acid] 4.9 mg – 5 % of DV
Tocopherol, alpha 0.48 mg
Vitamin E (alpha-tocopherol) 0.48 mg – 3 % of DV
Vitamin K1 [Phylloquinone] 56.8 mcg
Vitamin K 56.8 mcg – 47 % of DV
Choline 19.3 mg – 4 % of DV
Minerals
Copper 0.09 mg – 10 % of DV
Calcium 69.60 mg – 5 % of DV
Magnesium 33.35 mg – 8 % of DV
Iron 1.25 mg – 7 % of DV
Potassium 176.90 mg – 4 % of DV
Phosphorus 43.50 mg – 3 % of DV
Sodium 189.95 mg – 8 % of DV
Selenium 0.58 mcg – 1 % of DV
Zinc 0.68 mg – 6 % of DV
Proteins and Aminoacids
Protein 2.10 g – 4 % of DV
Carbohydrate 9.06 g – 3 % of DV
Sugars 2.64 g
Fiber 4.21 g – 15 % of DV
Net carbs 4.85 g
Fats and Fatty Acids
Fat 3.915 g – 5 % of DV
Futanoic acid 0.041 g
Saturated fatty acids 1.106 g – 6 % of DV
Dodecanoic acid 0.033 g
Decanoic acid 0.032 g
Hexanoic acid 0.026 g
Hexadecanoic acid 0.586 g
Octanoic acid 0.014 g
Octadecanoic acid 0.245 g
Monounsaturated fatty acids 1.363 g
Tetradecanoic acid 0.096 g
Hexadecenoic acid 0.020 g
Eicosenoic acid 0.012 g
Polyunsaturated fatty acids 1.241 g
Octadecenoic acid 1.330 g
Octadecatrienoic acid 0.199 g
Octadecadienoic acid 1.043 g
Sterols
Cholesterol 2.90 mg – 1 % of DV
Other
Health benefits of String beans
Help in bone health
In addition to having a good level of calcium, string beans are rich in vitamin K. These vitamins and minerals are crucial for preserving strong, healthy bones and lowering your risk of fractures.
Fight depression
It is crucial to have enough folate at all times, not just during pregnancy. Vitamin B is also crucial in reducing depression.
The homocysteine level in our body can be lowered by getting enough folate. Serotonin, dopamine, and norepinephrine need to be controlled by homocysteine.
Serotonin, dopamine, and norepinephrine are chemicals that control mood, sleep, and appetite. These cannot be produced naturally by our bodies if we have too much homocysteine.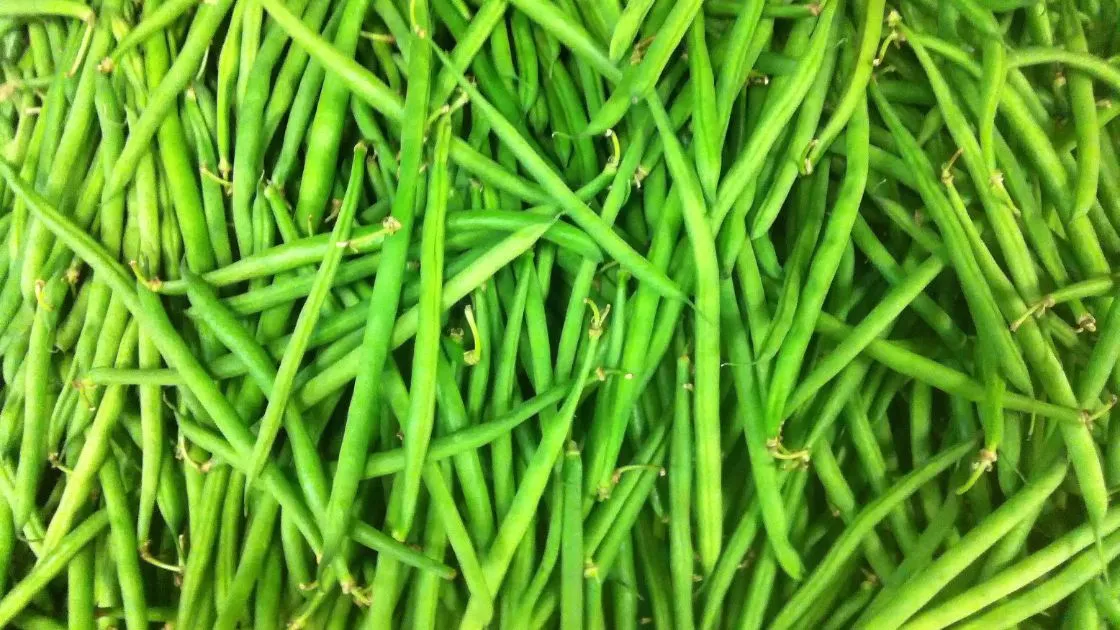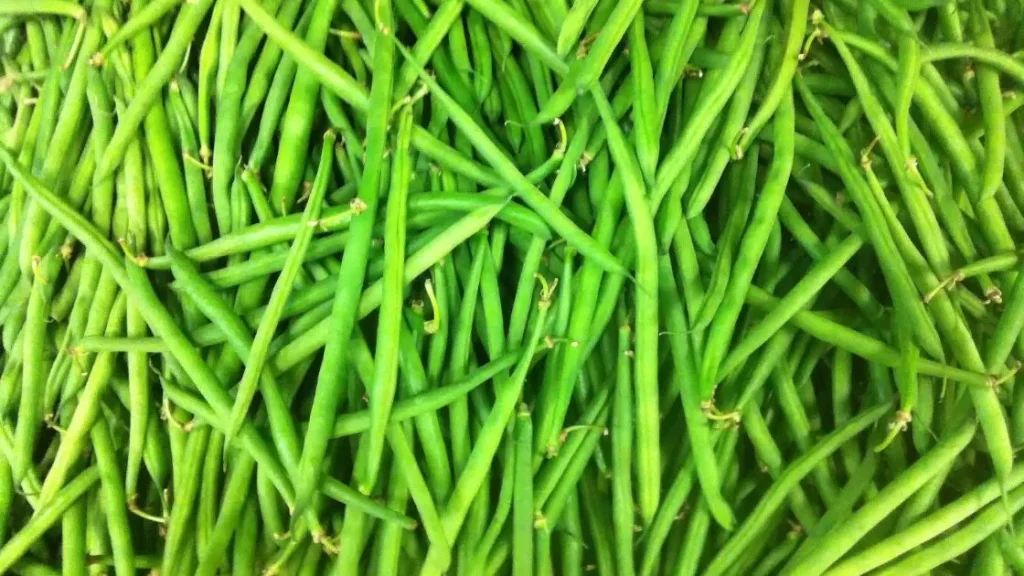 Support for a Healthy Pregnancy
Folate, a B vitamin essential for the growth and development of fetuses, is found in a cup of string beans. This is about a third of the recommended daily intake.
This vitamin helps reduce the risk of various birth defects. Pregnant women should consume more folate than non-pregnant women.
Most adults require 400 mcg per day, pregnant women require 600 mcg, and lactating mothers require 500 mcg.
Possible Aid for Anemia
The red blood cells carry oxygen from the lungs to all of the other cells in our bodies. These require iron as a vital component for their production.
Anemia, which is characterized by weakness, weariness, and lightheadedness, can result from a lack of iron in the diet.
Spring beans offer a respectable source of plant-based iron. This can assist in ensuring that you acquire the quantity required to prevent anemia.
After learning about the benefits of string beans, learn how to cook them with these easy recipes.
String or Green beans recipes
String Bean stew with halloumi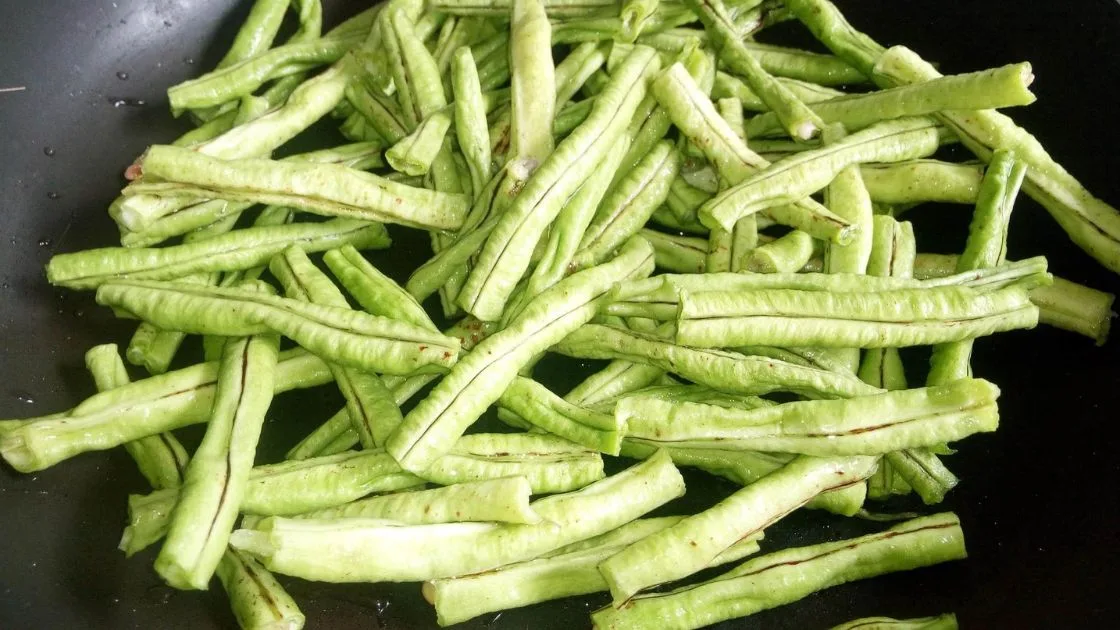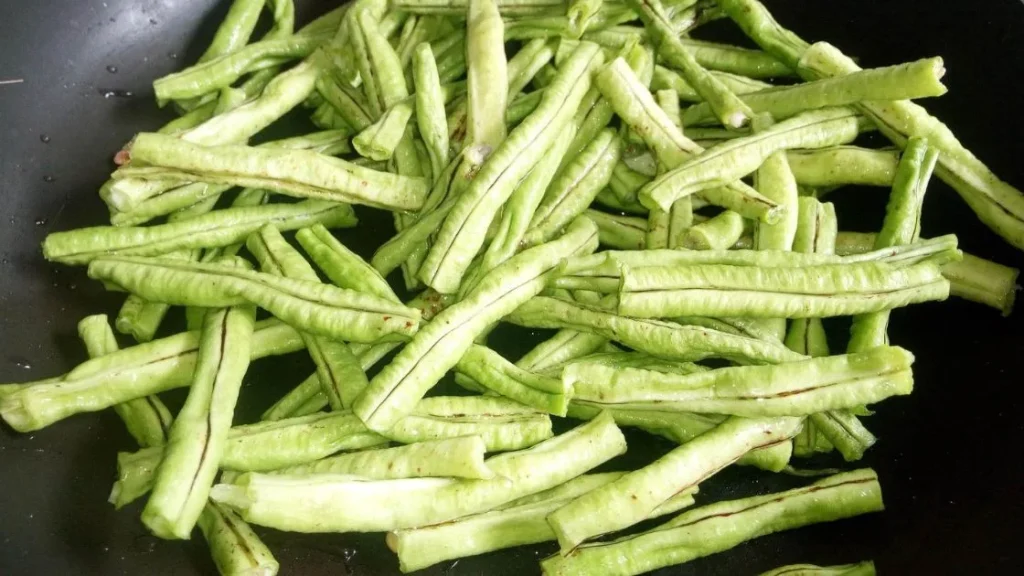 Preparation time: 20 minutes
Serving: 2
Ingredients:
400 grams of canned string/green beans
3 tablespoon olive oil
500 mililitros of water.
400 grams of chopped tomatoes (canned)
1 red pepper
1 tablespoon of garlic butter
1 shallot
250 grams of halloumi (sliced)
A bunch of coriander (finely chopped)
3 tablespoons of tomato pesto or some vegan
1 tablespoon of ground coriander
Garlic bread to serve (optional) as a side dish
Salt and pepper to taste
Procedure
In a casserole, heat 2 tablespoons of oil over medium heat. Add bell pepper, shallot, and onion, and season with a little salt. Cook for 10 minutes, or until vegetables are tender.
Cook for one minute after adding the garlic, pesto, and ground cilantro.
Add the string/green beans and cook with tomatoes, and water (you can add more water if you find it necessary). Bring to a boil covered.
Put the remaining oil in another pan and heat it over medium heat to cook the halloumi. It should be fried for two minutes on each side or until golden.
After flavoring the beans, place them in large bowls. Add halloumi on top, then sprinkle chopped coriander on top. If desired, serve with garlic bread.
String bean curry
Preparation time: 20 minutes
Serving: 2
Ingredients:
1 tablespoon of vegetable oil
2 garlic cloves
1 onion
1 tablespoon of ground paprika
A bunch of coriander
400 grams of can tomatoes
A piece of ginger
1 tablespoon of ground cumin
400 grams of fresh green beans (string beans)
2 tablespoons of garam masala
Cooked rice to serve
Salt and pepper to taste
All vegetables must be finely chopped.
Procedure:
In a large skillet, heat oil over low to medium heat. Add the onion and leave it until it has softened.
As soon as the onion begins to color, add it to the skillet along with a little salt. Cook it slowly while turning it regularly.
Add the ginger, coriander, and garlic and cook for an additional 2 minutes.
Incorporate the spices and simmer for another minute.
Cook green beans and tomatoes until it boils.
After boiling, lower the heat and simmer the curry for 15 minutes, or until thick.
Serve over rice and coriander leaves.
I love beans in any of their variations. They are delicious and can be eaten with anything. Simon Cowell also enjoys eating them:
I love beans in any of their variations. They are delicious and can be eaten with anything. Simon Cowell also enjoys eating them:
Key facts about string beans
They are a good source of fiber. If you want to boost your fiber intake, you can also eat broccoli, bananas, and spinach. These foods contain a lot of fiber that helps prevent digestive problems.
Sautéed green beans are widely used as a garnish in many Mexican dishes.
Green beans are mostly known as wax beans in Mexico and Latin America.
The best easy way to cook beans is blanched.
Green beans are also known as haricot vert.
When the beans are tender they don't have much flavor, it is best to wait for them to mature.
Fresh beans are the healthiest of all.
Sauté garlic green beans are a very common custom in Mexican kitchens.
Some types have a very nice bright green color.
The bean with garlic is a combination that many people like.
Green bean casserole is the most eaten for lunch.
String beans for everyone
String beans are wonderful. It is a powerful food in fiber and folic acid, a perfect combination to enhance our bodies. Including it in our daily diet is an excellent way to eat healthily. So include this vegetable in your next shopping list.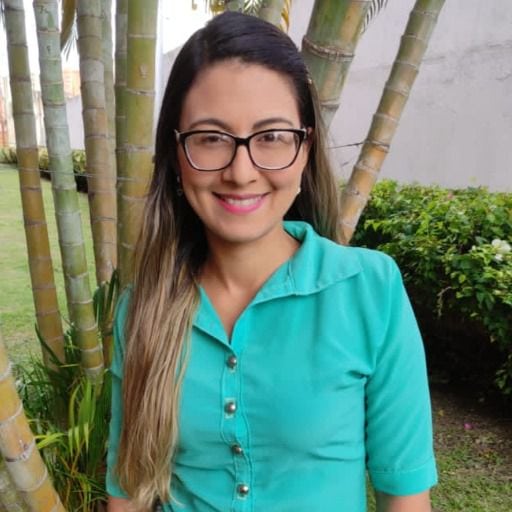 I am a professional health and nutrition writer with extensive experience in the industry. My passion for sharing valuable insights on nutrition and wellness stems from over 15 years of personal training and maintaining a healthy lifestyle. My commitment to continuously educate myself on the latest trends and research in the field allows me to deliver high-quality content that is informative and engaging. My mission is to empower individuals to make informed decisions about their health and well-being through my writing.