Reading time:

7

min
Cucumbers are high in water content and have a nice, energizing flavor.
In hot weather, they are pleasurable to consume and can help with hydration.
Despite being a fruit, people consume cucumber as a savory food.
This blog shows the nutritional value of cucumbers, potential health benefits, and eating and utilizing advice. So keep reading and learn more about this important fruit.
Physical description
Cucumber is an elongated vegetable and is 15 centimeters long. When it matures, its skin color changes from green to yellow.
Currently, it can be found all year round in the markets. Cucumbers can also be purchased fresh or pickled.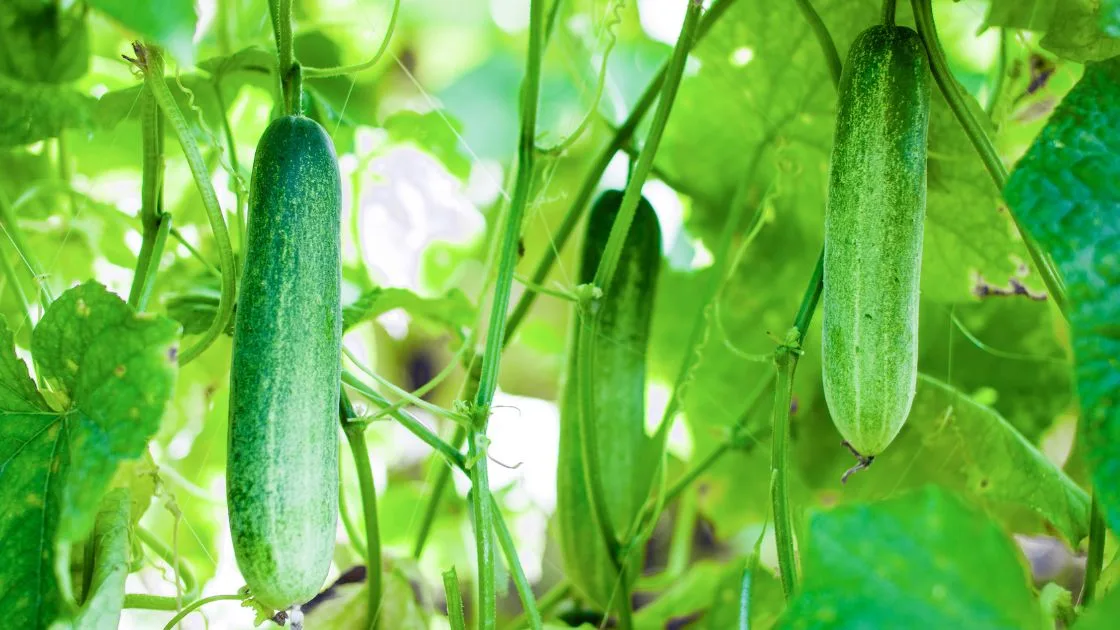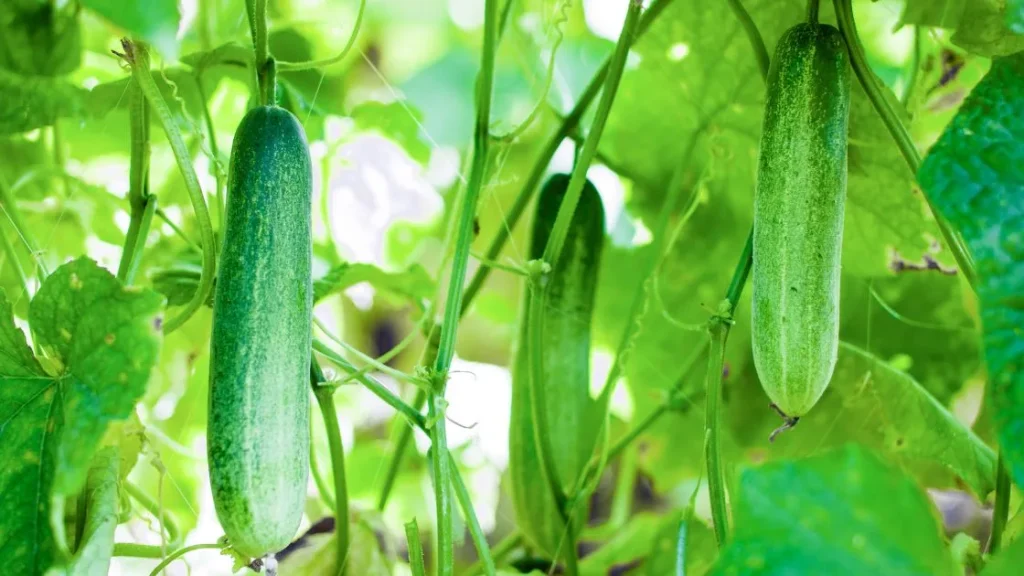 History and production
It is an annual crop plant that belongs to the Cucurbitaceae family. The stems are hairy and herbaceous, and each stem node has a leaf and tendril.
Each blade has three to five triangular lobes, and the leaves have long petioles and are heart-shaped.
The roots have few branches and are long and narrow. These plants require animal pollination for reproduction.
It usually has both male flowers and female flowers, although breeding has focused on producing plants with exclusively female flowers. When cucumber plants blossom, they do so with a vibrant yellow color.
Cucumbers may be planted anywhere vertically using a trellis. During cultivation, the plants often fill up with cucumber beetles. This is a very common type of pest in cucumber bushes and other plants.
Vining cucumbers and bush cucumbers are the two different varieties of cucumber plants. The most popular plant cucumber, known as vining cucumbers, grows on strong vines covered in broad leaves.
For cucumber planting to be successful, it is advisable to use mulch in the soil around plants. The mulch guarantees the necessary humidity. This must be a prior to planting. Placing the plants in a full-sun area is also essential.
Now, know in detail the nutrients that cucumbers have and the health benefits they offer.
Nutrients of Cucumbers
1 cup of 120 grams of cucumber raw has:
Cucumber is low in calories, only has 18 Calories.
Vitamins
Vitamin A, 6.00 mcg – 1 % of DV
Carotene, beta 54.00 mcg
Carotene, alpha 13.20 mcg
Lutein + zeaxanthin 27.60 mcg
Cryptoxanthin, beta 31.20 mcg
Riboflavin [Vitamin B2] 0.040 mg – 3 % of DV
Thiamin [Vitamin B1] 0.032 mg – 3 % of DV
Vitamin B6 0.048 mg – 3 % of DV
Niacin [Vitamin B3] 0.118 mg – 1 % of DV
Folate, food 8.40 mcg
Folate, DFE [Vitamin B9] 8.40 mcg – 2 % of DV
Vitamin E (alpha-tocopherol) 0.04 mg – 0 % of DV
Vitamin C [Ascorbic acid] 3.4 mg – 4 % of DV
Vitamin K 19.7 mcg – 16 % of DV
Tocopherol, alpha 0.04 mg
Choline 7.2 mg – 1 % of DV
Vitamin K1 [Phylloquinone] 19.7 mcg
Minerals
Copper 0.05 mg – 6 % of DV
Calcium 19.20 mg – 1 % of DV
Magnesium 15.60 mg – 4 % of DV
Iron 0.34 mg – 2 % of DV
Potassium 176.40 mg – 4 % of DV
Phosphorus 28.80 mg – 2 % of DV
Sodium 2.40 mg – 0 % of DV
Selenium 0.36 mcg – 1 % of DV
Zinc 0.24 mg – 2 % of DV
Proteins and Aminoacids
Carbohydrates
Fiber 0.60 g – 2 % of DV
Carbohydrate 4.36 g – 2 % of DV
Net carbs 3.76 g
Sugars 2.00 g
Fats and Fatty Acids
Saturated fatty acids 0.044 g – 0 % of DV
Fat 0.132 g – 0 % of DV
Octadecanoic acid 0.006 g
Hexadecanoic acid 0.034 g
Monounsaturated fatty acids 0.006 g
Tetradecanoic acid 0.006 g
Polyunsaturated fatty acids 0.038 g
Octadecenoic acid 0.006 g
Octadecatrienoic acid 0.006 g
Octadecadienoic acid 0.034 g
Other
Health benefits of Cucumbers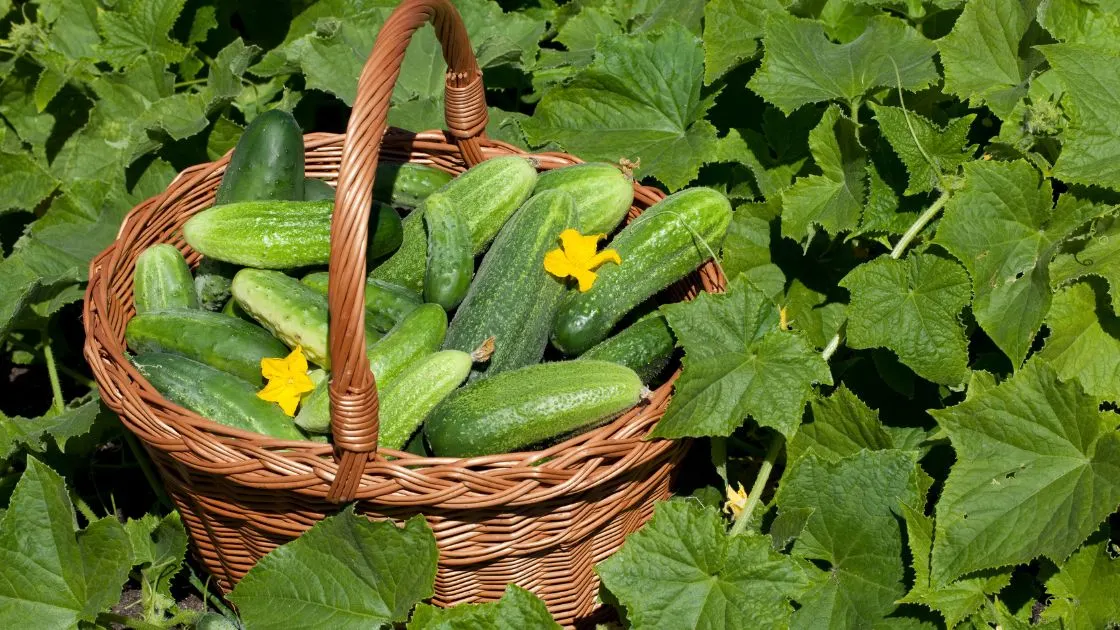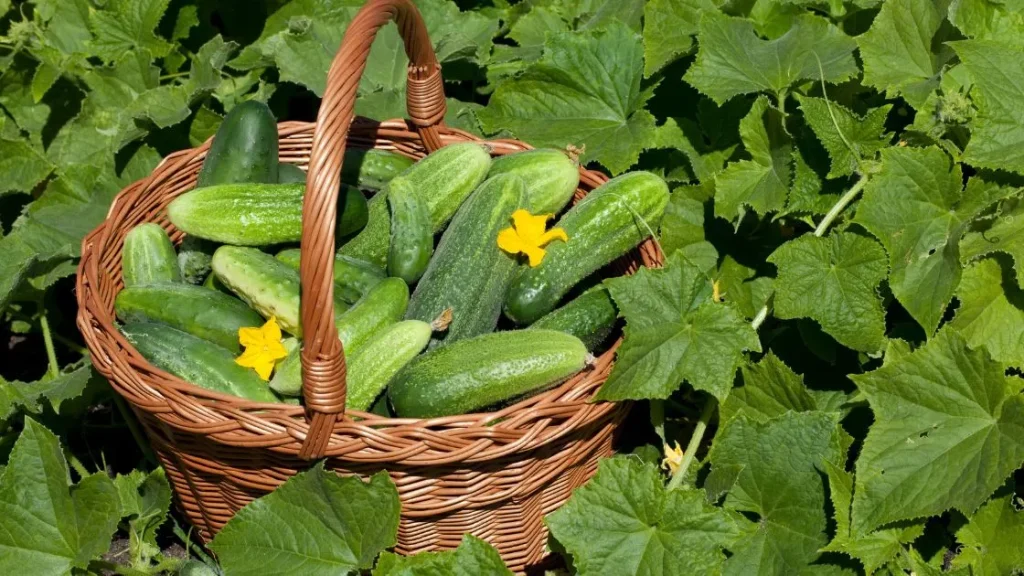 Can control our digestion
Our digestion can be regulated by cucumbers. They have a high water content. And we know that water is essential for all body systems, including digestion.
Staying hydrated promotes bowel regularity. Drinking more water makes constipation stop being a problem.
Reduce inflammation
Eating enough cucumbers can have anti-inflammatory effects on our bodies. This thirst is because they are loaded with antioxidants like lignans and minerals like potassium and magnesium.
It also contains flavonoids and beta-carotene, powerful phytonutrients, or beneficial chemicals.
Promote a good hydration
Cucumbers contain a lot of water. It is a great alternative if the thought of consuming another glass of water makes you uncomfortable. A cucumber is 95% water so consuming them will keep us hydrated.
Also, eating cucumbers can help prevent headaches. This is thanks the hydration, which is vital to so many biological processes.
If you need to have a high-fluid diet, you can also include fruits such as watermelon and cantaloupes.
The water or liquid that the cucumber has a very pleasant flavor. That's why Ellen DeGeneres says:
Help reduce inflammation of the eyes
If you have seen someone put cucumber slices in their eyes it is to soothe the eyes. Cucumber in the eyes really works. They can relieve irritation, redness, and swelling.
Now that you know the benefits of Cucumbers, learn how to prepare them with these delicious recipes.
Cucumbers recipes
Cucumber Greek Salad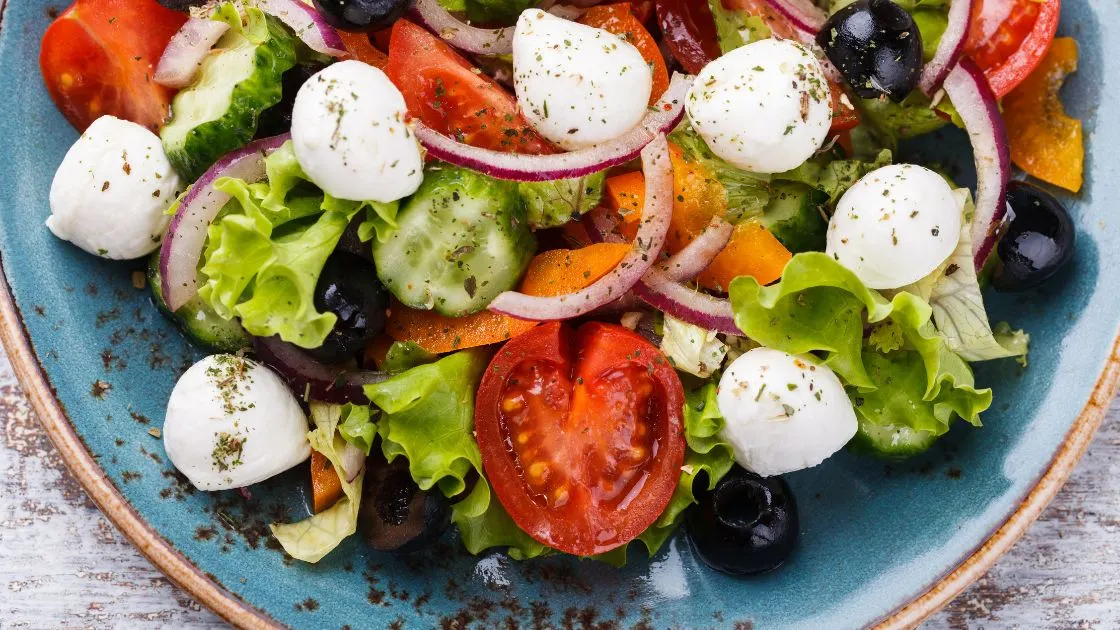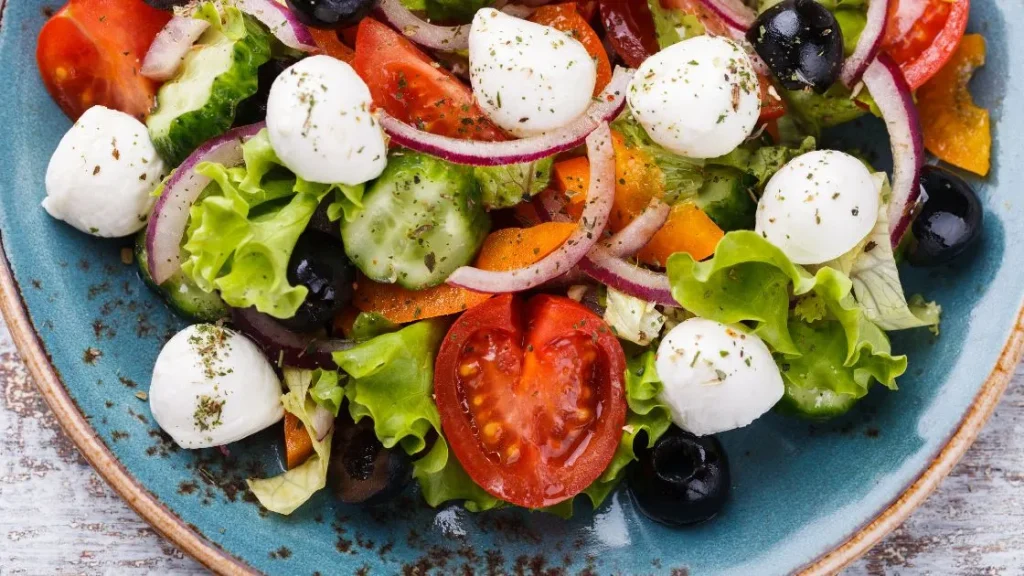 Time of preparation: 45 minutes
servings: 4
Ingredients:
500 grams of tomatoes
100 grams of black olives
1 cucumber
200 grams of goats cheese
2 peppers
1 apple
2 onions
For the dressing:
4 tablespoons of vinegar
5 tablespoons of olive oil
1 glove of garlic
Oregano and basil to taste
Salt and pepper to taste
Procedure:
The cucumber and tomato should be peeled and diced.
Peel, core, and dice the apple.
Chop the onion.
Make the dressing and combine everything.
Use herbs and spices to season the salad.
Salmon Au Citron with Cucumber
Time of preparation: 30 minutes
servings: 4
Ingredients:
750 grams of fresh salmon (peeled, boned, and cut into two pieces)
125 grams of cucumber (minced)
25 grams of butter
1 lemon
1 teaspoon minced oregano
Ground white pepper
Salt and pepper to taste
Procedure:
Wash and dry the salmon and place one half on a baking sheet.
Lightly fry the cucumber pieces in butter, they should not be allowed to brown.
Reserve the lemon juice after squeezing it.
Arrange the cucumber on top of the salmon, then drizzle with the remaining butter and lemon juice.
Add seasoning, oregano, and the second piece of salmon, and drizzle with the remaining melted butter.
For 25 minutes, bake the fish over medium heat after wrapping it in aluminum foil and folding up the sides.
If you prefer, you can accompany it with cucumber slices and some baked potatoes.
Some key facts about cucumbers:
One of the easiest ways to eat cucumbers without having to cook them is to buy pickling cucumbers. All you have to do is drain them and eat them or add them to any of your meals.
To grow cucumbers we don't need a growing guide. But, to have a good start, cucumber seedlings must have a space between 8 to 12 inches apart from each other.
Cucumber seed production is done through a process of drying and storing pollen from its flowers.
Cucurbitacin is the substance responsible for a cucumber's bitter taste. The term "burpless cucumber" is the type of cucumber that does not has Cucurbitacin.
Eat cucumbers and stay hydrated
You already know that cucumber is not a vegetable but a fruit full of flavor and water. Its high nutrient content makes it a highly beneficial fruit for our health. Also, its antioxidant and anti-inflammatory compounds help prevent many conditions. So take advantage of all its nutrients and start including cucumbers in your diet.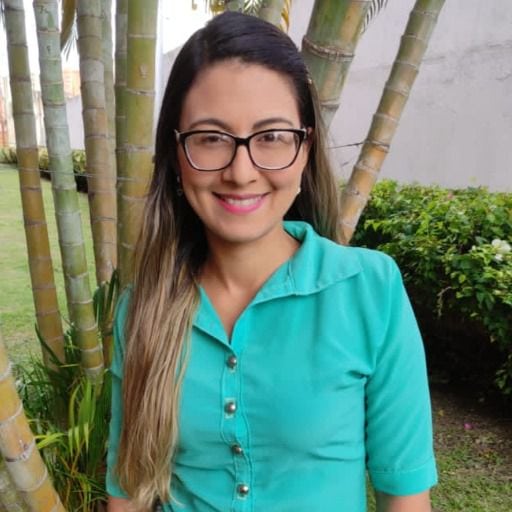 I am a professional health and nutrition writer with extensive experience in the industry. My passion for sharing valuable insights on nutrition and wellness stems from over 15 years of personal training and maintaining a healthy lifestyle. My commitment to continuously educate myself on the latest trends and research in the field allows me to deliver high-quality content that is informative and engaging. My mission is to empower individuals to make informed decisions about their health and well-being through my writing.