hanging lifestyles in recent years have seen more and more of us working from home. Due to this cultural shift, our exercise habits have also changed. More of us are looking to get in a quick workout during our lunch break, while the kids are playing, or between meetings. The demand for reliable, fun home exercise options has grown – spearheaded by the humble exercise bike.
If you've found it difficult to navigate the ever-growing amount of options on the market, this article is here to help you. We've brought together six of the best stationary bicycle options available, but before we jump straight into things, what are exercise bikes anyway?
What is the best exercise Bike?
You might have a distant memory of your grannys' old exercise bike. Back in the day these stationary bikes were bulky and had only one setting, and moving them from one room to another was a workout in and of itself. Luckily we've come a long way since then, and exercise bikes have morphed into a sleek and integral part of any home gym.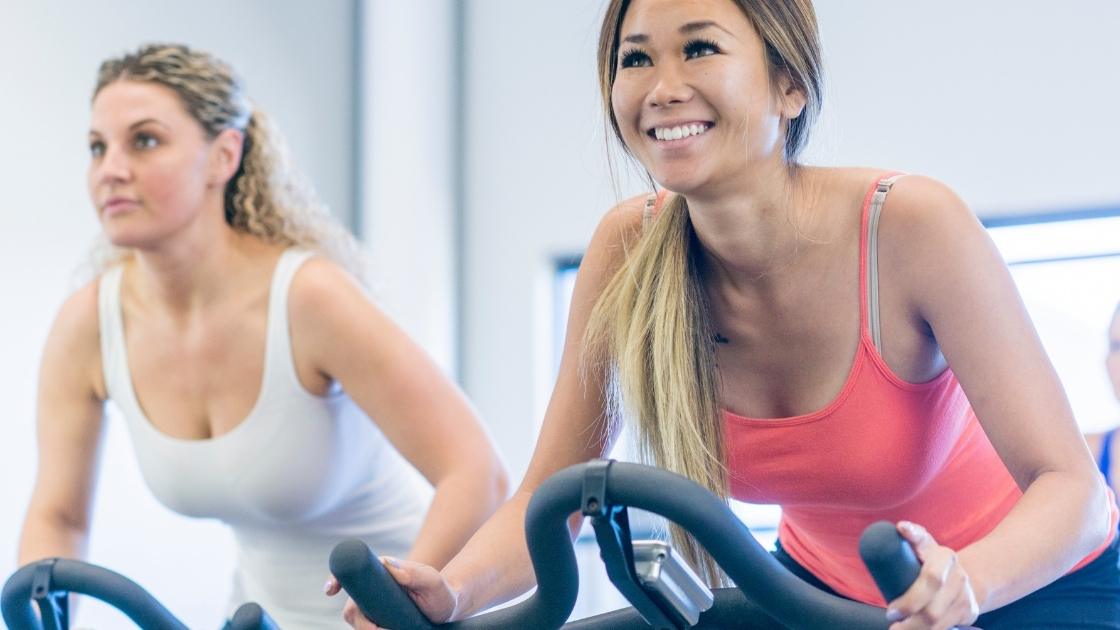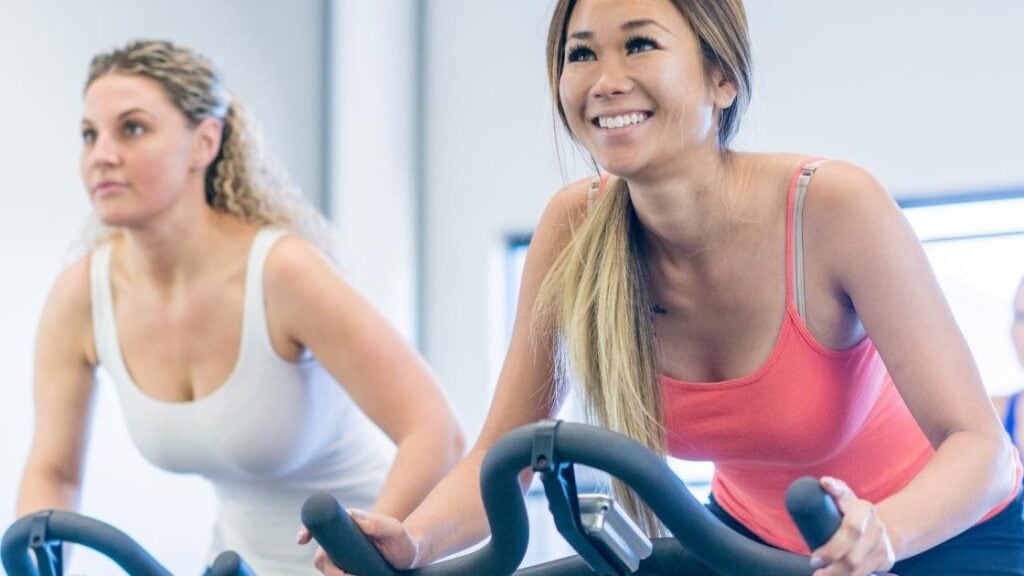 Best exercise bike have become fun, safe, and consume very little power – most of them function on a single battery or are even self-charging! They are also a great way to sneak in a workout without leaving the comfort of your home.
We all know that cycling is a great way of burning calories, and cycling at home is no different from the road or outdoor biking. In fact, even just 30 minutes of cycling burns about 200 calories, helping you lose weight and burn belly fat. Stationary bikes also provide a great cardio workout helping to strengthen your heart, improve fitness, as well as simultaneously tone legs, thighs, and butts.
When Should You Buy an Exercise Bike?
Like most larger electronics, we recommend buying exercise bikes after major holidays when prices are at their lowest. Many companies have specials right after the Christmas period. You can also check out Black Friday offers – but we recommend shopping online to avoid the queues and the commotion!
Best Exercise Bikes for Weight Loss
If you've made the decision to buy your own exercise bike, you probably want to get the best bang for your buck. Exercise bikes vary greatly – from your stock standard affair to the computerized elite, there's an exercise bike out there to suit every person and every budget. This list of 6 of the best home bike is here to help you choose the best indoor bike that's right for you. All have different pros, cons, and price points – so let's get started.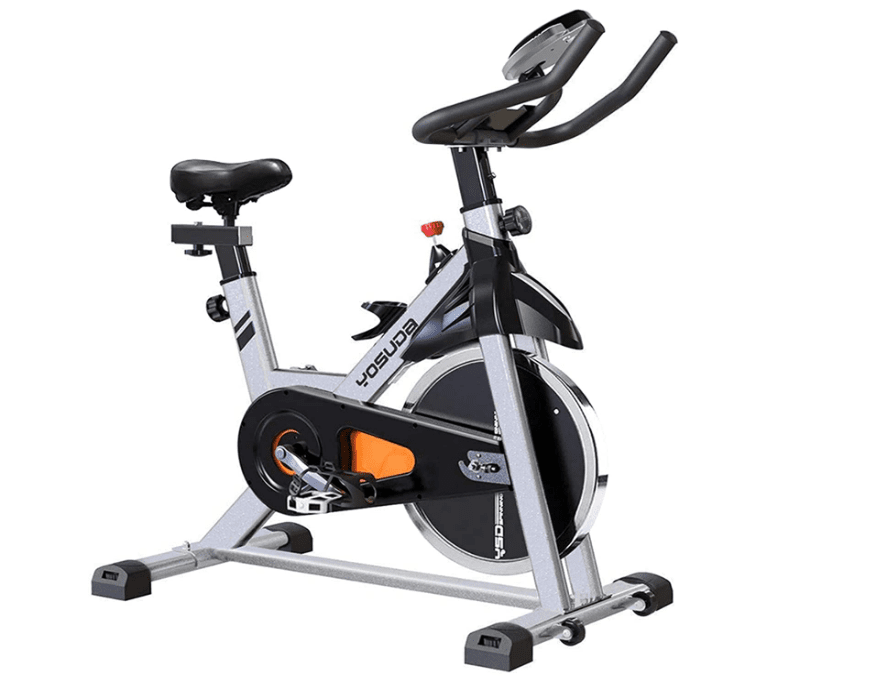 1
Our Pick
YOSUDA Indoor Cycling Bike
Item Dimensions LxWxH
40.16 x 21.65 x 46.06 inches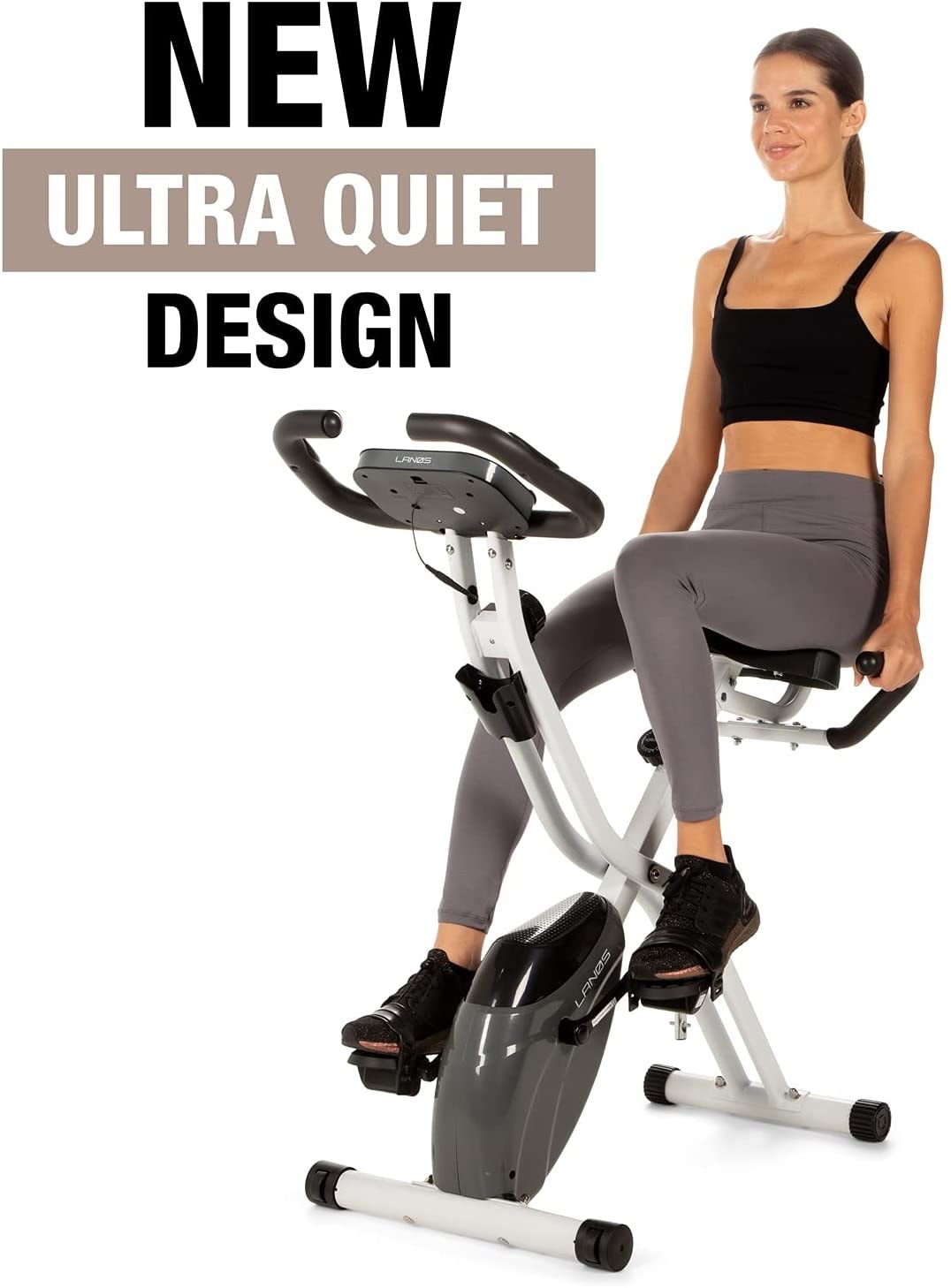 2
Great fo Newbie
LANOS Workout Bike For Home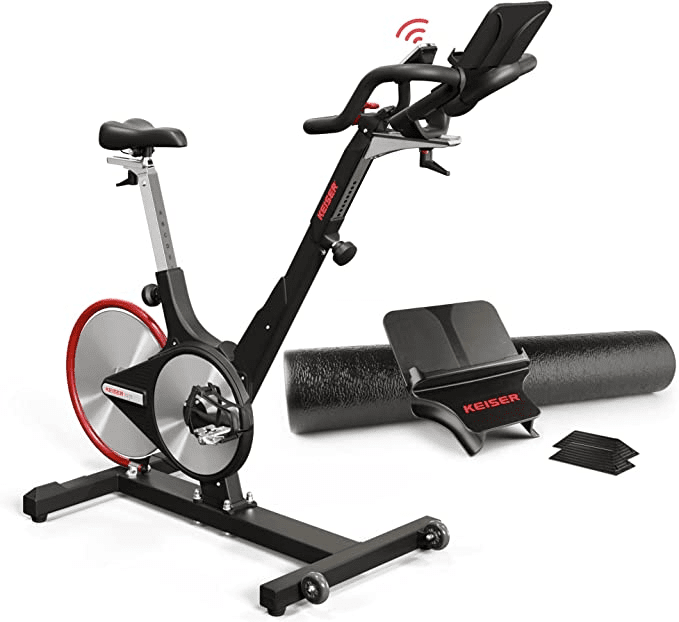 3
Luxary
Keiser M3i Indoor Spin Bike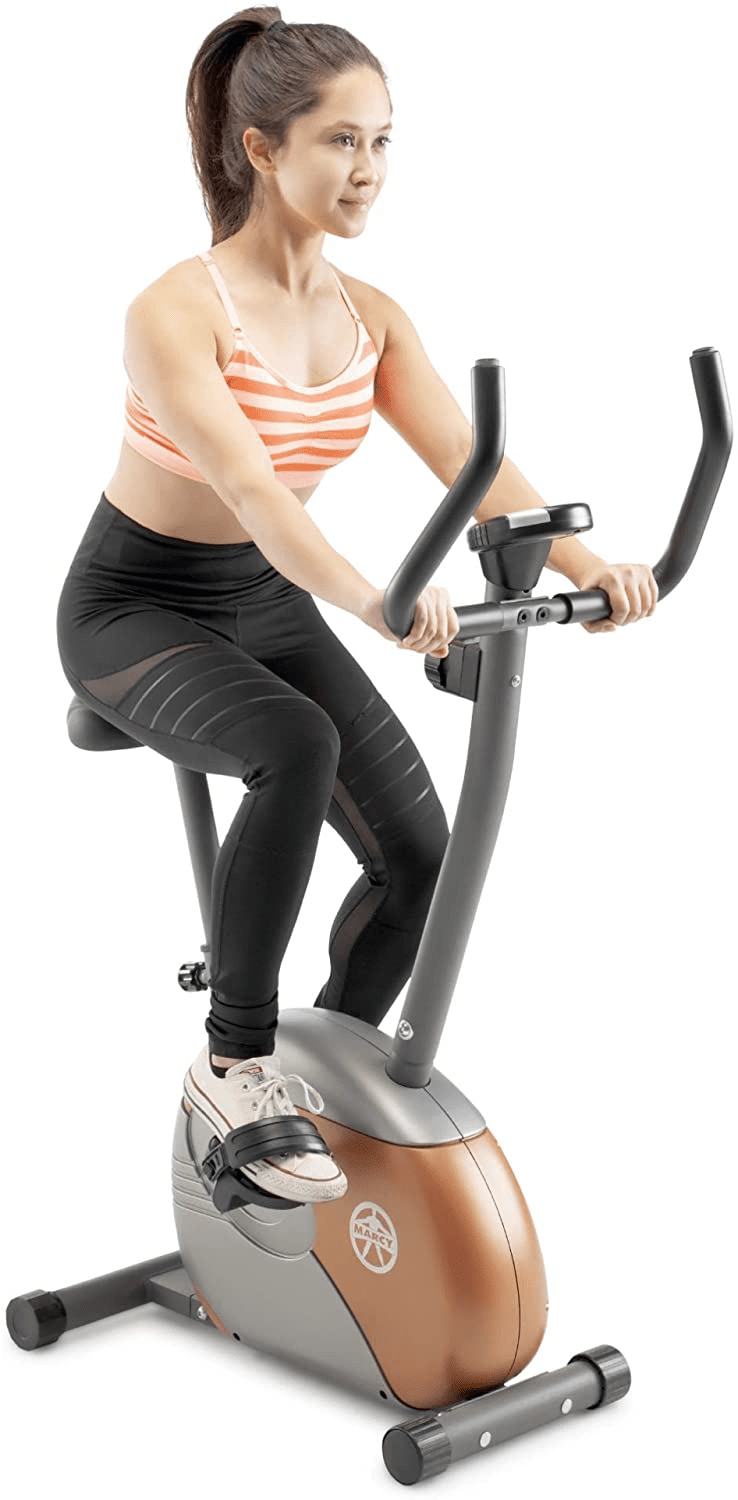 4
Value for Money
Marcy Upright Exercise Bike
Item Dimensions LxWxH
35 x 17.5 x 47.5 inches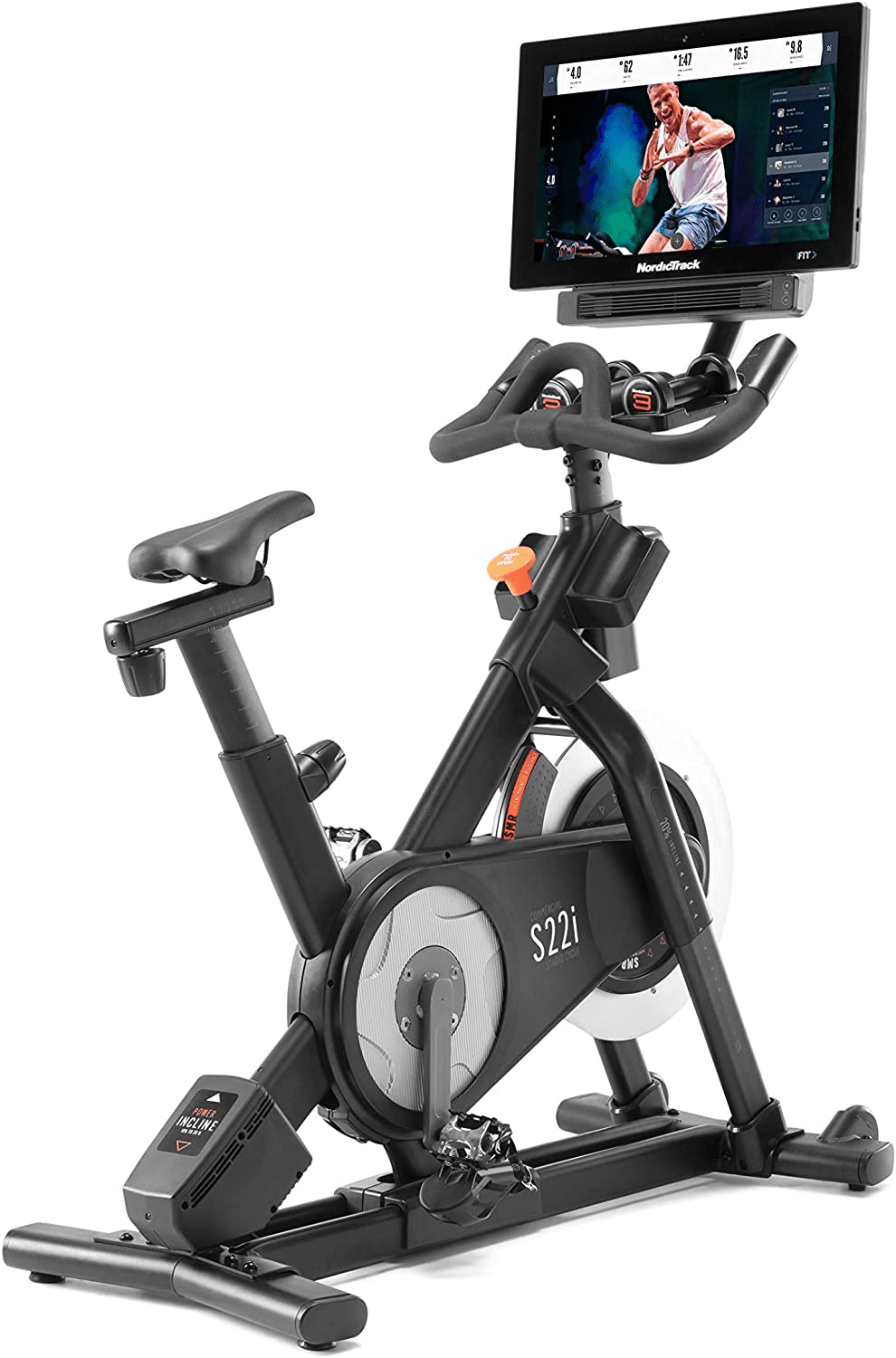 5
Best Interactive Bike
NordicTrack Commercial Studio Cycle
Item Dimensions LxWxH
60 x 22.01 x 62.99 inches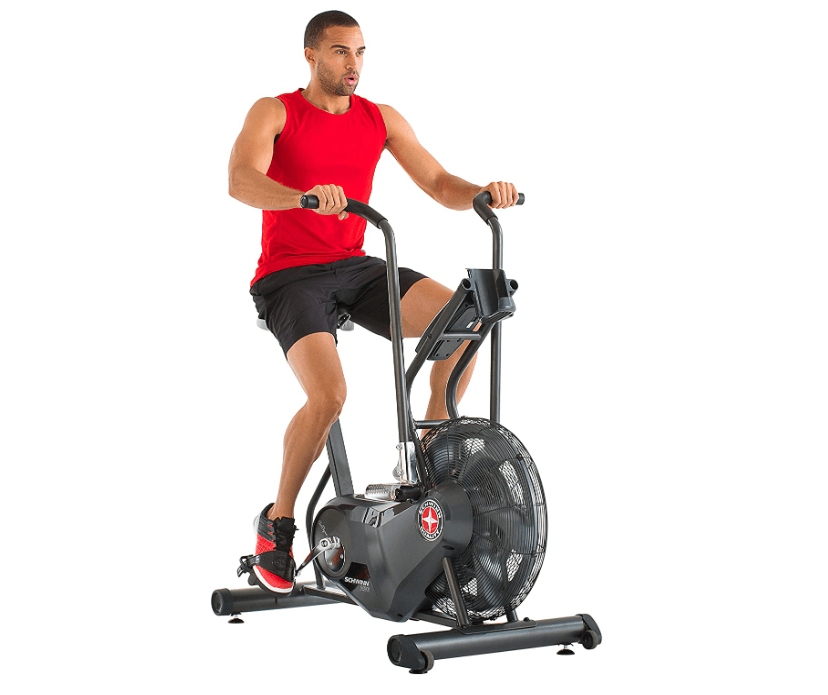 6
Good Rating
Schwinn Fitness Airdyne Bike
Item Dimensions LxWxH
48 x 15 x 27 inches
LANOS Workout Bike For Home
Starting out the list is the LANOS Workout Bike For Home. This bike's main feature is its foldable design, which can fold down to be easily hidden away – perfect for smaller apartments where space is limited. This folding feature also means that the bike can be used as either an upright exercise bike or as a recumbent bike – great for working out different muscle groups.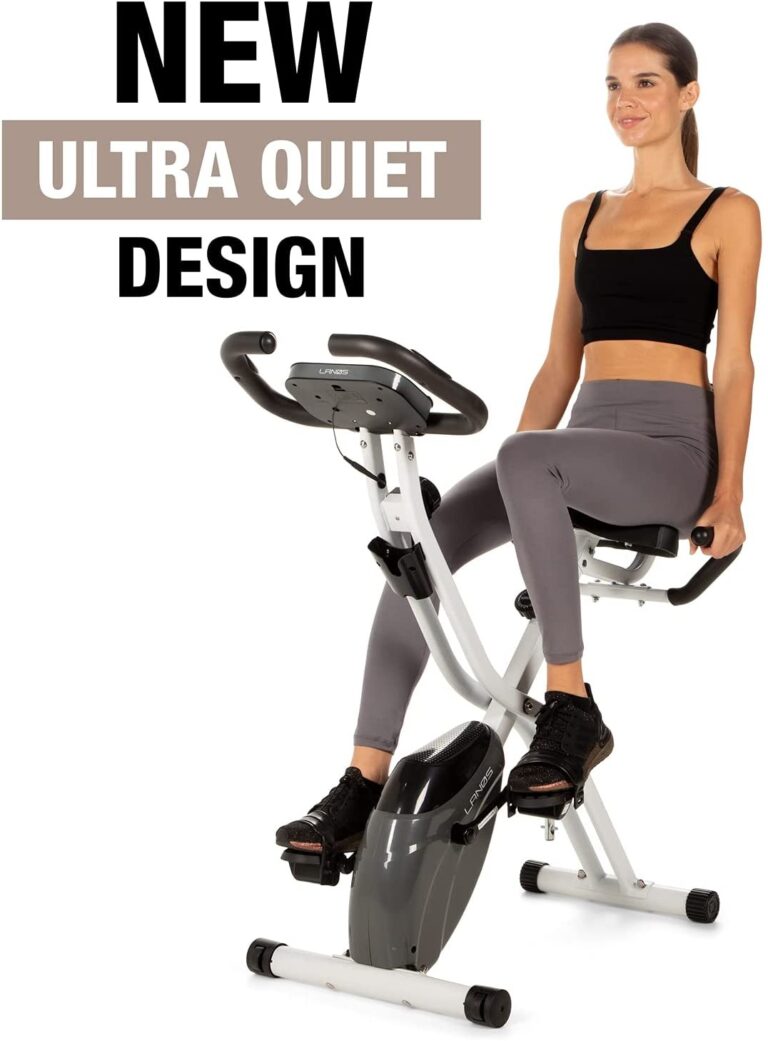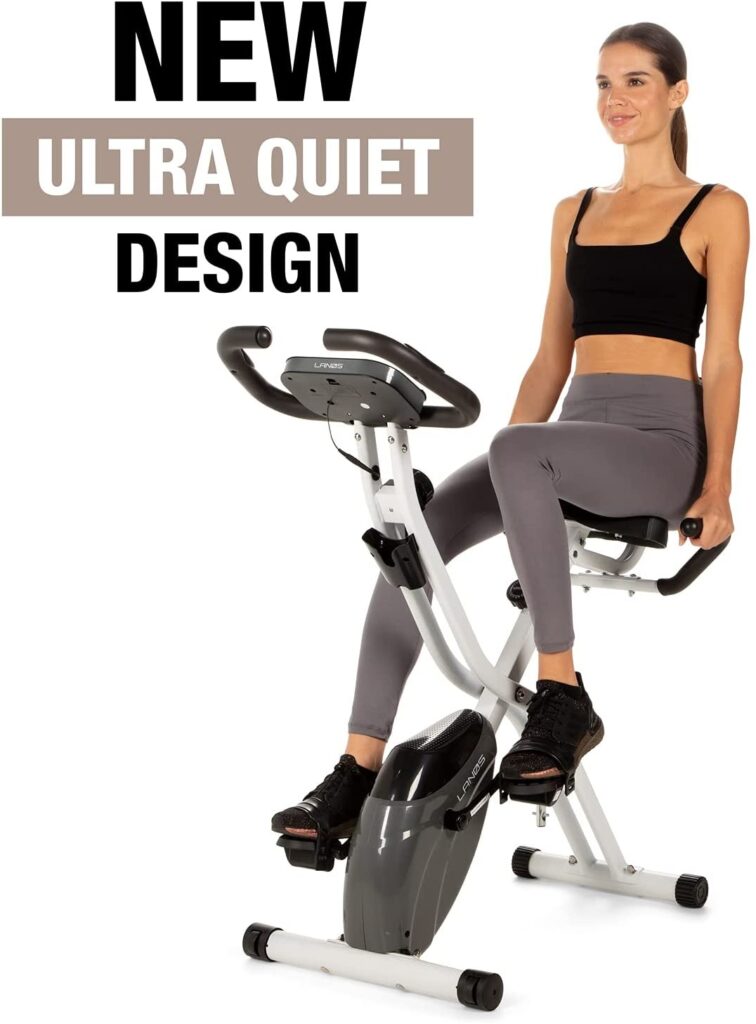 Foldable 
10 Magnetic Resistance Levels
LCD Monitor with built-in pulse rate sensor
Low Resistance Level
Clunking noise may occur while in motion
It May be unsuitable for shorter riders
Keiser M3i Indoor Spin Bike
The M3i Indoor Spin Bike was brought to us by Keiser, an American-owned company that has been creating exercise equipment for over 20 years. This upright bike boasts an impressive 4.8 out of 5 stars on Amazon reviews and an impressive array of features. It has been designed to be adjustable for any rider – ranging from 4' 10" to 7'. It can also support a weight capacity of up to 350 pounds.
Another huge plus about the Keiser M3i is that it can connect wirelessly to your electronic devices, allowing you to easily log your workouts! It's a great choice for anyone who is serious about biking and looking to make an equally serious addition to their home gym.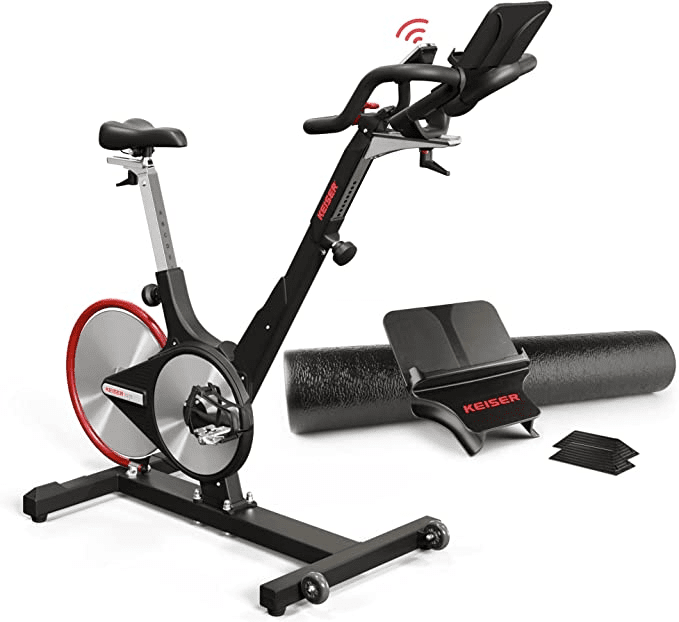 V-Shape frame mimics road bike frame.
Supports riders of all heights and shapes – great for families and couples.
Rear-wheel design keeps the wheel mechanism clean and rust-free.
Digital display shows all important information on a single screen
Putting together the cycle may pose a challenge for some customers
High Price.
Marcy Upright Exercise Bike with Resistance
The Marcy Upright exercise cycle offers 8 levels of resistance with an easily adjustable tension function. It also offers an adjustable seat and pedals and has got transport wheels so you can easily move this bike around your home.
It's a great, basic piece of exercise equipment with all the features you'd expect to find from any decent beginner exercise bike. If you are looking for a multipurpose, easy-to-use bike, this might just be the one you've been looking for!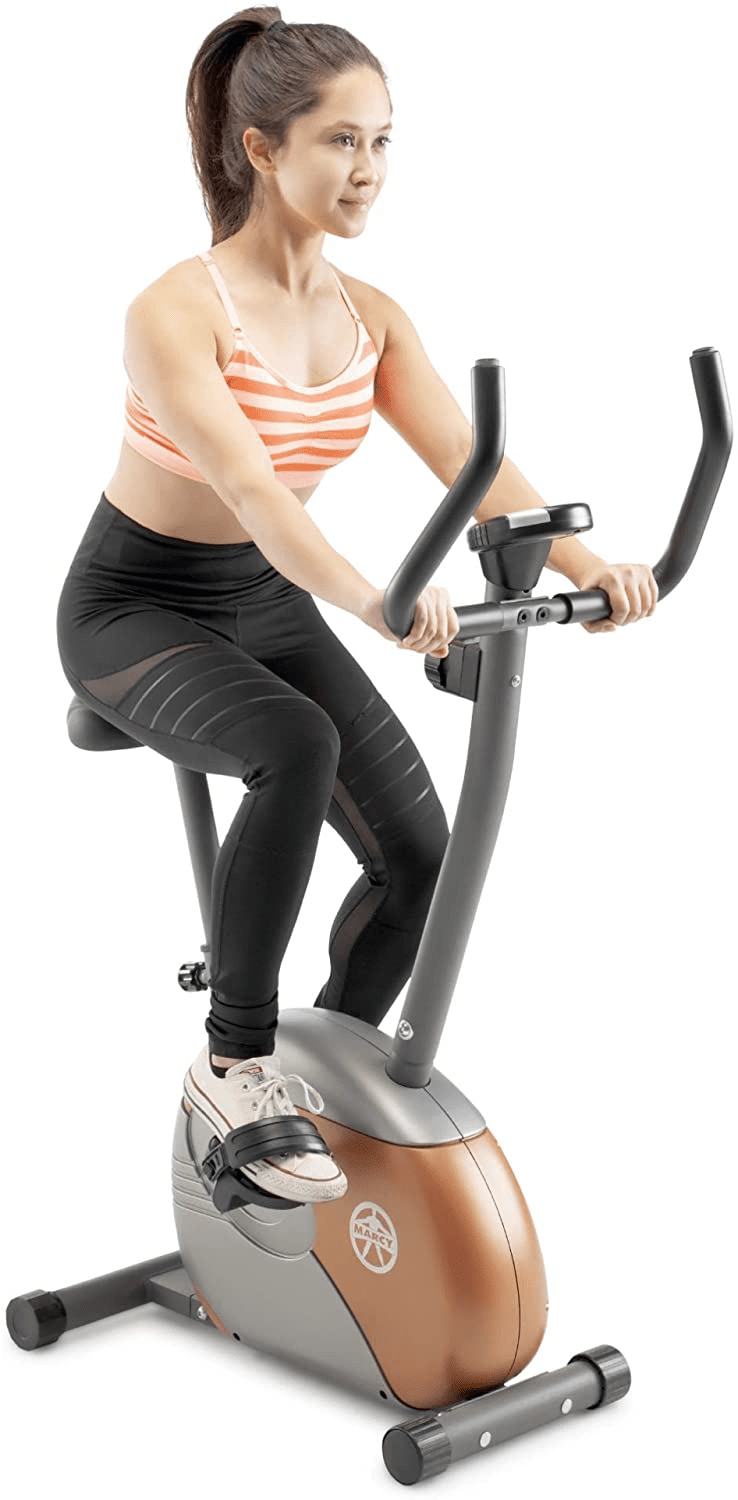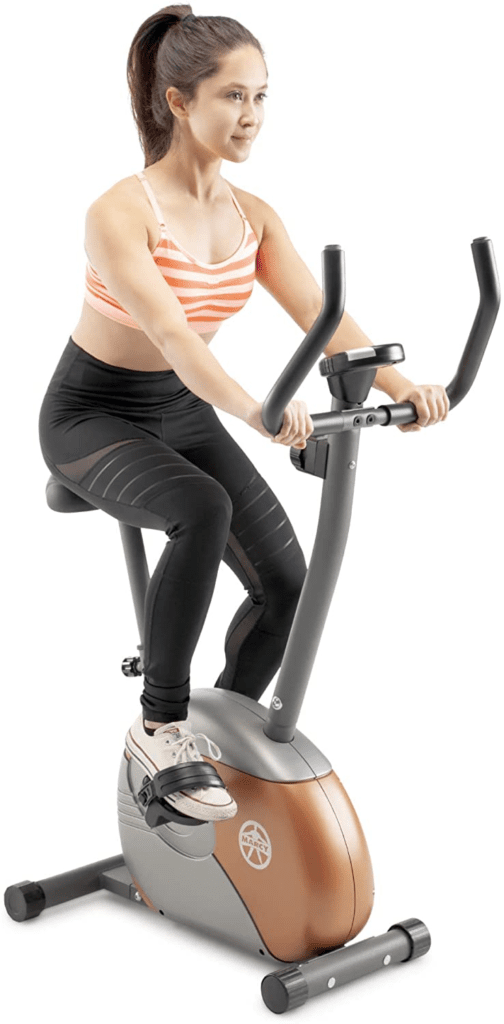 Extremely lightweight
Easy to transport
Affordable – this bike costs less than $150
The handlebar is not adjustable
Cannot connect to your phone or tablet
NordicTrack Commercial Studio Cycle – Best Interactive Bike
The NordicTrack Commercial Studio Cycle is an elite choice, boasting a 22" HD Screen which is fully rotatable – just to add to your workout experience. This screen can also connect to iFit technology, which allows you to sign up to the iFit platform where you can watch home workouts, take a spin class, and much more as a part of your membership. It's truly an elite model, and perfect for those who are really looking to invest in a quality piece of exercise equipment. Its ease of use also makes it one of the best exercise bikes for weight loss.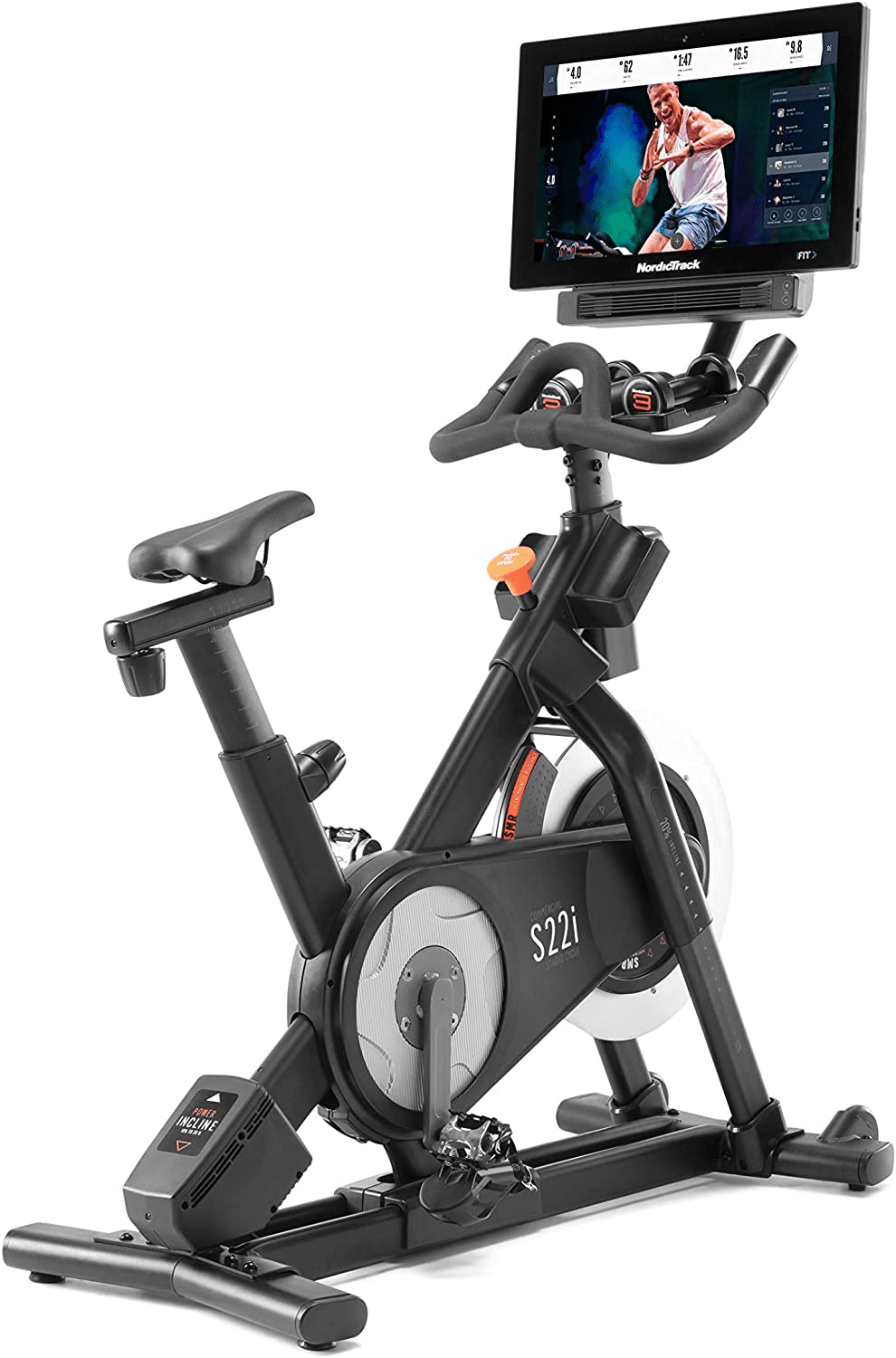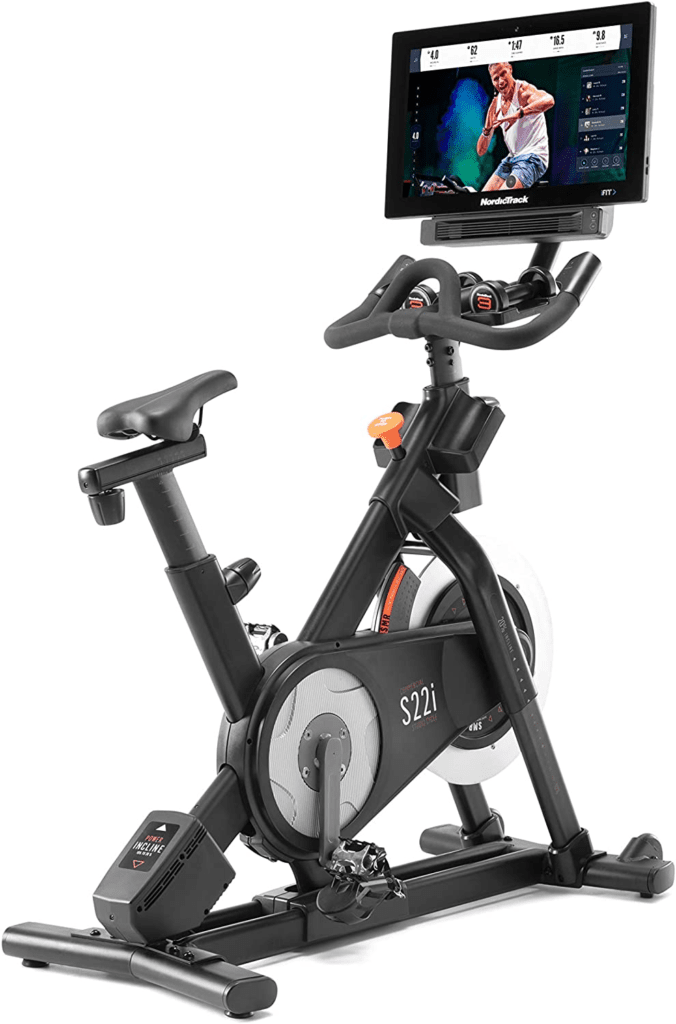 24 Resistance levels.
22'' HD Touchscreen display.
-10% – 20% incline control.
Can connect to your headphones via BlueTooth.
Weighs in at 87.54 kilograms
iFit membership involves ongoing fees and costs
Schwinn Fitness Airdyne Bike Series
The Schwinn Fitness Airdyne Bike series is really a group of 3 bikes – the Schwinn Airdyne AD2, AD6, and AD7. This collection ranges in price but all of them make a great home fitness option. There really isn't too much of a difference between the three, however, the AD7 model does boast a higher maximum weight capacity as well as other functionalities like a pulse monitor.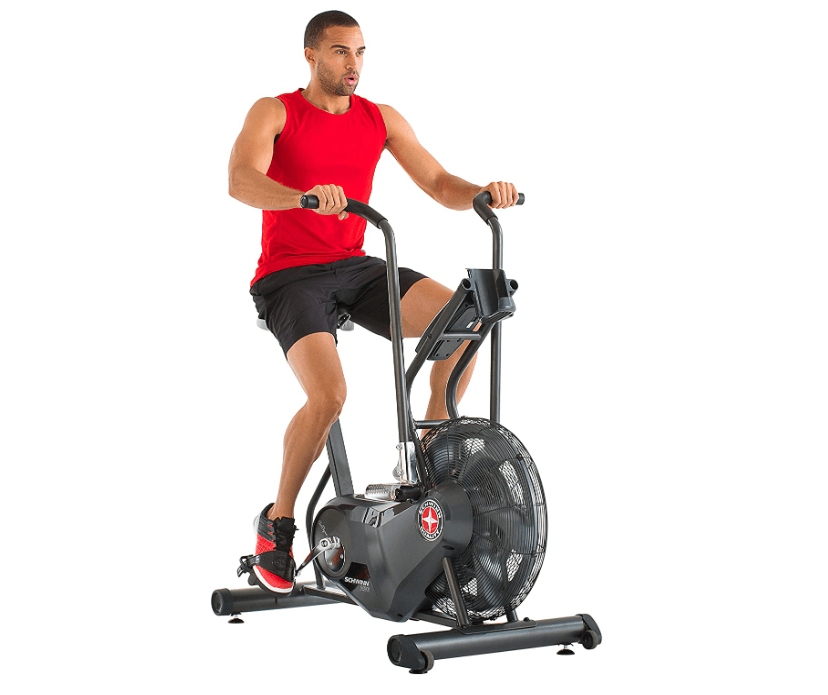 The series includes fans to keep you from overheating on those sweaty workouts!
Air resistance mechanism
LCD Display
Weight capacity 250-350lb
Chain driven mechanism may jam or rust
YOSUDA Indoor Cycling Bike
If you are looking for a simple, safe option then the YOSUDA Indoor Cycling Bike might be just what you were looking for. Sporting a 35lb flywheel, the YOSUDA is powerful enough to ensure you are getting a good home workout, while still being safe and quiet enough for the average beginner, who just wants a great cycle without all the bells and whistles. Yosuda Indoor Cycling smart bike is the best buy option. You can use it for sunny health fitness.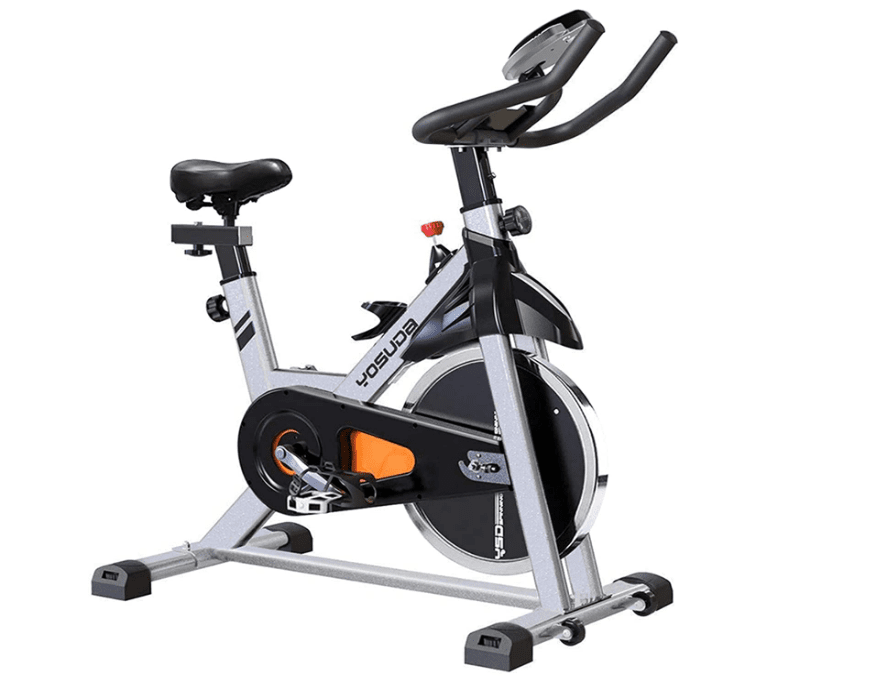 Belt-driven system for ultimate quietness. 
Super padded seat for higher levels of comfort
Ipad rest.
LCD Display.
Covered flywheel.
Adjustable handlebar.
The maximum user weight recommendation is only 270lb.
Adjustable pedals to avoid foot slipping.
Editors Choice
While each person has different preferences, one of the best home exercise bike options in this editor's opinion has to be the Yosoda Indoor Cycling Bike. If you are looking for a reliable indoor cycling bike to provide an effective cardio workout then there's no looking further.
It's great for every fitness level and its adjustable resistance level means you'll be able to tailor your workout to suit your individual needs. It also features an iPad rest, so you can easily transform your bike into one of the expensive computerized versions in a matter of minutes. It's also one of the best exercise bikes under $1000, so it won't break the bank either!
Conclusion
It doesn't matter how good your bike is – like all exercise, you only get out what you put in. Take the plunge, buy the bike, do the workouts and see the results – it all starts here with you!
We are sorry that this post was not useful for you!
Let us improve this post!
Tell us how we can improve this post?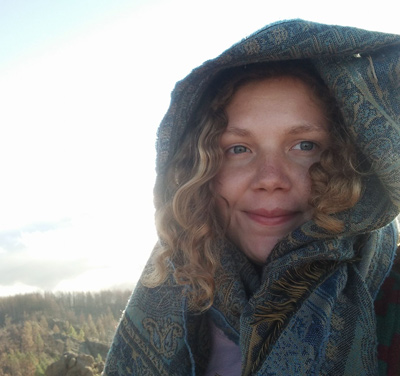 Rosily Ryan is an accomplished health and fitness writer, editor, and health activist based in Sydney, Australia. With a wealth of knowledge and expertise in the health and nutrition industry, Rosily has established herself as a trusted authority in the field. She has contributed to several leading publications, including Pure Green Magazine, where her work has been widely recognized for its insightful analysis and engaging style.
Rosily's passion for health and fitness is evident in her writing. Her extensive research and first-hand experience in the field allow her to provide valuable insights and practical advice to her readers. As an advocate for healthy living, Rosily has been actively involved in various health initiatives and campaigns that aim to raise awareness about the importance of physical and mental well-being.